What is Acquisition?
Definition: An acquisition is defined as a type of corporate transaction that occurs when another company purchases any or all of the shares or assets of a company to acquire possession of the business. Acquisitions typically intend to take possession of, create on, target the company's strengths, and capture collaborations.
When you purchase more than 50% of a target company's stock and other assets, it approves you to make decisions about the freshly attained assets without the consent of the other stakeholders of the company.
As per the Cambridge dictionary, the meaning of noun word acquisition is the process of getting. Its financial meaning is understood as the act of buying or acquiring something for example- company A's shares or assets are acquired by another company B.
Acquisitions are very conventionally seen in businesses. It might take place with the approval of the target corporation or without its consent. There is also a no-shop clause, with consent, during the process.
The acquiring corporation purchases the shares or the assets of the target company, which grants the acquiring company the power to make decisions regarding the acquired assets without requiring the consent of shareholders from the target corporation.
Reasons to make the Acquisitions
Companies obtain other businesses for several motives. They may pursue economies of scale, more significant market share, increased synergy, diversification, niche offerings, or cost reductions.
1. Decrease Surplus Capacity and Reduce Competition
If there is too much competition or supply, corporations may look to acquisitions to decrease surplus capacity, eradicate the competition, and pay attention to the most productive suppliers.
2. Means to participate in a Foreign Market
If a corporation desires to expand its processes to another nation, acquiring an existing company in that nation could be the most feasible way to participate in a foreign market. The acquired business will already have its employees, a brand name, and other intangible possessions, which could guarantee that the acquiring company will commence in a new market with a compact base.
3. Advance New Technology
At times it can be more cost-effective for a business to acquire another company that already has executed a new technology effectively than to expend the time and money to advance the new technology itself.
4. Growth Strategy
Possibly, if a company met with physical or logistical limitations or exhausted its resources, they can look for acquisition. If a business corporation is burdened in this way, it is logical to acquire another corporation than enlarge its own. Such a corporation might look for promising young companies to acquire and integrate into its revenue flow as a new method to gain.
Mergers and Acquisitions
Acquisitions arise when the target business firm agrees to be acquired then its board of directors approves of the acquisition. Mergers usually take place among businesses that are nearly equal in terms of their basic features such as the number of customers, the scale of operations, size, etc.
In an acquisition, both the businesses remain to exist as distinct legal entities. One of the firms turns out to be the parent company of the other firm. In a merger, both entities join, and only one continues to exist while the other company discontinues surviving.
Advantages of Acquisition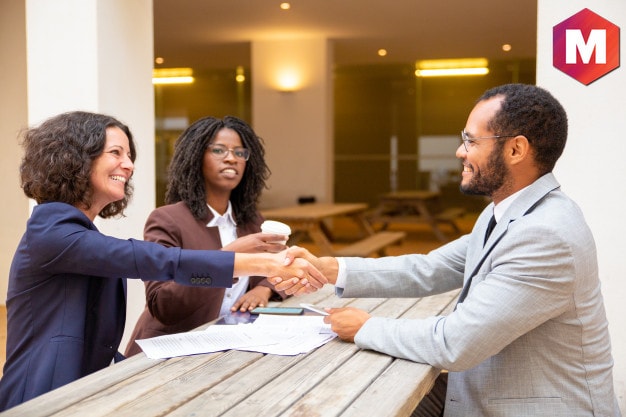 1. Market control
An acquisition can support in improving the market share of the company speedily. Even though competition can be challenging, growth through acquisition can be supportive in acquiring a competitive control in the marketplace. The procedure helps attain market interactions.
2. Capital Access
Following an acquisition, access to capital as a bigger company is enhanced. Small business possessors are usually forced to invest their own money in business development, owing to their incapability to access large loan assets. Though, with an acquisition, there is an accessibility of a greater level of capital, allowing business owners to obtain funds wanted to be deprived of the necessity to incline into their own pockets.
3. Decreased obstacles during entry into new markets
With Mergers & Acquisitions, a company can arrive into new markets and product lines promptly with a brand that is already familiar, with a good status, and an active consumer base. An acquisition can aid to overpower market entry obstacles that were formerly challenging. Market access can be a costly system for small businesses because of expenditures in market research, the development of a new product, and the time required to create a considerable client base.
Disadvantages of Acquisition
1. Contradictory purposes
The two businesses entangled in the acquisition may have distinct objectives as they have been functioning individually earlier. For example, the original corporation might want to extend into new markets, but the acquired company might be wanting to decrease costs. This can bring resistance inside the acquisition that can weaken efforts being made.
2. Unsettled Expectations
While the acquisition process takes place, both suitor and target arrive into negotiations with specific expectations about the expectations of the acquisition, the advantages they expect, stages of future performance, and the timing of specific movements.
3. Repetition of work
Acquisitions might result in employees repeating each other's work. When two similar businesses combine, there may be instances where two divisions or individuals do the same work. This can lead to unnecessary prices on wages. Mergers and Acquisition transactions, thus, repeatedly lead to restructuring and reduction in jobs to increase competencies. Though, reduction in jobs can lead to deterioration of employee morale and lead to low productivity.
Procedure of Acquisition
When a business firm is looking to extend, many business owners consider doing so by the acquisition of another related firm.
An acquisition is a good method for a firm to gain faster growth in a short time. Firms decide to grow through M&A to advance market share, attain interactions in their several operations, and increase control of assets.
It is not costly, less dangerous, and quicker than traditional growth approaches such as marketing efforts and sales.
Wrap Up!
An acquisition is a process where one organization purchases most or all of another company's shares. If a firm acquires more than 50% of a target company's shares, it efficiently gains control of that organization.
Before considering the acquisition of a company, it is important to examine the pros and cons of the business deal.
Now, after understanding the whole concept, what will be your definition of acquisition? Share with us in the comment section below.