As the industrial age has risen so has the role of Marketing changed over time. So much so that it has gone through five different stages to finally evolve into its current role. Currently Marketing mainly pertains to catering the Needs wants and Demands of the customer. The Stages are mentioned below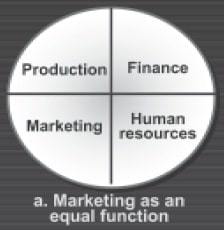 Stage 1 – Marketing as an Equal function
As seen in the figure, initially Marketing was considered to be equal to all other functions. This was probably an age wherein there were real market leaders and several monopolistic markets.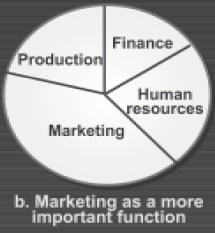 Stage 2 – Marketing as a more Important function
As the figure depicts, Marketing slowly gained more importance and was considered more important than Finance, Production and Human resources. Obviously the industrialists came to the conclusions that they need to market their products if they want to gain more profits.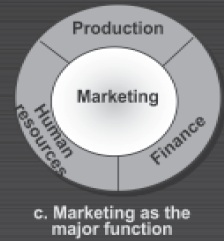 Stage 3 – Marketing as the major function
Over here, Marketing can be seen to be the major function on which the organization relies on. All other functions take a backseat. However, its true and we have realised over time that none of the functions of management is above any other. Each function is important.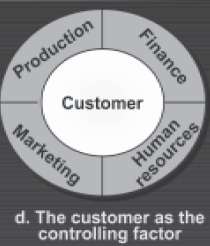 Stage 4 – Customer as the controlling factor
As said above, Each function of an organization is important. However the organization does need a leading factor and that leading factor was found to be the customer. Soon Marketing as well as the whole organization began to evolve keeping the customer in mind and thereby giving products and services which were focused on the customer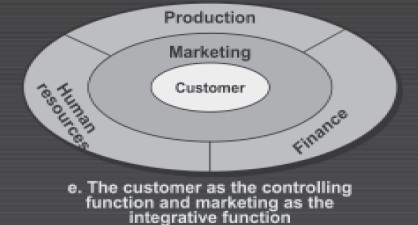 Stage 5 – Customer as controller and Marketing as integrative function
The stage 5 is what exists in the real market today. Nowadays, customers are the leading point in organizations and products are made keeping customers in mind. However Marketing cannot be kept apart and the Product, Pricing, Placement and promotions of the product ultimately depends on the marketing function. Thus with the customer as a controller, Marketing becomes a major integrative function of the organization.
These are the 5 stages which depict the evolving role of marketing as well as the increasing importance of Marketing.