Definition: Demarketing is a strategy where a business reduces demand for its product or service, either because it cannot supply enough or because promotion and distribution costs in certain regions are too high, resulting in lower profit margins. This can be sometimes referred to as "unselling" or "marketing in reverse."
In the competitive world of business, where every business tries its best to overtake its competitor, marketing a product or service has become the de-facto requirement for all businesses. In fact, with reports suggesting that marketing is the key revenue growth driver for approximately 30% of firms, businesses are allotting 11% of their budget towards marketing.
However, in this era of cut-throat competition and aggressive marketing, some firms opt for Demarketing too. It might sound strange, but the fact is that demarketing too has increasingly been adopted to decrease demand for a particular product. Let us discuss the concept of demarketing in detail in this article.
What is Demarketing?
Demarketing is a strategy to reduce demand for a product. According to Businessdictionary.com –
Demarketing refers to the efforts aimed at discouraging (not destroying) the demand for a product which a firm cannot supply in large enough quantities, or does not want to supply in a certain region where the high costs of distribution or promotion allow only a too little profit margin. Common demarketing strategies include higher prices, scaled-down advertising, and product redesign.
Coined by Phillips Kotler and Sidney Levy, Demarketing can be explained as the efforts made by a company to reduce the consumption of a product. Webster's Dictionary says that demarketing is "The use of advertising to decrease demand for a product that is in short supply."
Basically, any attempt that is made to discourage consumers from buying a certain product is called demarketing.
Importance of demarketing
Demarketing may be adopted because of multiple reasons, some of which are listed below:
The supply cannot meet the demand.
Resources, especially natural resources, must be conserved.
The cost of advertising for the product is extremely high.
Inadequate or absent distribution channel
The price of selling in a particular locality is extremely high
Save the consumer from potential harm, such as from alcohol or tobacco
The reasons for adopting demarketing can be multifold, however, its end result is always to discourage demand and thus help the company make profits, even if by selling fewer products.
Types of Demarketing
Demarketing strategies are divided into three kinds. The three kinds are:
1. General Demarketing
General demarketing is done when a company wants to demarket its product for one and all. It is always done when a firm wants to reduce the entire demand for the consumption of the product.
Examples of general demarketing can be State and Central Governments demarketing alcohol and cigarette for the entire population.
2. Selective Demarketing
Selective marketing is when firms target a select class of consumers and aim their demarketing strategies at them. This is mainly done to protect loyal or core consumers.
Examples of selective marketing can be an elite real estate builder demarketing its project to maintain exclusivity and the snob value associated with its project.
3. Ostensible Demarketing
Ostensible demarketing is the phenomenon of creating an artificial shortage to stimulate the appetite of consumers. A limited supply of goods is created so that consumers start stocking these "hard to get" products.
A very good example of ostensible demarketing occurred with BMW in 1997 when it restricted its supply in the entire UK market.
Examples of Demarketing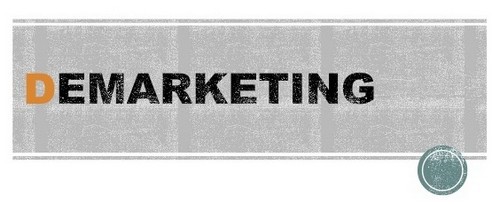 Let us explain the concept of demarketing with some examples-
Five Star Hotels
A very common example of demarketing is followed by five-star hotels that aspire to maintain exclusivity. Right from having two-wheeler parking lots at a distance to having impeccably dressed guest associates to the high priced menu; maximum efforts are made to discourage the common man from using their services and thus maintain their exclusivity.
Tata Nano Cars
Another example of demarketing would be the efforts made by the TATA group to discourage consumers from buying Tata Nano. Since the demand for Tata Nano far outweighed the supply, Tata Group completely stopped the promotion of Tata Nano and rather started promoting other products by the Tata group. Similar was the case when customers were discouraged by Maruti from buying the Maruti Xtillo and rather opt for Maruti A-Star – which was recently launched.
Paper Reduction
Encouraging the adoption of paperless products in both home and office settings as a means of preserving trees is an instance of demarketing paper products. Several states, including Pennsylvania, Wisconsin, Texas, etc have begun issuing electronic vehicle titles.
Water Conservation
The State of California is currently enforcing water usage restrictions due to the severe drought. Incentives, such as tax rebates, are being provided to those who install synthetic turf. On average, a household that switches to artificial grass can save up to 22,000 gallons of water annually.
Luxury cars
Car manufacturers are using demarketing strategies to control the demand for their luxury cars, such as offering discounts on less popular colors and lower-trim models. This has helped the company manage inventory levels and keep customer satisfaction high.
Demarketing Strategies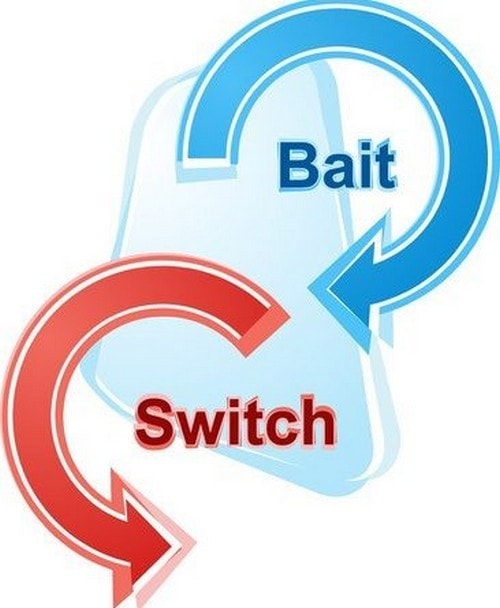 1) Bait and switch marketing
This kind of general demarketing strategy is when firms market one product in such a way that consumers end up buying another more profitable product from the same firm. However, since this involves deception, this kind of demarketing is not considered legal.
2) Price discriminating demarketing
When firms implement a price-discriminating strategy, they deliberately create transaction cost that aims to discourage consumers to seek the lowest price. Thus, busy consumers end up paying a higher price whereas consumers who have low transactions pay the lower price.
3) Stock outage demarketing
In this kind of demarketing strategy, firms create an artificial shortage of their product. However, though they create a shortage of products, they have offers where they guarantee delivery at a future date. An artificial shortage makes consumers buy more of the product when it becomes available for a short period of time.
4) Differentiation marketing
This kind of demarketing addresses the 4 Ps of marketing. The 4 P's of marketing are Product, Price, Place, and Promotion and businesses try to implement demarketing strategies by focusing on the 4 Ps.
Some businesses increase the price of their product and thus start discouraging cost-conscious consumers from purchasing the product, while others address the second P i.e. Product, and remove any warranty or accessories they were earlier providing with their product. To address Place, firms sometimes limit the availability of their products at certain places and thus employ a demarketing strategy. The last P, promotion, is addressed by cutting down on promotions of the product.
5) Crowding cost demarketing
This kind of strategy is used when a large crowd is expected on a particular day. On discount days, like Black Friday, a huge crowd of consumers descends on stores and this crowd acts as a deterrent for some consumers who prefer paying a higher price to stay away from the crowd.
Steps to Craft a Winning Demarketing Strategy
1) Understanding the marketing objectives of the firm by setting clear goals
The first step in crafting a successful and effective demarketing strategy is to understand the marketing objectives of the firm. This means analyzing what the company wants to achieve with its marketing efforts, such as increasing sales, brand recognition, or reducing market share. Once these objectives are clear, it then becomes easier to craft a demarketing strategy that meets those goals.
2) Understanding consumer behavior in detail
The second step is to understand consumer behavior in detail. This includes analyzing customer attitudes and buying patterns, as well as researching competitors' activities. By understanding the factors that influence a customer's decision-making process, it will then be easier to craft an effective demarketing strategy that takes all of these considerations into account.
3) Combining the marketing objectives and insights into customer behavior
The third step involves combining the marketing objectives with insights into customer behavior to create a tailored demarketing strategy. This includes deciding which products or services to target, how to reach customers most effectively, and what tactics will be used to reduce demand for those products or services.
Unlike marketing strategies, demarketing strategies are challenging and need to be crafted with precision- so that they do not backfire. However, their complex nature does not deter marketers from implementing them and being successful in turning away the wrong consumer while attracting the target consumer simultaneously.
Benefits of Demarketing
1) Reduced levels of overconsumption
Demarketing strategies are effective in reducing overconsumption by discouraging customers from buying more than they need. This can help reduce waste and minimize the strain on natural resources.
2) Improved customer perception
Demarketing strategies can create a positive impression of the brand among customers. Consumers appreciate when companies are responsible and work to limit their environmental impact.
3) Increasing profit and reducing the cost of production
Companies can limit consumption and reduce waste which can save money on production costs. Additionally, the practice of demarketing helps to protect the brand's reputation, which can bring in more customers and increase profits.
4) Improved environmental protection and sustainability
Demarketing strategies often lead to increased sustainability and environmental protection. By limiting the use of resources and encouraging sustainable practices, companies can greatly reduce their carbon footprint and help protect the environment.
5) Creating exclusivity
Demarketing creates an air of exclusivity around products and services. By limiting the number of customers, companies can create a sense of scarcity and increase demand. This can boost sales and profits, as well as create positive brand associations with exclusive products. Through market location demarketing, companies can target high-end customers who are willing to pay a premium for exclusive items.
By implementing the strategy of demarketing, companies can reap a wide variety of benefits. From reducing overconsumption to creating exclusivity and improving environmental protection, there are a variety of advantages to deploying demarketing strategies. It is an effective and powerful tool for companies looking to make a positive impact on the environment without sacrificing their profits.
Liked this post? Check out the complete series on Marketing