Many of us have been confronted on a daily basis with counter marketing strategies and probably had no idea about this concept. Counter marketing involves advertising techniques which try to reduce the demand of a product being used. Counter marketing typically uses negative messages to stop people from using a product.
Let me explain counter marketing easily with the help of an example.
Let us assume that you are used to smoking regularly. Most of the times, whenever you buy a package of cigarettes you can notice warnings on the package. This warning mentions the effects that smoking has on the body such as pulmonary cancer, skin aging, death, etc. Similarly, when you are traveling through roadways or railways, you might come across big billboards explaining hazards and negative effects of smoking. In some cases, the ads also provide telephone number or solutions to your smoking problem with places where you can call in case you want to quit smoking.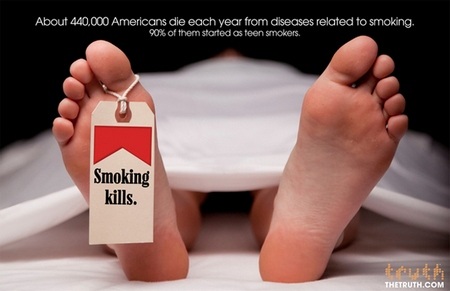 This advertising technique is what is called counter marketing. The tobacco example is one of the most popular counter marketing tactics used globally. However, in the same category we can also include alcohol, high fat fast foods, and sugar sodas.  If we were to analyze a bit, I believe that we could also include the drug industry in the same category, based on the fact that more and more often, the use of pills is avoided for treatment of some symptoms, when these pills can easily be replaced by natural remedies.
Each country sees one election for presidency every year or once in four years. These elections may be for presidency, ministries, local governors, etc. Whenever the election periods get close, you are overwhelmed by a multitude of negative advertising pointing towards the potential candidates, each one trying to overcome his opponent by spreading negative messages about him. This could be another example of counter marketing techniques, in which the political advertising targeted towards supporters of the opposite candidate uses counter marketing to reduce demand for that candidate.
To give a more business based explanation for the counter marketing, the counter marketing tactic can be defined as an advertising strategy that takes a position contrary to an advertising message that preceded it. The purpose lies in permanently reducing demand for a product or service due to various reasons.
The frequency and concentration of counter marketing tactics directly affects the business done by the product in the market. It may affect negatively on the product itself and in the end the product might be shunned by the society or by the market altogether.
Basically, counter marketing strategy puts in close perspective explanations of the danger related to the use of a specific product/service. It communicates the social costs and it can use multiple voices and strategies. Generally, the counter marketing strategy should work together with other tactics in order to alter social norms.
We are on a daily basis faced with strategies which are part of counter marketing strategies such as excise taxes, taxes on export, import taxes or distribution restrictions.
Often used to take an opposing position on a controversial topic or to counter an impression that might be made by another party's advertising, the counter marketing strategy tends to introduce brand substitution. Therefore, the brand is an important key in connection to the effectiveness of a counter marketing tactic. If the brand is strong against which counter marketing tactics are being used, then the brand-customer relationship becomes more resistant under this tactic.
Finally, in order to be effective, the counter marketing programs must be evaluated and have explicit goals coupled with performance measures, while aspects such as time, money and political context are important variables for the performance of the strategy.
Liked this post? Check out these detailed articles on
Topic of Marketing
Alternatively, check out the Marketing91 Academy, which provides you access to 10+ marketing courses and 100s of Case studies.