The significant difference between a professional blog and one that is run by a newbie lies in the fact that the professional bloggers focus on gathering more users. They want to enhance the value of their website from a reader's point of view.
One of the excellent means of keeping your readers updated about the latest happenings in their chosen niche and what's happening on your site is to use email newsletters. As a beginner to the blogging arena, you may be confused to the core about the concept of WordPress newsletters. To make things easier, we will discuss WordPress newsletters in this post, and the advantages that come along with them.
What is a WordPress Newsletter?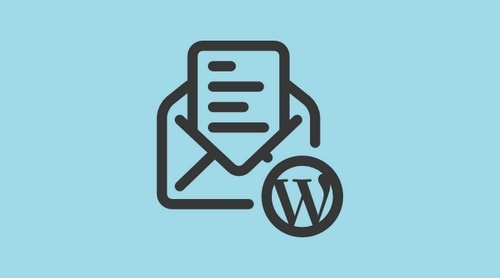 Well, an email newsletter is an email sent to readers having updates about the latest content on the website. It is considered to be very useful for attracting more readers to website or blog.
A WordPress newsletter will inherently contain links to the articles on your blog and readers receive a copy of the newsletter through their email. That is precisely why they are called Email Newsletters.
Now let us explore the two different classes of email newsletters ordinarily prevalent in the blogging world.
1) Automated Newsletters   
Automated WordPress newsletters do not need you to do anything. They are configured to send emails at scheduled intervals. This feature makes use of RSS feed of your blog for sending automated emails.
RSS has been one of the oldest methods used to share the content of your blog including the new posts with your visitors who have subscribed to the service. Though, RSS has now died down to a greater extent; it can be used effectively for sending the email newsletters.
There are free & premium options available so that you can send automated email newsletters to the visitors who have subscribed to the service on your blog. To begin with, you can opt for the popular free option in the form of Feedburner.
However, as you grow your business and become a professional blogger, you can consider migrating to premium options like Aweber or any other similar WordPress newsletter services.
2) Manual Newsletters
Unlike in the Automated WordPress newsletters, you do not need to go with the RSS feeds of your site to create your newsletters. Instead, you choose the links and articles to be included in the email yourself and send them to the selected subscribers.
This will ensure that you can avoid the filler content that may be available on your site and send the links only for the quality content to your subscribers. It is one of the best alternatives used by professional bloggers. The manual email better email open rate and it also improves the trust factor of your subscribers.
What are the Advantages of WordPress Newsletters?
Well, what would you choose for a better reach and functionality among the Automated and Manual newsletters? It will be dependent on the frequency of your posts and the quality therein. Ideally, for a better reach, it may be a better idea to go with the manual WordPress newsletters.
So, now that you have decided to opt for WordPress newsletters, would you like to know what benefits does it offer you? Here are a few inputs on the advantages of WordPress newsletter.
1) They help your readers stay updated
Even when you have loyal visitors to your site, there may be cases where they may have missed out a few important posts that you may be planning to showcase. So you can also use WordPress newsletters to update your readers about new happenings.
In essence, a WordPress newsletter is an ideal option to keep your readers updated.
2) It helps you get targeted traffic
Email newsletters work on the basis of subscriptions. A reader subscribing to your email newsletter would indicate that they are interested in your content. An interest in your niche and a receipt of the newsletter will make them visit your blog.
Targeted traffic is always an essential element for ensuring better performance of a blog and the newsletters are an ideal choice for your needs. Get the targeted audience and make them visit your site regularly.
3) It convinces your readers to revisit your site
Attempt to make your first-time visitors subscribe to your WordPress newsletters. This will ensure that they are converted into regular visitors. One of the best options to make this possible is to publish high quality and relevant content to cultivate interest in them.
Regular reception of newsletters would ensure that they will visit your site again and possibly become loyal visitors if you can present the content that is both high in quality and relevant to them in every respect.
4) Helps make your site more interactive
WordPress newsletters are designed as a means of providing a platform for the promotion of your blog. However, they will also help you get good feedback from your visitors.
You can use WordPress newsletter to share information about a new launch, a new service or an update about your site. You may also announce any improvements, contests and other details through your newsletters.
5) It complements your monetization activities
If you can showcase the visitor base you have to your advertisers, it can be one of the excellent options to attract more revenue through advertisements. This will have more effect if you are managing a niche blog.
Newsletters can be one of the best options to show your reader base to your advertisers. Also, more readers to your site would also mean you have a better chance of promoting your affiliate links with your readers and thus ensuring better monetization prospects.
How to make people subscribe to WordPress Newsletter?
Well, WordPress newsletters come with a host of advantages. But, getting your visitors to subscribe to your newsletters may not be an easy task. People detest spam to the core, and regular emails from people unknown are one of the last things that they would want in their inbox.
However, using the right kind of approach can be helpful in achieving the best results. Some of the techniques you can employ can be summed up as here below.
1) Provide Excellent value to Your Subscribers
Of course, you have quality content on your website. But, it is essential that you should showcase the content to your readers. The description you provide for your newsletters should be such that it gives a clear proposition to your visitors.
Make sure you make them understand what to expect from your newsletters and stick to this promise. If your subscribers find that your newsletters are beneficial for them, you can be sure of better email subscription rate.
2) Motivate Readers to Subscribe
Motivation plays a significant role in getting email subscriptions. Persuade them to subscribe to your email and offer a few advantages. It can be a simple software download or even a giveaway.
You can also persuade them to forward the email subscriptions to their friends. Spreading word is an essential aspect of achieving great results.
3) Place your Call to Action button prominently
How can you get someone to subscribe to your WordPress newsletters if they are not able to find your signup button? So placing your call to action button or the signup button at a prominent place on your website can give good results.
Make sure that you have placed the CTA buttons at appropriate positions on your website such that your visitors would not miss it. Adding them to the bottom of your articles is also a good option.
4) Make Subscribing an Easy Affair
If your signup process in itself involves multiple clicks, it can act as a deterrent for your visitors to subscribe. Placing the opt-in form on the front page is a good alternative. Ideally, your opt-in form should not have a separate landing page.
A sidebar location may also be a good option. Aweber and GetResponse are a few good examples for autoresponder alternatives.
In Conclusion
Newsletters are excellent choices for improving the performance of your WordPress site. Properly using them will ensure better results in building a loyal reader base & increasing traffic of your website. It can also help you a lot in building a brand around your blog which can be capitalized anytime.
What techniques would you use to bring in more subscribers to your WordPress newsletter? Share your ideas, views, and opinions with us.