The difference between leadership and management is associated with the ways they interact with their teams. Successful leaders focus upon motivating, guiding, influencing, and enabling people to understand and believe the goal and accomplish it in an enthusiastic manner.
While managers are responsible for administering the day-to-day jobs of the employees, so the regular activities are completed on time.
Let us delve into both one by one and understand their key differences-
What is Leadership?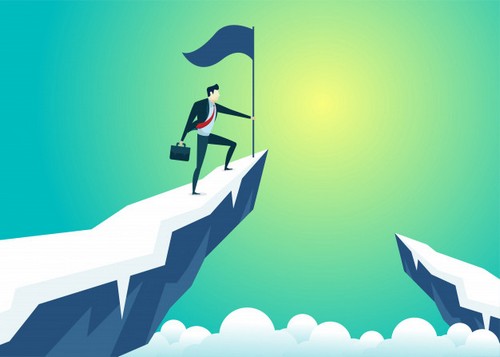 Leadership refers to guiding, influencing, and directing the behavior of others to achieve specific goals based on different circumstances. As a result, leaders induce others to effectively reach both their personal goals that align with the organization's purposes.
A leader actively works towards molding the behavior of others. A leader supports, motivates, and inspires others. A leader maintains good interpersonal relationships with others and is vital to the growth of any organization.
Leadership is both a continuous and a group process. It involves two or more people, as leaders are nothing without their followers.
Key Traits of a Leader
Honesty
Inspiration
Ability to challenge
Positivity
Feedback
Responsibility
Commitment
Flexibility
What is Management?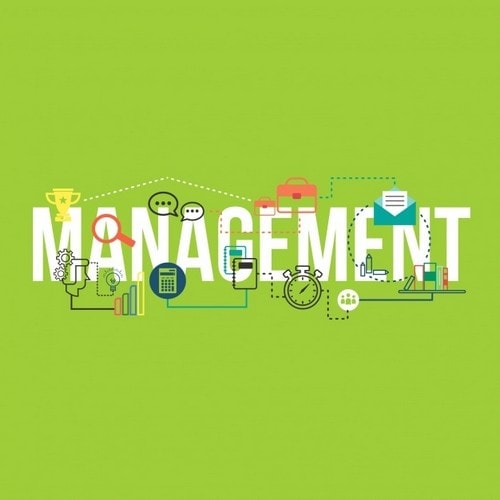 Management is the process of coordinating and administrating tasks to achieve a specified goal. These tasks include planning, strategizing, and coordinating efforts of the staff to accomplish specific objectives given the available resources.
Management also refers to the seniority structure of employees within the organization. The management process includes planning, organizing, staffing, directing, and controlling. A good manager is needed to keep the organization on track by ensuring that all tasks are carried out effectively and efficiently.
They inject motivation, enhance creativity, enforce discipline, and harness enthusiasm into areas in which they are necessary.
Key Traits of a Manager
Administration
Ability to execute a vision
Process management
Ability to direct
Communication
Motivation
Organization
Delegation
Forward planning
Strategic thinking
Problem-solving
People-focused
Difference between Leadership and Management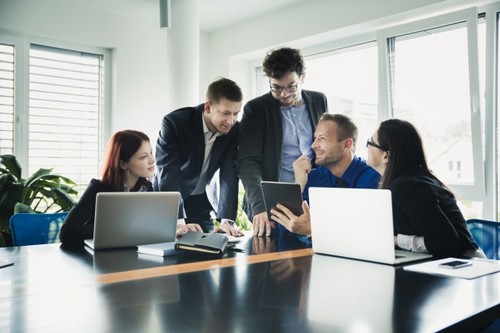 Leadership and management are similar and are often confused for one another. However, they are two entirely different things and, ideally, should not be used interchangeably.
They have a distinct set of functions, responsibilities, and features that can be perceived as similar. The following are the differences between leadership and management:
1. Leaders set the vision that a manager follows
Leaders are responsible for creating an organization's vision. The visions of the organizations are the end goal they want to achieve while following their company philosophy and ethics. However, the leader does not ensure that the vision becomes a reality.
This is the role of a manager. Leaders use efficient leadership communication to convey the vision, mission, and goal to the entire organization. Managers are responsible for supervising and overseeing that employees take the right actions to fulfill ?set goals.
2. Leaders think ideas and managers believe execution
Leaders develop new and creative ideas and have an overall forward-looking mindset. They seize any opportunity to improve the organization, its functions, and its employees. Managers, on the other hand, are focused on executing the ideas that leaders come up with.
Managers concern themselves with "how and when", whereas leaders worry about the "what and why" of organizational matters. A manager's primary responsibility is to ensure that people in different departments with varied duties operate efficiently.
3. Leaders Motivate People while Managers Drive their Success
Leaders have excellent interpersonal skills and are highly perceptive of people's emotions and abilities. As a result, they can become great mentors to people within the organization. They hold the power to inspire and motivate people, while a manager can ensure that people succeed at what they do. Managers are accountable for the success of their teams.
Authentic communication is key to being both a good leader and a good manager. Without accurate communication, a leader cannot inspire people. There is nothing much a manager can do to help people succeed. The same can be applied to inauthentic managers.
4. Leaders Look into the Future while Managers work in the present
This may be one of the main differences between a leader and a manager. A manager is involved entirely in the day-to-day functions of the business. Leaders, on the other hand, think about what can be done next and capitalize on prospects.
The present was the future at one point in time so that this point can be connected to the second point in this list.
5. Leaders Mold the Culture that Managers Endorse
Organizational culture refers to the value, ethics, expectations that guide the actions of all the members within the organization. A leader is responsible for shaping the organization's culture.
It is the responsibility of the leader to ensure that the company's values and morals are intact. Managers lead the staff to contribute to the culture. They support and endorse the culture that the leaders work hard towards upholding.
6. Leaders endorse change while the managers maintain the status quo
Leaders constantly challenge the way things are going as they believe that change is inevitable. They know that things can constantly be improved and are actively working on finding a way to disrupt the status quo.
On the other hand, a manager maintains the status quo by improving existing systems, structures, and processes.
7. Leaders coach and managers direct
Leaders do not believe in controlling the people they influence. They know how to delegate work and hence coach the people they work with. They let people go and work things out themselves rather than specifying what to do and how to do it.
Through this, they push the people to achieve their full potential. Managers direct the people that work for them. Managers assign tasks and guide them so people can effectively accomplish their goals.
8. Leaders are risk-takers while managers control the consequences of taking risks
A leader takes risks while a manager, on the other hand, ensures that the risks taken by a leader do not have any negative consequences or effects on the organization. Leaders are willing to try, attempt, and experiment with new methods, but at times they may fail miserably.
While experimenting with new methods, they may take considerable risks. As a result, a manager is assigned to minimize the risk taken by leaders by controlling the effects of a problem.
9. Leaders influence while managers have power
A manager has the power and authority to command others. This does not guarantee that a manager influences the people they command. This is an essential hallmark of leadership. A leader can influence, impact, and motivate others by their words, actions, and beliefs.
A leader can command people without having any official authority. They command respect and trust through their nature and strong interpersonal skills. This is not expected to come naturally to managers.
10. Leaders have followers while a manager has subordinates
A major aspect of a manager's job is to supervise subordinates. As essential as this role is, it does not imply that their skills impact the people they oversee.
A leader, on the other hand, at times may not even have authority or power but will have followers. This is because a leader generates trust while a manager is expected to be respected due to their position.
11. Leaders may look at a situation as an opportunity to grow, while a manager may view it as a failure
Leaders must be optimistic in their approach if they want to influence others positively. As a result, they may look at a failed outcome as a growth opportunity. Manager, on the other hand, concerns themself with rules and results.
They view failure exactly as it is. They, unfortunately, scrutinize failure, which may demoralize their team members. A leader uses it as an opportunity for the members to learn from their failures.
After going through these differences between management and leadership, lets now understand a few other differences between leaders and managers in the following table-
Leadership vs Management Table
Some of the notable differences between managers and leaders are-
| Leaders | Managers |
| --- | --- |
| A leader is responsible for setting the vision and the direction that an organization seeks to fulfill. | A manager understands the goals and objectives of the team as well as of the organization as a whole. |
| A leader assembles their team by choosing diverse and talented individuals. | A manager, on the other hand, creates and prioritizes tasks to be finished within a project. |
| A leader can recognize skilled individuals and hence, appropriately motivate them to reach their maximum potential. | A manager assigns the right task to the right member based on their merit and skill. |
| A leader can be an objective judge who is fair and just. As a result, it is often resolving conflicts and preventing crises. | A manager, on the other hand, guides the individuals in their team to get the job done without any obstacles or hassles and ensures the smooth functioning of the business. |
Overlap between Leadership and Management:
Though the difference between a leader and manager has been specified, however, there is an overlap between the two. Under different circumstances, a manager may need to take up a leadership role, and a leader might need to take up a managerial role.
The following are situations of overlap between leadership and management:
1. Managers in leadership roles for leading people
A manager may need to take a more leadership role when handling a huge team.
A manager may need to step up as a leader during transition or the absence of a leader.
A manager may assume the role of a leader when there is a need to provide mentorship to team members or employees.
2. Leaders in managerial roles for managing people
A leader may need to follow the approach of a manager when taking direct reports.
A leader may need to take up the mantle of a manager when there is an absence or during a transition of a key manager.
A leader may need to step into the shoes of a manager while working closely with them if they require additional guidance.
Are you a manager or a leader?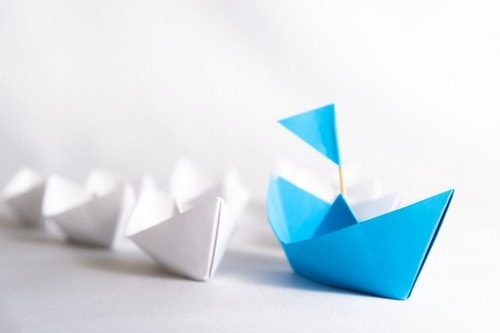 A wide variety of leadership, as well as management styles, come into play while interacting and handling a group of people in different situations. So, you can be both manager and leader simultaneously.
However, if you are keen to know who you are actually then you should count the number of individuals outside your team or reporting hierarchy who seek your advice in different situations. If it is occurring quite frequently then they perceive you as a leader.
Leadership here can be understood as a holistic approach whose subset also includes developing and training managerial qualities. However, for successfully channelizing an organization in the right direction, it is crucial that leadership and management both work in tandem.
Liked this post? Check out the complete series on Leadership