Transformational and transactional leadership styles are both effective ways to guide an organization, yet they offer distinctive approaches to achieving goals.
Transformational leadership motivates team members to exceed their interests for the benefit of the group, inspiring innovation and fostering a culture of continual improvement.
Transactional leadership on the other hand is a more traditional top-down approach to management, focusing on rewards and punishments to motivate team members.
Let's understand the difference between transformational leadership and transactional leadership with an example.
Suppose you're a football coach. In a transactional leadership style, you'd set clear expectations, rewarding your team when they score goals and penalizing them when they fail. However, if you embody transformational leadership, you'd motivate your team to surpass their capabilities, inspiring them to work together more effectively and create strategic plays that elevate the entire team's performance.
What is the Transformational Leadership Style?
Definition: Transformational leadership is a style characterized by leaders who inspire, challenge, and motivate employees to surpass their personal goals and achieve exceptional outcomes. It fosters an environment of continuous learning, improvement, and both personal and professional growth.
Characteristics of Transformational Leaders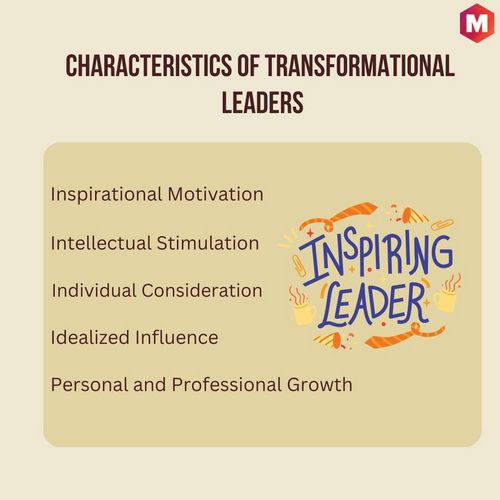 Transformational leaders focus on inspiring their teams and fostering an environment of trust and positivity. They motivate their team members through their passion and enthusiasm, encouraging personal and professional growth. A transformational leader acts as a motivational force for his or her team, inspiring and mentoring employees to greater heights of productivity and success.
Inspirational Motivation: A transformational leader inspires their team to reach higher levels of performance.
Intellectual Stimulation: These leaders challenge their team members to think creatively and out of the box.
Individual Consideration: They recognize the unique potential of each team member.
Idealized Influence: Transformational leader model the behaviors they seek to instill in their teams.
Personal and Professional Growth: They foster environments that encourage continual learning and development.
Examples of Transformational Leaders
Some of the examples of leaders with transformational leadership style are:
1) Steve Jobs
Known for his charismatic and demanding leadership style, Jobs transformed Apple into one of the most innovative companies. He constantly challenged his employees to think differently and create groundbreaking products.
2) Martin Luther King Jr.
A transformational leader of the Civil Rights Movement, King inspired millions with his vision and passion for racial equality. His speeches and direct action stimulated profound change in society.
3) Nelson Mandela
The former South African president was a transformational leader who inspired his nation and the world with his unyielding fight for justice and reconciliation. His leadership led to the end of apartheid and fostered national healing.
4) Richard Branson
The founder of Virgin Group is known for his transformational leadership style. Branson values and fosters a company culture that encourages innovation, risk-taking, and personal growth.
5) Indra Nooyi
As the former CEO of PepsiCo, Nooyi was a transformational leader who emphasized employee development and long-term growth. Her vision transformed PepsiCo's global strategy and increased the company's focus on health and sustainability.
What is the Transactional Leadership Style?
Definition: Transactional leadership is a management style focused on supervision, organization, and performance; leaders promote compliance through both rewards and punishments. This approach is highly systematic, relying on clear structures and expectations.
Characteristics of Transactional Leaders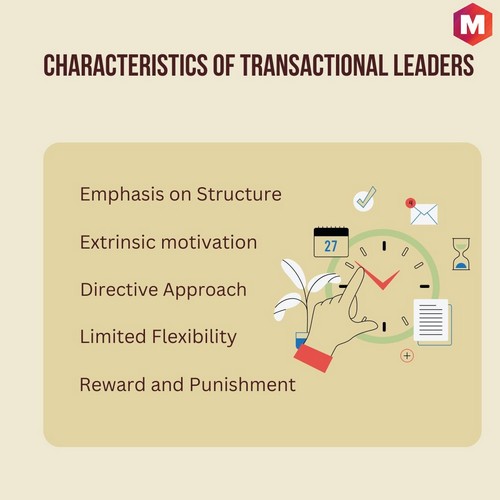 Emphasis on Structure: Transactional leaders typically focus on structure, detailing the work that needs to be done, the processes to follow, and the timeline for completion. They provide clear instructions, standards, and expectations.
Extrinsic motivation and performance-oriented: A transactional leader uses extrinsic motivation, such as bonuses and promotions, to reward employees for their efforts. Furthermore, they focus on short-term goals and objectives that help boost productivity.
Reward and Punishment System: Transactional leaders operate under a reward and punishment system, recognizing and rewarding employees for good performance, while poor performance may result in punitive actions.
Limited Flexibility: They usually exhibit limited flexibility and tend not to encourage creativity or innovation, favoring established methods and routines.
Directive Approach: A transactional leader generally takes a directive approach by telling employees exactly what to do, thereby limiting the opportunity for employees to make decisions or solve problems independently.
Examples of Transactional Leaders
Some of the transactional leadership examples are:
1) Norman Schwarzkopf
Schwarzkopf was a United States Army General best known for leading coalition forces during the early 1990s Gulf War during Operation Desert Storm. He was highly focused on structure and process, believing that each task must have clear standards and expectations, with every soldier understanding their role within the organization.
2) Bill Gates
The founder of Microsoft, Bill Gates is an example of a transactional leader who was highly performance-oriented. Gates lacks adaptability in communication and employee engagement. To stay connected with his team, he visits them and poses thought-provoking questions. He continues to inquire until he is content, with some perceiving him as dismissive towards others' ideas.
3) Vince Lombardi
The legendary football head coach of the Green Bay Packers, Vince Lombardi is a classic example of a transactional leader. He was known for his demanding nature and strict rules, believing in zero tolerance when it came to mistakes. Lombardi is renowned for driving his team to perform at their best and instilling a winning mindset in every team member.
Comparison Table Transactional vs Transformational Leadership
Let's have a look at the difference between transactional and transformational leadership styles on different grounds like style, communication, both the advantages and disadvantages, etc:
| Features | Transformational Leadership | Transactional Leadership |
| --- | --- | --- |
| Style | Inspirational and vision-oriented. | Directive and routine-oriented. |
| Advantages | Spurs creativity, promotes personal growth, fosters positive work culture. | Promotes efficiency, clarity in roles and expectations, useful in crisis situations. |
| Disadvantages | May overlook details, requires high energy and charisma, potential for manipulation. | Stifles creativity, may lead to employee disengagement, not ideal for complex tasks. |
| Focus | On people and change. | On tasks and status quo. |
| Decision Making | Encourages team participation. | Centralized and top-down. |
| Communication | Open and two-way. | One-way and directive. |
| Motivation | Built on trust and inspiration. | Based on rewards and punishments. |
| Rewards | Rewards intrinsic motivation and initiative | Rewards completion of tasks. |
| Change Management | Embraces and drives change. | Resists change, upholds stability. |
| Employee Development | Focuses on the individual growth and potential of team members. | Places greater emphasis on job performance and completion. |
| Goal Orientation | Long-term and big-picture. | Short-term and specific. |
| Problem Solving | Encourages innovative thinking and exploring new solutions. | Relies on established methods and procedures. |
| Influence | Led by charisma and personal influence. | Led by authority and control |
FAQs
1) What are the key differences between transactional and transformational leadership styles?
Transformational leadership inspires and motivates, while transactional focuses on order and regularity.
A transformational leader is often charismatic, whereas a transactional leader relies on formal authority.
A transformational leader champions innovation, while a transactional leader adheres to established protocols.
Transformational leadership nurtures individual growth, whereas transactional leadership emphasizes task completion.
A transformational leader works towards long-term, big-picture goals, while a transactional leader focuses on short-term, specific objectives.
Transformational leadership encourages participatory decision-making, while transactional leadership employs a top-down approach.
Transformational leaders foster open, two-way communication, whereas transactional leader typically has one-way, directive communication.
Transformational leadership rewards intrinsic motivation and initiative, while transactional leadership incentivizes task completion.
Transformational leaders are change enthusiasts, whereas transactional leader often resists change and uphold stability.
Transformational leaders drive problem-solving with innovative thinking, while transactional leader relies on established methods and procedures.
2) When is transformational leadership effective?
Transformational leadership is effective when an organization requires a complete overhaul or significant change in its strategy or culture. This style is particularly effective during periods of uncertainty, as transformational leaders can inspire their teams to embrace change and strive for innovation. In essence, they serve as role models, demonstrating the leadership skills necessary to navigate through challenging times.
Some of the situations when the transformational leadership style works are:
When working with teams to foster collaboration and creative problem-solving.
When introducing a new organizational vision or strategy.
During times of significant organizational change such as a merger, acquisition, or restructuring.
When leading cross-functional projects or initiatives that require out-of-the-box thinking.
To motivate an unmotivated team or individual.
3) When is transactional leadership effective?
Transactional leadership tends to work best in an existing organizational culture where rules, hierarchies, and tasks are clearly defined. A transactional leader will be efficient at maintaining order, ensuring that routine tasks are completed accurately and promptly. This leadership style is beneficial in contexts where deviations from established protocols can result in significant risks or harm. They act as managers who reward or punish based on performance, lending their leadership effectiveness to environments that prioritize structure and consistency. Some of the situations when transactional leaders tend to be more useful are:
When working with teams to complete day-to-day tasks.
During times of high and steady workloads.
When leading short-term projects with a clear beginning, middle, and end.
To promote compliance with existing policies or procedures.
4) Which is more effective: transactional or transformational leadership?
It ultimately depends on the context and the situation that an organization is facing. Both transactional and transformational leadership styles have their advantages but should be used in different scenarios.
Transformational leaders can effectively lead organizations through times of distress or change, while transactional leadership works well in established systems that prioritize stability and predictability. A leader needs to understand the needs of their team and organization so that they can choose the right leadership style for any given situation.
5) How to combine both: transactional and transformational leadership?
Leaders should also be mindful of how different styles can be used in tandem; while one may not always be better than the other, there are often when both can benefit an organization. With this knowledge, leaders are empowered to develop a leadership style that reflects their strengths and abilities. As a role model for their team, they can create an effective leadership strategy that utilizes both transactional and transformational styles to maximize efficiency and success.
Transformational leadership is often viewed as more progressive and inspiring. While effective transactional leaders focus on tasks, structure, and efficiency, transformational leaders aim to stimulate their follower's intrinsic motivation. They manage employees not merely by directing, but by encouraging them to share their ideas and perspectives. They are not mutually exclusive but function best when effectively combined, especially in fields like psychiatric services where human connection is vital and financial resources must be managed efficiently.
For combining both of these approaches, leaders must be aware of the existing organizational culture and need to tailor their approach accordingly. Some of the steps that they need to follow are:
Identify the strengths and weaknesses of the organization and team.
Analyze which leadership style is needed in specific situations.
Choose transformational leadership in situations like change and distress.
Choose transactional leadership in situations that require stability and predictability.
Adapt the style as per the situation to leverage the best of both approaches.
By combining both transformational and transactional leadership styles, a leader can effectively maximize their effectiveness by leveraging the strengths of each approach in different situations while managing employees. This flexibility empowers leaders to make the most of their skills and abilities, while also ensuring that they are taking into account the needs of their team and organization. In doing so, leaders can create an effective leadership strategy that encompasses both transactional and transformational styles.
Liked this post? Check out the complete series on Leadership