Puma is one of the top Nike competitors and is known for its excellent line of sports shoes. It manufactures various accessories, apparels, casual footwear and sporting equipment and footwear. It is known most prominently for its sports shoes.
Puma operates from Germany and was started due to a split between brothers. One brother started the company Adidas, whereas the other started Puma. Till date, both companies are the leaders in the sports footwear industry.
Strengths in the SWOT Analysis of Puma:
High Growth rate: Puma has been witnessing high growth rate. Puma achieved 12.8% increase in sales in the second quarter of 2016. Puma had witnessed a revenue of €3.39 billion in 2015 which increased from €2.97 billion in 2014. This shows a growth rate of 14.14%. This shows healthy growth rate and now they have been focussing on expanding aggressively which might result in higher growth in the coming year.
Marketing and Sponsorship: Puma spends heavily in promoting its brand throughout the world via sponsorship. Over the period of time, it has had the pleasure of many legends added to its list. These include the likes of  Pelé, Eusébio, Johan Cruyff, Diego Maradona, Clyde Frazier, etc. The current list has international footballers Sergio Agüero, Antoine Griezmann, Marco Verratti, Yaya Touré, Olivier Giroud, Gianluigi Buffon and Marco Reus. It also sponsors the athletic track champion Usain Bolt. Puma was also one of the official sponsors of FIFA football World Cup of 2014.
PUMA sponsors Arsenal FC, MamelodiSundowns and Borussia Dortmund, National football teams of Italy, Switzerland, Austria, Ivory Coast, Ghana and Uruguay and Olympic Handball Champion Denmark. In Track & Field, PUMA sponsors the Jamaican, Cuban, and Barbados Athletic Associations. In order to support its women's business, PUMA endorses fashion icons Rihanna and Kylie Jenner. This shows a few of its rich variety of clientele that it boasts off.
Research and Development: Puma brand is very innovative and has a very rich Research and Development team. We know that footballers mostly use screws in their boots for better friction while running. These screw boots were first launched by Puma and they received great acceptance in the football world.
Brand equity: PUMA distributes its products in more than 120 countries and employs around 11,000 people worldwide. Its mission is: "To be the Fastest Sports Brand in the world". In 2015, Puma came out with a retail concept "PUMA Lab", initially launched with Foot Locker in 2014, both in the U.S. and in the first location in Europe. During the year they began collaborating with other well-known retailers with the aim of improving the presence of the PUMA brand in their stores, better communicating their product promise on site, and thereby achieving a sustained sales increase.
They're currently focussing on the women's side as they believe that the female is the future. PUMA is a pioneer in this segment and they have set standards for years with the success of their models and collaborations with designers. And they are now strengthening their strategic focus on the female target group. A key element of this strategy is the partnership they have developed jointly with the international star Rihanna as a brand ambassador and creative director. They introduced the first shoe styles inspired by Rihanna. The Creeper is Rihanna's first sneaker under FENTY label. The shoe received a great deal of attention on social media and in the press and the first colour options were sold out within hours.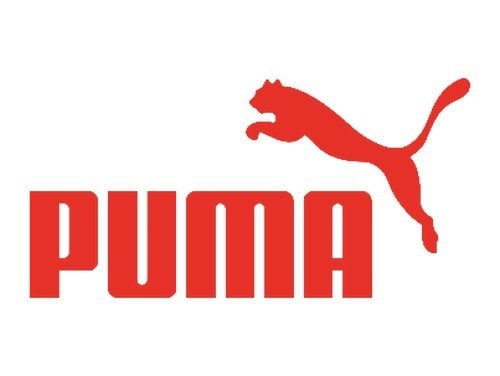 Weaknesses in the SWOT analysis of Puma :
Competition: This segment is very competitive and Puma is facing heavy competition from Adidas and Nike. With their high revenues and disposable incomes they have kind off created a tough entry barrier for Puma to become a big player.
The above graph clearly shows the massive difference in the revenues of Puma with its competitors.
Financial Strength: Puma had an annual revenue of €3.39 billion as of 2015. While its competitors have a much higher revenue giving them much more scope for innovation and research and development. Nike had approximately €27.3 billion revenue in 2015 and Adidas had €16.92 billion revenue in 2015. This leaves Puma with less financial aid to expand and sponsor teams and individuals compared to its direct competition. This also allows more financial stability to its competitors that can focus more on innovation and bring in new technology shifts in the sporting industry.
Market Share: Puma holds around 7% of the market share while its competitors like Nike has 31%, Adidas has 16% and Reebok has 6%. This also shows that Puma has a long way to go.
Wage Dispute: Puma has disputes regarding wages among its workers which sometimes lead to strikes and production suffers. This needs to be solved and addressed accordingly.
Opportunities in the SWOT analysis of Puma :
New target markets: Puma can focus more on new emerging markets in Asia and look for expanding its market share significantly. They can focus on the changing patterns in these industries and cater to the masses accordingly. According to CAGR in Apparel and footwear industry, the highest growth expected is in Vietnam, Saudi Arabia, India, Colombia and then Mexico. Puma should focus on increasing their sales in these territories.
New Product line: Puma can think of moving away from the sporting the only type of company can also focus to produce apparels in the lifestyle section and make new customer market. If possible can also venture into new businesses so as to develop new competition in the other markets.
More Sponsorships: Although Puma sponsors a lot of sporting events and backs many celebrities and sporting icons it is not enough when compared to its competitors. It needs to increase its presence, even more, to stay in the competition and gain more market share. This will come a long way in making its brand present and will result in an increase in sales and thereby increase profits.
More Disposable income: People's income have increased a lot compared to the last decade. They have also shown a considerable interest in trading up to buy premium goods across all the sectors. Puma can tap this opportunity and convert these potential customer base to get more sales.
Threats in the SWOT analysis of Puma :
Economic Condition: Changing economic conditions in the world is very nasty. The people have ended up caught up in changing times. This might hamper the Puma's decision to open new stores across the globe and might become a big hurdle in their way of expansion.
Fraud Products: There are a lot of people that create fraud products and copy famous brand and sale at a lower price. This hampers the original brand and results in decline in their sales. There's not much one can do to stop them from copying.
Liked this post? Check out the complete series on SWOT