One of the worlds best known brands in sports is Gatorade. Gatorade is known to keep sportsmen hydrated and energized with its unique formula. It currently owns 75% market share in the sports drinks category. Gatorade is from the house of Pepsi and it is unique because it does not have any properties of Soda's or carbonated beverages. In fact, Gatorade is supposed to give minerals and hydrate sports people who are used to physical exhaustion during play.
Strengths in the SWOT Analysis of Gatorade :
Brand Value: The brand value is of $4.8 billion. It ranks 86th as the most powerful brand in the world according to Forbes. Gatorade is currently manufactured by PepsiCo and distributed in over 80 countries. Gatorade commands 46% of the worldwide sports drink market according to Euromonitor International. Its sales are of about $3.3 billion.
Loyal Customer Base: It has a loyal customer base that responds to its advertisements. They rarely switch to another brand. This is mainly due to the fact that Gatorade works and they have the science to back their products in practicality. They have proved that it is efficient in the real world environment. This also gives Gatorade the power to come up and launch new products in the market with an initial customer base.
Market Leaders: As they are the market leaders in this category they have created a high entry barrier in this product segment. This allows them to enjoy the dominance in the market.
Research: The main advantage of Gatorade is the R& behind the product design. Gatorade is known to boost performance of athletes during competition which literally cements the brands place as the most preferred brand by athletes.
Weaknesses in the SWOT analysis of Gatorade :
Health Benefits: They have stuck with their customer base and do little to tell the customers about the benefits of this energy drink. They needs to address this issue seriously. They can come up with some campaigns or competitions to make people and youth more aware about the product.
Low Advertising: Gatorade generally keeps a low profile and do not advertise much on the television or social media. Majority is sports tie ups.
Varieties: Gatorade has too many varieties of their products. Generally, too many flavours and varieties confuse the customers, thereby hindering the brand name.
Brand Passion: In the brand passion index Gatorade seems to face some problems against their rivals. These needs to be found out and rectified.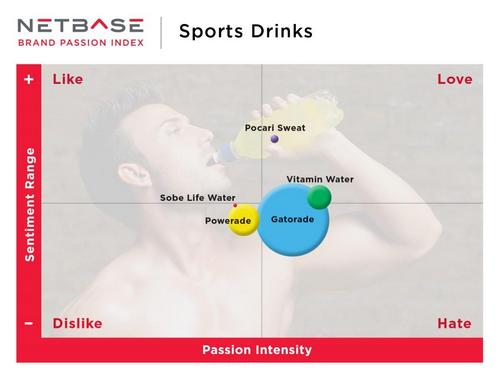 Energy Drink: Gatorade has a direct threat from the energy drink product category. They can give serious competition to this sports drink category. Gatorade cannot create an energy drink as they tend to tire out the user leading to dehydration. Fitness is a mantra for which Gatorade is known for and hence it won't go towards energy drinks.
Opportunities in the SWOT analysis of Gatorade :
Research & Development: Gatorade can come up with a unique blend that could provide additional energy to the users/sportsmen and also not tire/dehydration them out then this can be a game changer.
New Products: They can add new products like vitamin hydration to their portfolio and hence target the customer base of Vitamin Water directly and gain some additional market share.
More Advertisements: Leverage the brand name of PepsiCo and advertise more and more to engage more people and potential customer with the brand.
Target New Sports: They can target new booming sports such as MMA, i.e. Mixed Martial Arts and hence can expand directly into that budding sport.
Threats in the SWOT analysis of Gatorade :
Energy Drinks: Energy drinks are appealing to the customer these days and take eat away the market share of sports drinks category. They are also being liked by the youth.
Slow Market: According to figures from Mintel, the sports drinks market is struggling. After a period of strong growth, gatorade found a volum slump 2014 onwards. This shows sluggish growth and a modest chance of expansion.
Indirect competition: High powered fruit juices can also seriously eat away their market share and are a potential threat.
Liked this post? Check out the complete series on SWOT