One of the most magical companies in the world is Walt Disney. The word magic and Disney is almost synonymous. Disneyland, Walt Disney and their characters have given so much happiness in the last few decades that people have forgotten that they are also a profit making organization.
It is but natural that fans like us carry out an internal analysis or SWOT analysis of Walt Disney to find out what makes the corporation tick and keep going.
Strengths in the SWOT analysis of Walt Disney
Characters – There are a lot of things which help Disney become such a huge conglomerate in the financial world but the people who helped Disney reach this height were the characters. Mickey mouse, Goofy, Donald duck, Ariel, and many others are the assets of Walt Disney and are the most humongous revenue generators. Walt Disney could not have survived without these characters and hence they form the most important strength pillar in the SWOT of Walt Disney.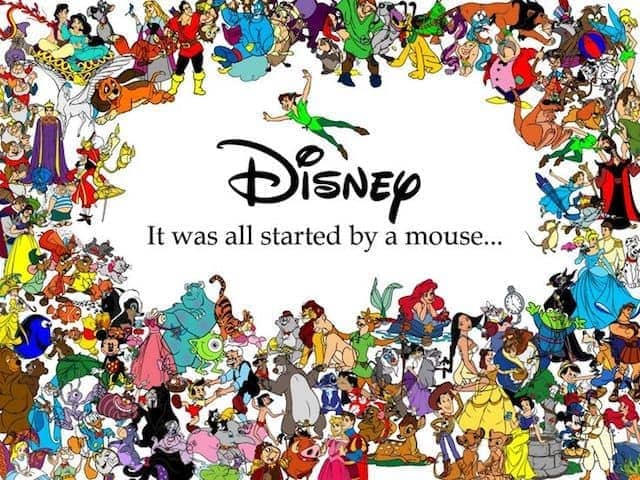 Values – Disney stands for values and ethics. Be it Disneyland, ESPN, Their movies or any business venture which the company invests, the business venture does not step a toe out of the line where values are concerned. Disney movies will be for kids and young adults.
It's a plus point that even adults love it. However, Disney as a brand has maintained the values which can be learned by kids and these values are also the one which us adults look for in our kids. And because of Disney our kids are learning those values.
Flourishing business – After the above intangible things, let us talk about business as well. Disney owns the highest revenue generating theme parks in the world – Disneyland. It has a vast presence in media with investments in movies, production houses and finally on television through ESPN.
ESPN is a star in the BCG matrix and even though the channel has a high competition, the presentation and content is such that ESPN wins over others in terms of its sports prowess. Disney also has the Disney store which is involved in merchandising of Disney's own clothing line based on their characters.
Brand image – Walt Disney is regularly listed as one of the best global brands of all time. Disney started building its brand image by involving children in the 1950's which was followed by brand extension due to the creation of Disneyland.
Disney went on leaps ahead and today it is a multi business conglomerate but the image projected is that of a young child with dreams of his own. Some people may not like Disney products, but they can never hate Disney.
Diversification of business – Diversification of business is the key strength which will keep Disney going for a long time. They are present in entertainment, retail, media, Theme parks and all of these sectors are currently booming. With the standing that Disney products have in each of these sectors, it is likely that Disney will keep showing high cash inflow in the coming years.
Cash reserves in surplus – What happens when your cash inflow is high and it rarely drops? Disney is a company known to have a cash surplus. It is regularly involved in Mergers and acquisitions and it is increasing its presence in the world so as to increase brand presence in developing markets.
Weaknesses in the SWOT analysis of Walt Disney
Company is missing out on the online market as all presence is offline – Today's children prefer staying online than going out in the real world. Of course that's harmful but that's how it is, right?. The point here is that Warner brothers started pottermore, which is an online Harry potter world.
Similarly there are many online games which present a world of its own. It would be excellent if Disney comes up with an Idea to start an online world where we can meet all the characters of Walt Disney and they play a part in our life. Disney sims is what I have in mind.
Limited target audience – Children are the biggest influencers in an adults life. However, they are not the revenue drivers. Disney is limited by its abilities as it has only children as its target audience. With Universal studio also on the rise, Disney needs to diversify its target and get involved with adults as well. After all, adults are the one who pay the money.
Character development is slow – Today, There are very few new characters which are generating revenues equal to mickey mouse or Donald duck. In India itself, Chota bheem and Ninja hattori have overtaken Ben 10 and other cartoons which are developed by Walt Disney. Thus, developing more localized characters is a need in the market.
Opportunities in the SWOT analysis of Walt Disney
Extend Disney's presence to developing countries – The Disney store needs to increase its presence and at the same time, please bring Disneyland to India :) . This Is off course a personal wish but Indian market is ready for an adventure such as Disney land. With the location being In the right place, we are sure that a country like India with a Billion people will lap Disney land quickly. Just like India, there are many other developing countries where Disney land can improve its presence.
Threats in the SWOT analysis of Walt Disney
Localization – Localization is the biggest threat to Disney. Singapore has Universal Studio, India now has Adlabs Imagica, Esselworld and other such theme parks, Many other countries are realizing the value of theme parks and businesses are investing in them.
Cartoons which are inclined towards the local culture are being watched more than the global Walt Disney cartoons. Except for CARS, Recent movies of Walt Disney have not generated revenue as much as Disney would have expected. Thus localization is the name of the game for Walt Disney.
Changes in values and culture causing a threat to Disney – Children nowadays world expect to hunt monsters and shoot the villains due to video games and PlayStation. Thus the old values and cultures are slowly dying and changing. Although Disney has been a guiding light for many parents, the culture is slowly fading. Disney land will still be a favorite theme park, but the company needs to reach out to the next generation.
Operating cost is huge due to Human resource expenses – Disney land requires a huge number of human resources to make it run. Similarly the operating expenses for a channel like ESPN are going high with sports becoming a truly competitive segment. With the rise in operating expenses, Disney is likely to get hit in its bottom line and it needs to be prepared in this scenario.
The SWOT of Walt Disney tells us a lot about the company. The major points are that Walt Disney is still one of the strongest brands in the world. Although it has several threats and weaknesses, the same can be overcome if the company goes local and starts attracting the local crowd and the next generation of developing countries. If Disney does this, it will definitely be a complete cash cow in its business.
If you liked this article, we bet that you will love the Marketing91 Academy, which provides you free access to 10+ marketing courses and 100s of Case studies.