Pizza Hut is a global restaurant chain that specializes in Italian-American cuisine, particularly pizza. The company was founded in 1958 by brothers Dan and Frank Carney in Wichita, Kansas, and has since grown into one of the largest and most well-known pizza chains in the world.
The company operates over 19,000 locations in more than 100 countries, including both company-owned and franchised stores with more than 3,50,000 employees. Pizza Hut is also an innovator in the fast-food industry, being one of the first to introduce online ordering and delivery services. Its commitment to providing delicious and affordable meals has helped it to remain a leader in the pizza industry for over 60 years. Today, Pizza Hut specializes in the sale of ready-to-eat pizza products and operates in the delivery, carryout and casual dining segments around the world.
Mission – To take pride in making the perfect pizza while providing courteous, helpful service at all times, striving to have every customer say that they plan to be back.
STRENGTHS OF PIZZA HUT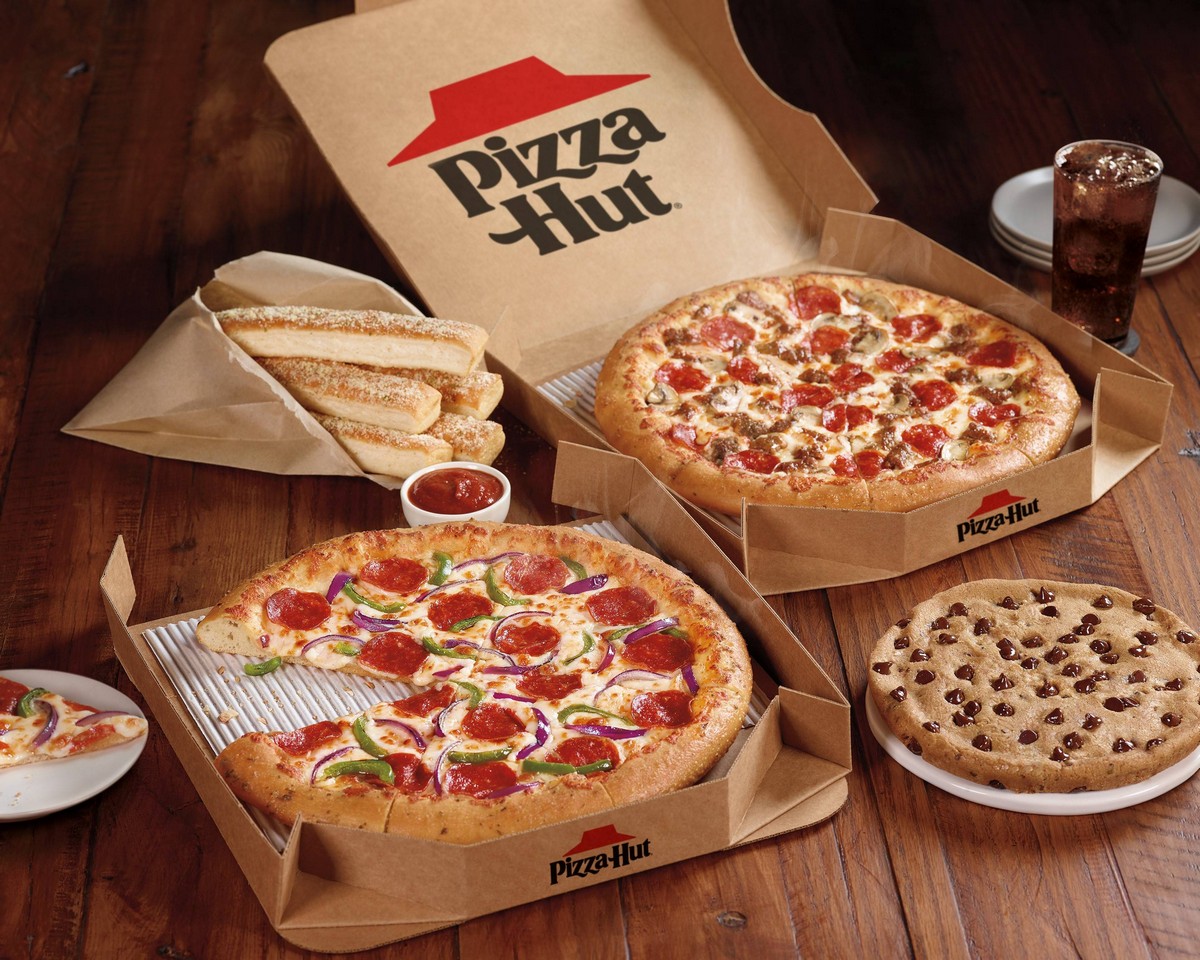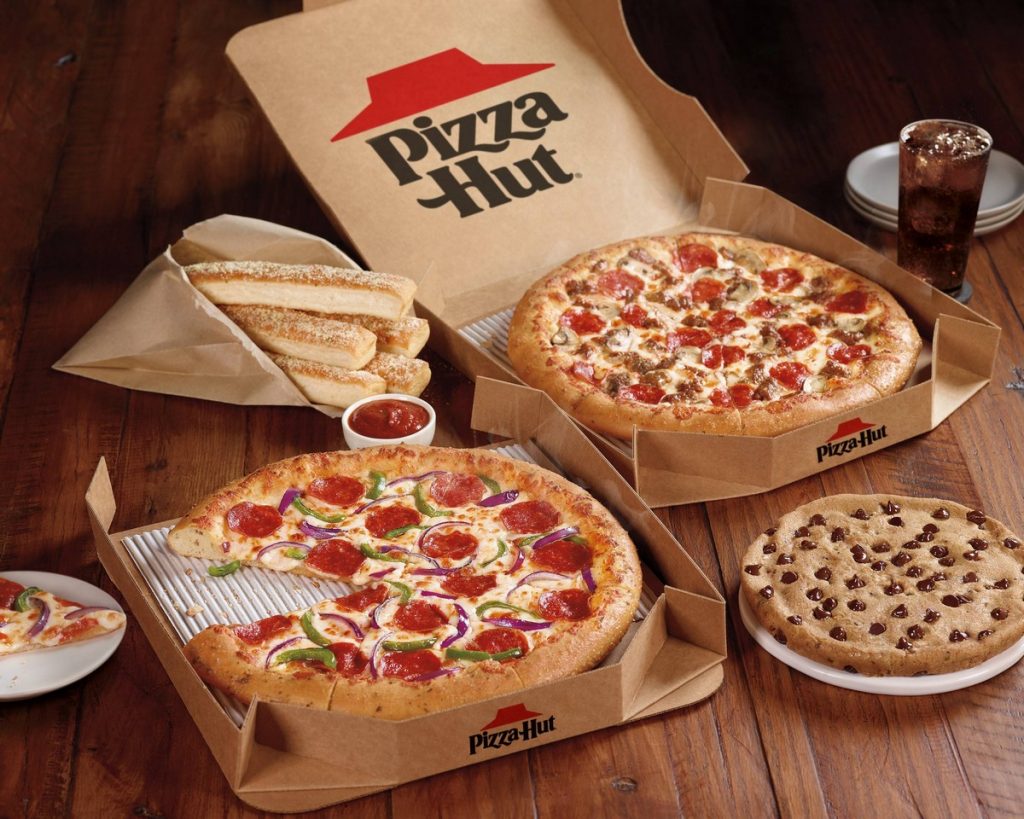 1. Diverse range of products
Pizza Hut's product portfolio includes a variety of popular pizza options such as pan pizza, stuffed crust pizza, hand-tossed, thin n crispy, dippin strips pizza, the P'Zone, bigfoot pizza, curry zazzle, and natural pizza. In addition to pizza, Pizza Hut also offers baked rice dishes, pasta, and other types of American and Italian pizza, providing customers with a diverse range of options to choose from.
2. Significant Global Reach
With more than 19000 locations spread over more than 100 nations, Pizza Hut has a huge global footprint. In a number of areas, including North America, Asia, Europe, the Middle East, and Africa, the corporation has set up franchises and company-owned restaurants, where 95% of its revenue comes from Franchises outlet.
3. Leveraging technology to enhance its customer experience
Pizza Hut has implemented several delivery technologies to enhance the customer experience. These technologies include GPS tracking, mobile ordering, delivery management system, and contactless delivery. By utilizing these technologies, Pizza Hut can provide customers with real-time updates, optimize the delivery process, and ensure timely delivery.
4. Effective Sponsorship Strategies
Pizza Hut has used successful sponsorship strategies to boost brand recognition and consumer loyalty. Pizza Hut has been able to connect with a large audience via sponsoring a range of international events, including sporting events, motion pictures, and festivals. Also, the business has shown its commitment to kindness and CSR by funding organisations that encourage literacy, disaster assistance, and education. These sponsorship programmes have not only aided in the expansion of the Pizza Hut brand but have also boosted its standing with clients and the general public.
5. Innovation
Pizza Hut's innovation lies in its ability to adapt and introduce new menu items and technology to cater to customer preferences. This includes new crusts, online ordering, and even experimenting with robot delivery.
6. Region Sensible Menu
Although the pizzas they serve are often the same across all of their franchises, they also sell various culinary items tailored to the regional cultural preferences.
WEAKNESSES OF PIZZA HUT
1. Heavily Dependent on US market
Pizza Hut's business heavily relies on the US market, with a significant portion of 41% of its total sales and also 6852 franchises out of 19,000 located in the US, as well as a notable market share and brand recognition in the country. Such reliance on 1 market may makes the company vulnerable to economic downturns, competitive pressure, limited growth opportunities, and changing consumer preferences.
2. Stagnant revenue growth
The yearly sales of Pizza Hut were $12.106 billion in 2014, and they were $12.955 billion in 2021, shows its inability to significantly increase its revenue may indicate challenges in keeping up with changing consumer preferences and increased competition. This could impact the company's ability to maintain its market position and profitability over the long term.
3. Sales in Africa & India is low
Pizza Hut's low sales in Africa and India, accounting for less than 1% and 2% respectively, indicate that the company is encountering difficulties in effectively entering these markets. This represents a weakness and missed opportunity for the company since both regions are either developing or underdeveloped and present opportunities for Pizza Hut to adapt to local cultures and capture a significant portion of the QSR industry market share.
4. High Employee Turnover rate
Pizza Hut has a high employee turnover rate of 36% as per the research report, which affects its productivity and quality of service. It also incurs high training and recruitment costs.
5. Brand hopping
The food and beverage business has expanded as a result of competitiveness and the abundance of options. Pizza Hut's market share has declined, which can be linked to factors including shifting consumer preferences and inadequate marketing tactics. Pizza Hut can address this by enhancing their menu selections, marketing initiatives, and customer service to reduce brand churn.
6. Dependence on Third-Party Delivery Services
While Pizza Hut has its own delivery system, it also relies on third-party delivery services like Uber Eats and DoorDash. This dependence on third-party delivery services can affect the quality of service and delivery times, which can negatively impact customer satisfaction.
OPPORTUNITIES FOR PIZZA HUT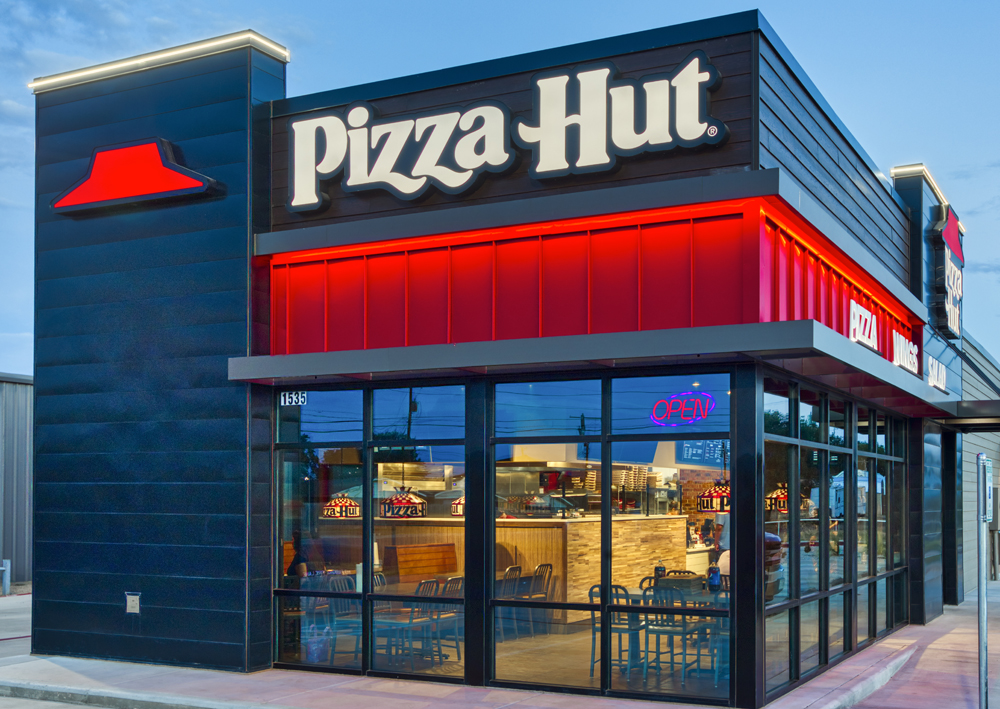 1. Expanding into Catering Services
Pizza Hut can expand its services to include catering for events such as parties, corporate events, and weddings. According to Research and Markets, the global catering services market is expected to grow by $206.43 billion between 2021 and 2025.
2. Developing Loyalty Programs
Pizza Hut can develop loyalty programs to retain existing customers and attract new ones. According to a study, 57% of consumers are willing to spend more with a brand that they are loyal to.
3. Partnerships and Collaborations
Pizza Hut can collaborate with other brands and companies to expand its reach and tap into new markets. For example, Pizza Hut has partnered with Beyond Meat to offer a plant-based meat pizza. Such collaborations can help Pizza Hut to stay relevant and innovative in the fast-food industry.
4. Expansion into Developing markets
Growing middle classes and higher disposable incomes in emerging markets present opportunities for Pizza Hut to expand. Pizza Hut can adapt to the local culture, expand operations, leverage technology, and engage in social responsibility programs to enhance customer experience.
5. Using data analytics
Pizza Hut can increase sales and revenue by using advanced data analytics to better understand customer preferences, optimise menu options, and improve targeted marketing campaigns.
6. Social responsibility
By engaging in social responsibility programs like supporting local communities or reducing their environmental impact, Pizza Hut can improve their brand image and attract more customers.
THREATS TO PIZZA HUT
1. Intense Competition
In the pizza industry, there are numerous competitors fighting for market share. Pizza Hut's growth and profitability may be impacted by rivals like Domino's, Papa John's, Little Caesars, and other nearby and regional pizza businesses that provide new products, aggressive pricing, or superior customer service.
2. Significant Portion of sales from China
Pizza Hut relied on China for its significant 16% of total sales in 2022, if in future because of Geo-politics tensions, Chinese Government take actions against Western companies, Pizza-hut profitability may face the problems.
3. Decline in QSR Industry
Pizza Hut faces declining sales in the QSR industry as households reduce eating out expenses. Despite opening new outlets, the company is still struggling due to the overall industry slowdown, posing a threat to its profitability and long-term growth. 
4. Hike in raw material price
Pizza Hut is facing the challenge of rising ingredient costs for cheese, flour, and meat/chicken. Increasing retail prices to compensate may negatively impact sales. To overcome this, Pizza Hut may need to consider alternative ingredient sources or cut costs elsewhere.
5. Franchise Model
The franchise model that Pizza Hut utilizes, while advantageous in certain situations, poses a threat to the company's reputation if franchisees do not prioritize quality. If customers have a negative experience at a franchise location, it could reflect poorly on the overall brand and lead to decreased sales.
6. Consumer Preference is changing
The shift towards healthier, fresher, and locally-sourced food options is a threat to Pizza Hut's sales and menu offerings, especially among younger generations. Additionally, the rise of online ordering and delivery services may impact Pizza Hut's market share and operations.
CONCLUSION
In summary, Pizza Hut has several strengths including their diverse range of products, global reach, and innovative strategies. However, the company must also address weaknesses such as heavy dependence on the US market and high employee turnover rate.
To maximize their potential, Pizza Hut can take advantage of opportunities such as expanding into catering services and utilizing data analytics. Additionally, the company should be cautious of threats such as intense competition and rising costs of raw materials.
By doing so, Pizza Hut can position themselves for continued success in the dynamic QSR industry.
Liked this post? Check out the complete series on SWOT