Air Canada is a popular flag carrier and largest airline of Canada that was formed during the year 1937. It provides scheduled and charter air transport to about 207 destinations across the globe.
It is the largest international and domestic airline that services about 200 airports on six major continents. It is the largest airline in Canada and the largest provider of scheduled passenger service in the Canadian airline market.
The fleet of Air Canada offers great comfort, technology, and innovation to their customers. During the year 2017, Air Canada along with its subsidiary Air Canada Express has carried approximately 48 million passengers to various destinations worldwide.
Owing to its popularity, let us see the SWOT analysis of Air Canada.
About Air Canada
Type: Vacation ownership company
Industry: Leisure and hospitality
Founded: 1996, Chennai, India
Founders: Anand Mahindra, Harish Mahindra
Headquarters: Chennai, India
Area served: India, Sri Lanka, Nepal, Dubai, Maldives, Bhutan, and Egypt
Current CEO: Kavinder Singh
Number of employees: 3,500+
Major products: Vacation ownership memberships
Strengths in the SWOT analysis of Air Canada
The largest airline in Canada – Air Canada is the largest airline based in Canada. It has its collaboration with many regional partners under the banner Air Canada Express. It is also the largest provider of scheduled passenger services in the Canadian aviation market.
Business operations – Air Canada has many airlines that operate under its banner. Few are Sky Regional Airlines, Jazz Aviation LP, Air Georgian Ltd, Exploits Valley Air Services etc. The airline, Air Canada Rouge is the leisure airline of Air Canada that caters to the needs of leisure travelers.
Partnership – Air Canada has a strong business partnership and due to which it carries millions of passengers to across 200 destinations.
Strong financial position – Air Canada has a strong financial position. Its net income over the year 2016 was estimated to about $876 million Canadian dollars.
Strong aviation network – Air Canada has a robust route network thereby providing access to the main markets. It runs an average of about 1520 flights per day. It has a strong fleet operation with about 202 active aircraft.
Awards & Recognition – Over the years, Air Canada has been a receiver of many prestigious awards. During the year 2016, the airline has been voted as the 'Best Airline in North America' by the readers of Global Travel Magazine.
Weaknesses in the SWOT analysis of Air Canada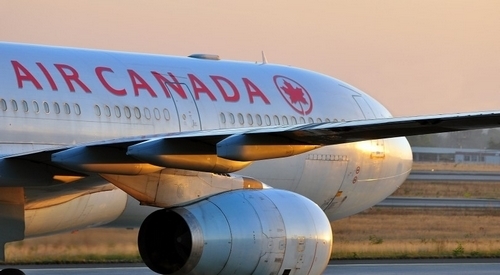 Recession in technology – Early 2018, Air Canada has faced some difficulties in technology. Even though the details of flight cancellation were not reported, few computer issues have shut down the airline's web and mobile check-ins and the call center operations. There were also some flight delays in some airports. Though it was a temporary issue, it has shown its vulnerability to face technical difficulties.
Aging aircraft – Air Canada is an aging aircraft and it is of major concern. Since it is an old aircraft, the cost involved in maintaining it is high.
Brand affinity – Air Canada's brand awareness is high, but however, its brand affinity is low and due to which it is a great weakness for the airlines.
US route weakness – Air Canada started to see a dip in the domestic market share to low-cost competitors. Hence it faced further weakness on flights to the United States.
Opportunities in the SWOT analysis of Air Canada

Route expansion – Recently Air Canada has seized many opportunities. During the year 2017, Air Canada airline has introduced 30 new routes that include 20 new international routes. The route Toronto to Mumbai, Vancouver to Frankfurt, and Montreal to Algiers are some of the international routes that were launched.
Booming tourism in Canada – Inbound tourism is getting boomed in Canada. There is a record of about 43.7 visitors that includes international and domestic who came to Toronto during the year 2017. This is a great opportunity for Air Canada to penetrate further.
Low priced airlines – Air Canada has launched low-cost airlines, thereby giving opportunities for expansion
Threats in the SWOT analysis of Air Canada
Competitors – The biggest threat to Air Canada is its competitors. Air Canada faces a lot of competitors both in domestic and international markets. Few of their competitors in the domestic market are Air Transat, West Jet, Provincial Airlines, and Sunwest Aviation. At the international market, its competitors are American Airlines, British Airways, Qatar Airways, and Emirates Airlines.
Other low-cost carriers – Other low-cost carriers are a major threat to Air Canada.
Government restrictions and legislation – There are a plethora of government rules and regulations that restrict the entry of this industry. The Canadian Aviation act governs the service and parts of aircraft and operations as well.
Liked this post? Check out the complete series on SWOT