American Airlines Group Inc., commonly known as American is an airline holding company offering domestic and global long haul flight services, through its subsidiaries. It is headquartered in Fort Worth, Texas, USA. For FY 2015, the company recorded revenues of US$ 40,990 million with a decrease of about 3.9% year in a year.
Strengths in the SWOT Analysis of American Airlines :
Loyalty Flyer Program: AAdvantage is a Flyer Program run by American Airlines. The members of the Flyers program earn mileage credits. Mileage credits can be redeemed to upgrade or free air travel with American Airlines. String Flyer program encourages repeat Flyers which builds strong Brand Loyalty for American Airlines.
Strong Tie-ups and Alliances: The Company has a strong alliance base with various international alliances. American Airlines is the founding member of the Oneworld alliance which includes Air Berlin, Cathay Pacific Airways, and British Airways etc. Oneworld members together serve around 1000 destinations in approximately 150 countries. This increases flight frequencies for American Airlines.
Operational Network: American Airlines has an extensive operational network and as measured by revenue passenger miles (RPMs) and available seat miles (ASMs), American Airlines is one of the largest scheduled passenger airlines in the world. In FY 2015, about 146.8 million boarded its mainline flights, whereas 54.5 million boarded its regional flights.
Reputation for onboard entertainment: American Airlines' onboard entertainment is very popular and strongly appreciated by the customers. This allows the company to rope in new customers as well as increase brand loyalty. Also, this allows for word of mouth publicity.
Majority Market share in the USA: As can be seen from the graph below, American airlines has a majority market share in the US, above many of the competitive airlines.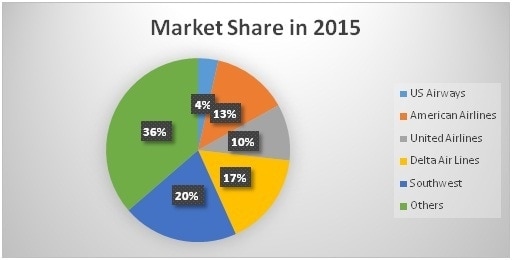 Weakness in the SWOT Analysis of American Airlines :
A limited number of suppliers: American Airlines is dependent on a limited number of aircraft and aircraft engines and parts suppliers. This makes American Airlines vulnerable to any mechanical problems, design defects and inadequate performance. This may adversely affect the company's overall top line growth.
Unfunded pension benefits: American Airlines is due to contribute to the minimum funding requirements of the Pension Funding Equity Act of 2004.  In FY2015, the group's pension obligations stood around $16,395 million. This could affect the company's liquidity position.
Number of LCC competitors: The total number of Low cost carrier competition for American airlines is rising steadily, affecting their revenues as well.
Opportunities in the SWOT Analysis of American Airlines :
Growing Global Tourism: The Global tourism is growing at about 4.4%, and has shown growth since the 2009 economic crisis. With a large operating network throughout the world. Thus, a growing global market gives a great opportunity to American Airlines to capitalise on the demand created.
Growth in US' Airline Industry: The US' airline industry has delivered a robust growth in the recent years. The US Airline Industry had shown a growth of about 4.2% in terms of revenue, standing at $160,523 million in 2015. The industry is anticipated to show a CAGR of about 5% in the next 5 years.
Growth in Air Freight: The global air freight sector is expected to grow at 7% CAGR. American Airlines Cargo has one of the largest air cargo operations in the world delivering a wide range of mail services and freight. This provides incremental growth opportunities to boost its revenues and market share.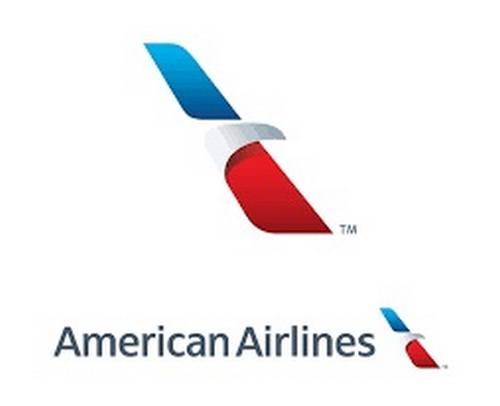 Threats in the SWOT Analysis of American Airlines :
Intense Competition: The US Airline Industry has been characterised as an intense price competition, especially in domestic markets. The Company faces strong competition from domestic players such as Alaska Airlines, United Airlines etc. Globally, it faces competition from Emirates, Qatar Airlines etc. This can have a negative effect on American Airlines market share and financial condition.
Growing Security Concerns: Due to some of the major airline accidents in the recent past, there is a growing safety concern globally. This may affect the overall passenger traffic which could affect future growth prospects.
Environmental Laws: The Airline industry is subject to various governmental regulations as far as the environment is concerned. This, a company has to make sure it compliances with all the local and global rules and regulations.
Fuel costs and government intervention: Fuel cost is a major bottleneck for all airlines and it is the same for American airlines as well. Hydrogen fuel, which is used for air crafts is very costly, directly affecting the bottomline of thecompany. Besides this, the airlines sector is heavily controlled by the Government and a change in policies can affect the brand adversely.
Liked this post? Check out the complete series on SWOT