Southwest Airlines Co. is an airlines company primarily based in the United States of America. The company is popularly known for its point-to-point service, low turnaround time and low priced fares. The company has set standards of efficiency with being profitable in such a competitive environment.
About Southwest Airlines
Type: Airline
Industry: Transportation
Founded: March 15, 1967, San Antonio, Texas, United States
Founder: Herb Kelleher and Rollin King
Headquarters: Dallas, Texas, United States
Area served: United States, Mexico, Costa Rica, Guatemala, Honduras
Key people: Gary Kelly (Chairman) and Gary Kelly (CEO)
Number of employees: 56,000+
Strengths in the SWOT Analysis of Southwest Airlines :
Point-to-Point Service: Southwest Airlines focuses on providing point-to-point services instead of Hub and Spoke system which most airlines follow. In hub and spoke you are basically connected through some hub points wherein you get connecting flights. In point-to-point service, direct flights are provided which saves a lot of time for customers. It also helps the company achieve better asset utilisation.
Strong Fleet Base: Southwest Airlines has a very strong network of fleet across the US. It has one of the largest Boeing aircraft fleets in the world. It has under its armoury multiple models of Boeings which helps it deliver effective services across the country.
Low Turnaround time: Southwest Airlines has expertise in saving time during a turnaround. The average turnaround time for the Airlines is about 25 minutes which is at least 20 minutes lower than the industry average. This helps the company in efficiently utilizing its aircraft's in more flights per day and hence saving the huge amount of capital in buying new airplanes.
Price Leadership: Southwest Airlines offer low priced flights in the US. Its business model allows it to have low priced fares by saving money on many accounts like turnaround time or fuel at large hubs etc. Southwest Airlines is one of the few airlines to be profitable in the world.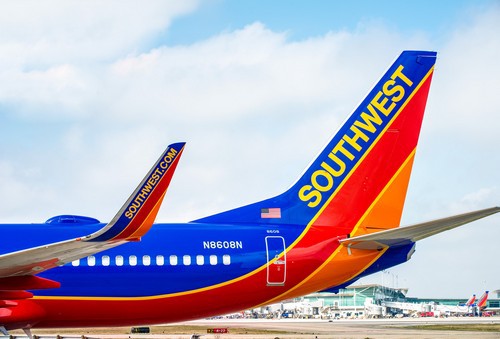 Weaknesses in the SWOT Analysis of Southwest Airlines :
Heavy contribution from passenger revenues: Southwest Airlines is over dependent on passenger revenues which contribute over 93% of its revenues. A contribution of freight is only about 1%.  The revenues can be affected in case of rising fuel pricing resulting in the reduction in passenger traffic.
Lawsuits and Litigation cases affect image: Southwest Airlines is involved in some class action lawsuits whose outcomes are pending. If the company receives any bad outcome, it can affect the finances and image of the company.
Over dependent on Boeing: Boeing has high bargaining power as a supplier over Southwest Airlines as it is the sole supplier of aircraft and its parts. This can affect Southwest business in situations of disagreement with Boeing.
Opportunities in the SWOT Analysis of Southwest Airlines :
Expanding Network Locally as well as globally: Southwest Airlines has been on the lookout for expanding its network locally in the US and also globally with going international in 2014. This helps in increasing customer base and revenues.
Growing global tourism: The global tourism industry is expected to grow at a CAGR of over 4% with 5% in the US in the next 5 years. Such a trend in the global tourism industry enhances the business of the company which will help in increasing revenue.
Increase freight business: The global freight business is also increasing with the advent of E-Commerce which and extended globalisation. The industry is expected to grow at a CAGR of 7% in the next 5 years. The company should take advantage of the growth in the industry.
Threats in the SWOT Analysis of Southwest Airlines :
Intense competition: The US Airline industry has intense competition characterised by pricing wars in the industry. The company competes with American Airlines, Delta Airlines, JetBlue and SkyWest etc. Increased competition forces pricing wars and affects profitability.
Stringent government regulations: The Airline industry is subject to stringent regulations and legal compliances. The industry is also taxed heavily, which increases compliance costs of the company which consequently affects the profitability of the company.
Liked this post? Check out the complete series on SWOT