The form of communication that occurs without using words is understood as Non-Verbal Communication.
Facial expressions, gestures, postures, tone and pitch of the voice, kinesics, proxemics, etc. play a key role in non-verbal communication.
As per the stats, more than 70 to 80% of the communication is nonverbal.
In businesses, nonverbal communication plays a crucial role in revealing who we are, plus it also impacts our interpersonal as well as business relations.
In this post, we will be covering the nitty-gritty of nonverbal communication and will try to understand how important it is in adept channelisation of a business. We will also delve into different types of nonverbal communication and their role in appreciating more favourable decisions.
So, without any further ado, let us start unfolding the critical concepts of nonverbal communication-
Introduction

Nonverbal communication often called the dialect of the heart is the method of transmitting messages without using words.
Nonverbal communications have been regarded as a critical aspect of disclosure for the ages. It applies to gestures, facial expressions, tone of voice, a touch of the eye, the language of the body, stance and other ways of communication through which one puts different messages forwards without using the medium of language.
Such non-verbal signs can provide hints and context of spoken communication.
Yes, some estimates suggest that the most substantial portion of human conversations occur in the non-verbal fashion.
Interpersonal contact is much more than the explicit meaning of words and the message they convey. It also contains implicit messages that are expressed by non-verbal actions, whether intentional or not.
In many situations, we use behaviour classes to communicate information for nonverbal ways. For example, to suggest disapproval, we might combine a frown with crossed arms and unblinking eye gaze.
In the interviews or other sessions, HR managers analyse one's personality through your nonverbal communication such as your way of talking tells how confident you are, plus, your gestures and postures play a significant role in the process.
In business dealings, incorporating the right nonverbal styles is also essential in ensuring favourable outcomes.
So, you can make the best impression by using your nonverbal communication skills.
It may seem unprofessional to have poor postures. Seeing downward or not maintaining eye contact gives the signal that you are either not confident or not entirely interested in the conversations.
You must incorporate the right nonverbal skills so that you can have the right impressions on your audiences. This will also increase the importance of your verbal communication.
Uses of Non-verbal communication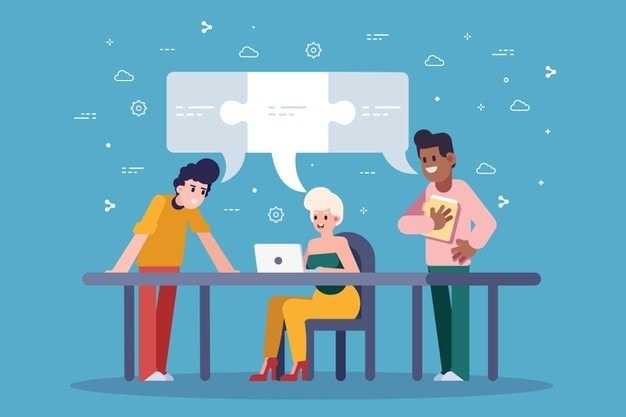 1) Reinforcement or modification of spoken words
You can nod your head when you give your consent for something to underline that you are in full agreement with the other individual. A wave with a sad look may mean that things aren't excellent!
2) Expressing emotions
Your facial expression, vocal tone, and posture can often tell people exactly how you feel, even if you haven't spoken a word.
Example:
"Are you fine? You look a little unwell."
No one tells you that they are unwell, but from their non-verbal communication; you will get to know how people feel.
3) Defining relationships
You may have noticed that the body language of sisters, they tend to have a relationship without expressing it through verbal means, which is visible through their nonverbal communication.
The comfort or the discomfort, or way of communicating with each other, etc. are the traits that tell others about the relationship between two individuals.
4) Giving Feedbacks about different things
Smiles and expressions tell you that you're listening and that you're in agreement with what they're doing. Movements and hand gestures can mean that you want to talk.
Your instant expression can tell people about your likings or disliking, and those who are supposed to make decisions as per the inclinations of their audiences always notice such gestures and postures.
5) Regulation of communication flow
We use a variety of signs to tell people that we've finished speaking or that we want to talk. For example, an emphatic nod and a firm lip closure suggest that we have nothing more to say.
Contacting the chair of a meeting with your eye and slightly nodding will indicate you want to talk.
Types of Nonverbal communication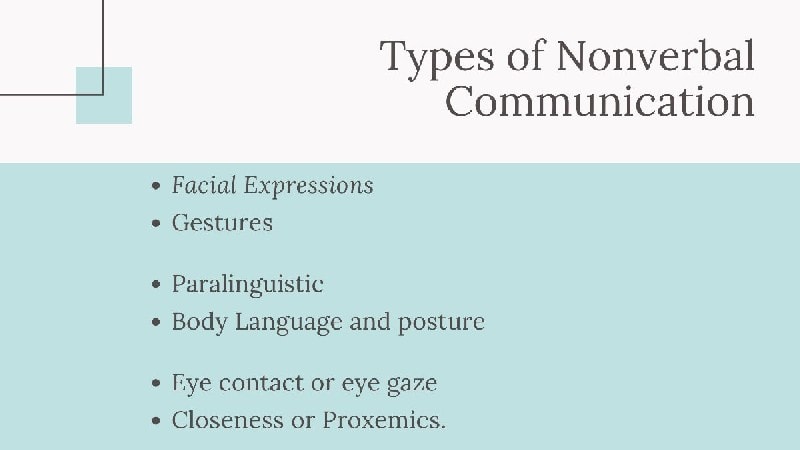 1) Facial Expressions
They are responsible for an enormous proportion of nonverbal communication.
Consider how much information a smile or a frown can convey.
Although nonverbal communication and actions can vary dramatically across cultures, the facial expressions of joy, sorrow, frustration, and fear all over the world are identical.
While making any conversation with anybody, we always notice their facial expressions to gauge one's inner feelings.
2) Gestures
Purposeful movements and indicators are an essential means of communicating meaning without using the verbal means of communication.
Common gestures include waving, pointing, and indicating numerical amounts using fingers. Some many other actions and gestures are arbitrary and they vary with different cultures.
Business communications, government offices, schools, meeting rooms, and professional gatherings, practise different types of gestures that play a significant role as the nonverbal communication medium.
 3) Paralinguistic
Paralinguistic applies to vocalisation that is distinct from the language itself.
This covers aspects such as your voice tone while talking to someone, the intonation, modulation or pitch of your voice tell some critical details about what is going on your head while speaking anything.
So, paying heed to the powerful impact on the interpretation of a sentence that the tone of voice can have is one crucial aspect of nonverbal communication.
Loud voice tone might interpret enthusiasm or dissent.
Similar words said in a hesitant voice might convey a lack of interest or disapproval.
So, it is all about the nonverbal representation of a language that plays the role of the deciding factors.
4) Body Language and posture
Body language can be seen as hand gestures or nodding or shaking of the head or the way you are sitting, how your hands are positions. Etc.
It is often the most accessible item to regulate in non-verbal communication.
Posture is the defined position in which we stand, walk or sit.
5) Eye contact or eye gaze
The degree of confidence in one's speech, discussion or interview session is often measured by the kind of eye contact they have.
The eyes play a significant role in nonverbal communication, and effective nonverbal habits include things like gazing, concentrating and blinking.
The rate of blinking increases when people encounter people or things they like and pupils dilate. Looking at someone else may signify a variety of emotions like aggression, desire, and attraction.
We also use eye contact as a means of determining whether someone is honest.
Regular, constant eye contact is often taken as a sign that a person tells the truth and is trustworthy. But on the other side, duplicitous eyes and an inability to maintain eye contact are often seen as a sign of deception or being manipulative.
6) Closeness or Proxemics
This determines the closeness and intimacy and may differ from culture to culture, person to person and profession to profession.
It can also be referred to as personal space.
The kind of closeness, compassion or intimacy that you show towards others plays a crucial role in nonverbal communication.
For instance, when you have a casual conversation with someone, it is suggested that you can have a distance between 1.5 feet to 4 feet. While at the time when you speak to a crowd, it is advised to have a personal range of 10 to 15 feet.
7) Physiological Changes
When you're anxious, you can sweat or twitch more, and your heart rate may also rise.
These are almost difficult to monitor and are thus a potent mental state predictor actively.
Different such sorts of signals act as the nonverbal means of communication, and it tells about the kind of discomfort one is going through in the process.
8) Artefacts
The use of different types of images or objects also plays vital roles as a powerful means of nonverbal communication.
They play a crucial role in your personality, brand tone, and other vital signals.
When you go to an office, the décor of the interiors or exteriors play a crucial role in impacting people's subconscious and telling them about the kind of person you are.
Kind of images used on a website or one's online profile tells a lot about one's personality.
9) Appearance
How you appear yourself at any event, interview or occasion also plays a crucial role in nonverbal communication.
So, your clothing, choices of colours, hairstyles, etc. are some of the factors you need to pay heed to for making your presence more impactful.
Importance of Nonverbal Communication
Non-verbal communication can have a significant impact on the audience and interaction performance.
Nonverbal words depend upon the way one listens, looks, moves, and talks.
When the words you say suit your nonverbal signals, they improve confidence, understanding, and relationship. On the other hand, they can create tension, mistrust, and confusion if they don't.
During interviews and networking sessions, most candidates carefully plan what they are going to say and how they are going to appear.
Knowing what you're going to say is just part of the picture that you are going to create with your appearance.
It's just as important to understand how thoughts can be conveyed through your body language. Your success in interviewing and networking will depend mainly on the impression people get from you and how they react to what you say.
Roles of Nonverbal Communication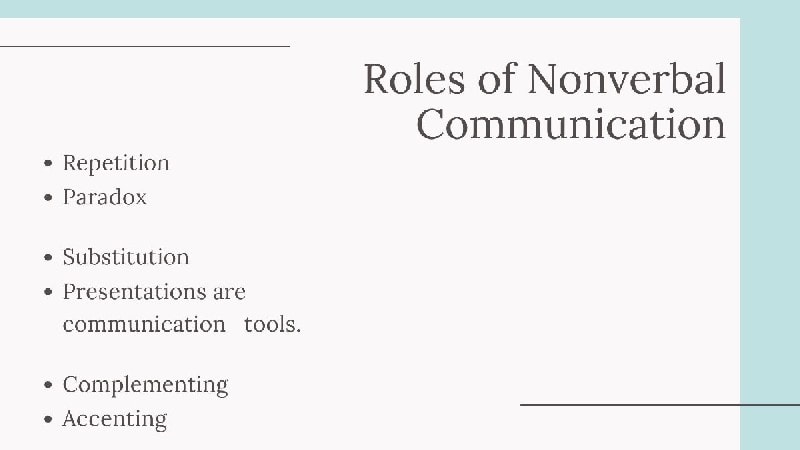 Repetition: It focuses on repeating and often confirming the message that you are verbally making.
Paradox: It might contradict the message that is being conveyed, thus making a doubt in the mind of the listener of whether one is speaking the truth or not. So it can work as a paradox as well.
Substitution: It can replace a verbal post. Your facial expression, for example, frequently conveys a meaning far more vivid than words can ever have.
Complementing: It can add to your verbal message or compliment this. As a manager, it can improve the impact of your message if you pat an employee on the back besides giving praise.
Accenting: It can highlight or simplify a verbal message. For example, pounding the table will highlight the importance of your message.
Workplace Nonverbal Communication Tips
1) When you are participating in low-risk conversations, the sound of your voice and body language will play a key role in supporting your words
2) While listening to others at your workplace, you need to pay attention to the nonverbal messages that you show with your actions
3) You should beware of the distracting and nervous habits, as this may dilute your intention
4) You should practice for the right gestures for business communications so that you can enhance the impact of your essential points
5) Managing emotions adeptly while communicating with someone so that you can make best out of essential conversations is also important
Nonverbal Miscommunication
How you express through the language of your body and nonverbal signals determines how others see you, how well they love and respect you, and whether they trust you or not. Sadly, without even realising it, often people are sending ambiguous or derogatory nonverbal signals.
When this occurs, partnerships and trust are harmed. It is crucial to understand how to use and perceive body language and develop your nonverbal communication skills if you want to communicate effectively, prevent misunderstandings, and maintain healthy, trusting relationships, both socially and professionally.
Improvement of Nonverbal communication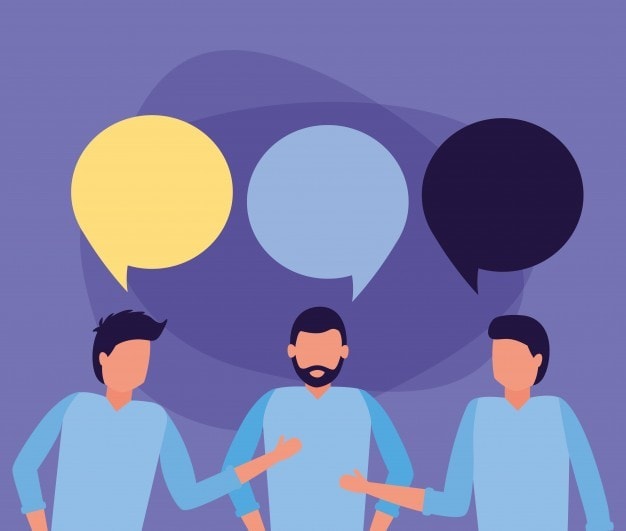 Nonverbal contact is a fast-flowing straight-and-forth process involving a full concentration on the perception of the moment. If you're contemplating what you're going to say next, checking your watch, or worrying about anything else, you're almost sure you're lacking nonverbal signals and not fully understanding what is being conveyed.
Managing stress: Stress affects your ability to speak. You are more likely to misread other people when you are stressed out, give contradictory or nonverbal signals off, and slip into inappropriate behavioural knee-jerk patterns. So remember: there are infectious feelings. If you're upset, it's likely to upset others, making a bad situation worse.
Emotional awareness: emotional awareness is significant to improve nonverbal communication skills. It helps to understand better and establishes the trust between two people stronger.
Conclusion
While the secret to success in professional and personal relationships resides in your ability to interact effectively, the loudest language is not the phrases you use, but the nonverbal signals or "body language."
Body language is the use of body gestures, words, and mannerisms for nonverbal communication often performed unconsciously rather than intentionally.
There may be two different things that come out of your mouth and what you express through your body language. When you say one thing, then you mean something else in your body language, the audience will probably feel you're dishonest. With the betterment skills of nonverbal communication, however, one can convey and connect with others in a transparent manner.
Non-verbal communication is an intricate and essential part of the overall communication competencies.
Individuals are often entirely unaware of their non-verbal behaviour, though.
In comparison to what is already spoken, a simple understanding of non-verbal communication techniques will help improve interaction with others. Knowing these signs can be used to encourage people to talk.
What are your thoughts about the importance of non-verbal communication in leadership and business management?
Did we miss any of the critical characteristics of nonverbal communication? Share with us in the comments below.