Nokia has been long the market leader in the mobile phone market and with its enormous reach and huge customer base, had successfully created significant entry barriers for any new player as such. Its symbian OS being the backbone of the whole success story contributed to a great deal in its higher perceived ease of use. Customers used to enjoy the features, thanks to highly simplified GUI. It ruled the middle and low end market for long.
But, Nokia did a blunder by being very much myopic and complacent about its achievements and didn't envision the competition, radical innovations and high end technology coming its way, which certainly had potential to dethrone it of its place. This was one of the major reasons Nokia lost its market share.
Although, Apple came with its revolutionary iPhone series, this couldn't be considered a major threat when apple started. Reason being there was very niche market of smart phone users worldwide. First stone for the fall was paved by Samsung with its completely new, repositioned mobile phones, which slowly and steadily started to penetrate the market in which Nokia was enjoying the leadership. The strategies formulated by Samsung along with its world class R&D facility; which helped it to work on its previous weaknesses as found from a market research made sure that Samsung is here to stay.
Samsung came up with mobile phones to directly compete with Nokia in low end segment in developing economies. This along with effective well designed marketing communication strategies helped it to establish itself as direct competitor to Nokia in the segment and thus posing a threat to legendary symbian enabled mobile phone market.
During this time the search engine giant Google came up with its new OS for mobile phones, Android and this proved to be the last nail in the coffin. Android revolutionized the mobile phone market and Google in association with many mobile phone manufacturers to come up with low budget smart phones and nokia wasn't prepared to counteract to this. If we look at the data for adaptation to android as below: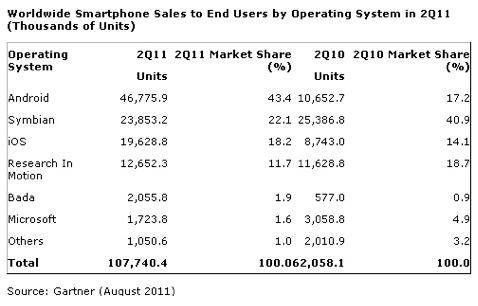 Looking at the present scenario, Nokia has started to make efforts to enter smart phone market by collaborating with Microsoft and bring its smart phones to the market, with Nokia lumia 800 being the recent one in the stable. However Nokia needs to do a lot of homework as during this period it lost a lot of brand equity.
Nokia needs to focus on its long term strategy and reposition it leveraging on its glorious past record. The strategic marketing communication will play a major role in defining its fate in long run.
The article is from Guest Author – Mr Rohil Raina. Rohil is an MBA in Marketing & Strategy and has over 3 years of valuable industry experience. 
Liked this post? Check out the complete series on News