From founding the company in the year 1847 to taking it more than 150 countries worldwide Carlsberg has been successful in making strong market positions in Asian and European markets. Asia accounts for 45 % of the total beer consumption of the world and it contributes 28% of the operating profit in Carlsberg business. It currently operates in two business segments namely Craft & Speciality and Non-alcoholic Brands (NAB).
Segmentation, targeting, positioning in the Marketing strategy of Carlsberg-
Carlsberg has a presence in both alcoholic and Non-alcoholic beverage segment. Since it's in beverage industry it uses a mix of psychographics and geographic segmentation strategies.
Carlsberg uses differentiated targeting strategy for its offerings as most of its offerings are meant for different customer groups.
It uses user benefit and product class based positioning strategies which help it in highlighting the benefits of the offerings in terms of how old it is or how its flavor is.
Marketing mix – Here is the Marketing mix of Carlsberg
SWOT analysis – Here is the SWOT analysis of Carlsberg
Mission- "Not available"
Vision- "No Available"
Tagline-"Probably the best beer in the world".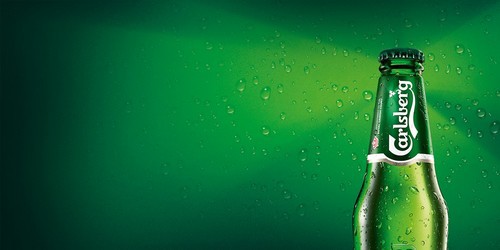 Competitive advantage in the Marketing strategy of Carlsberg –
Product portfolio: Carlsberg group with a strong portfolio of more than 500 brands is in alcoholic and Non-alcoholic beverage segment is ruling the market worldwide. Some of its widely popular beer brands are Tuborg, Baltika, Beerlao Carlsberg, Rings which are holding no. 1, 2 or 3 positions in the respective markets in which it operates.
Strong R & D: Developing Consumer occasion and benefit drove portfolio approach has helped the company in being competitively ahead in the market. Its continuous strive for consumer insights has helped the company in creating world class capabilities in areas like Yeast, Barley and brewing science, FIT model (Focus-Implement- Track) and value chain.
Focus on developed economies: Strengthening local beer portfolio and more focus on the profitable brands in the developing nations have helped the company in generating 74%+ of the total sales from 24 markets across Asia and Europe.
Operating through subsidiaries: Dealing in vast markets through its subsidiaries and strategic acquisitions have helped the company in penetrating the emerging as well as developed economies. Recently it acquired London fields brewery and tied up with Brookly brewery to give a boost to its beverage business.
BCG Matrix in the Marketing strategy of Carlsberg –
Its 3 strategic business units (SBU's) work together to offer bundled propositions to the customers with ample alternatives and options based on the taste and choice.
Its Craft and Speciality business are question marks since it is driven by consumer desire for premium brands and acceptability and Carlsberg's premium brands are still competing with local and international brands in the respective markets.
It's Beer (Alcoholic beverage) segment is a star in the BCG matrix as it has a strong portfolio of brands which are holding No. 1 or 2 positions in the respective markets.
 It's Non-alcoholic beverages businesses are question marks in the BCG matrix due to having a large number of companies competing in the meat-market.
Distribution strategy in the Marketing strategy of Carlsberg –
It distributes it various brands worldwide through different mediums like through exclusive distribution partnership with the subsidiaries, strategic partners, competitors, local distributors, retailers, e-commerce sites and wholesalers etc.
Its multi-model delivery strategy has helped the company in making its products available in more than 150 countries.
Brand equity in the strategy of Carlsberg –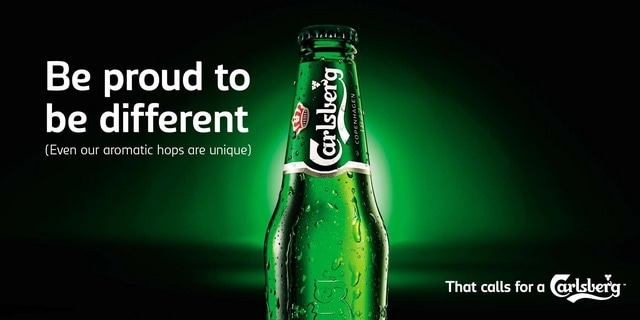 Carlsberg has been ranked 787th world's most valuable brand in the Forbes magazine list. The brand has been valued at $142.1 billion as of May 2017 (market capitalization value method). Carlsberg and Tuborg are the highest selling beer brands of the Carlsberg with international footprint known for its taste and association with music and festivals.
Competitive analysis in the Marketing strategy of Carlsberg –
The Company is working in an industry which is closely regulated in the developing nations and is in disadvantage due to government regulation and presence of local players. The strong portfolio supported by deep penetration worldwide is what is driving Carlsberg ahead of its competitors. It works closely with meta-market players like those of breweries, nonalcoholic beverages and local players to gain insights and strategically work on the pre-set goals thereafter.
Carlsberg competes with some of the renowned international brands like Budweiser, Heineken, Corona and many others globally.
Market analysis in the Marketing strategy of Carlsberg-
The Alcoholic and Nonalcoholic beverages market are overcrowded with local and national players through their product offerings and efficient supply-chain management.
Growing middle class, changing government regulations, lifestyles, rising standards of living are some of the factors playing a vital role in the growth of the industry. 
Customer analysis in the Marketing strategy of Carlsberg –
Carlsberg operates through various retail and wholesale formats. Its retail Customers are from all age group while its corporate customers are the resellers, retail outlets, distributors, MNC's, e-commerce sites etc.
Liked this post? Check out the complete series on Strategies