Inventory, a stock of raw materials and components to be used in manufacturing process or a stock of finished goods held for the purposes of reselling, is one the most important part of the working capital of any business and must be managed with due diligence.
Adequate management of inventory is very important, as having lower levels of inventory than required leads to incurring higher costs of on-the-spot purchases and loss of business opportunities whereas; unnecessary stockpiling leads to the organization running the risks of obsolescence, pilferages, and damages along with blocking valuable cash resources in stock in hand.
Hence, Inventory Management Systems form an important arena of modern-day management practices.
What are Inventory management systems?

The essence of Inventory management systems is to manage the stock in trade and stock on hand for any business. It tracks the movement of goods through the entire supply chain through various stages like:
clearing of an invoice by the purchasing department;
receiving the goods in the warehouse from the supplier;
coding them and storing them in various sections and locations in the warehouse;
issuing them to the manufacturing centres or retail outlets, as the case may be;
recording and valuing sales return;
accounting for the goods lost in transit or spoilt;
And finally, valuing and reporting both quantity and value of the stock in hand at the end of a predetermined period or annually for all the categories of the goods.
Importance of inventory management system
Importance of an inventory management system may never be stressed enough. Managing inventory in a business is like a tightrope walk – a delicate balancing act where business has to find a golden middle between maintaining adequate inventory levels and avoiding instances of overstocking and under-stocking in a mercurial business environment where the demand forecasts shift rapidly.
A good inventory management system confers the following advantages upon the business:
Adequate stock of all the essential categories of raw materials – no situation of 'stock out' and loss of business and customers
The adequate response to the changing market needs by stocking things that are in vogue and disposing of those that aren't in demand.
Measuring the requirements of working capital by calculating inventory turnover ratios combined with debtors and creditors' turnover ratios and credit periods, deploying funds exactly when needed for the smooth flow of business.
A firm grasp on the number of units of inventory and a better control over entire supply chain organizing surprise checks and sample inventory counting and reconciling the results with those generated by the accounting systems.
Intimations about depleting stock levels and an appropriate time for placing an order with the supplier while still maintaining the minimum quantity of that item.
Implications of inadequate inventory management system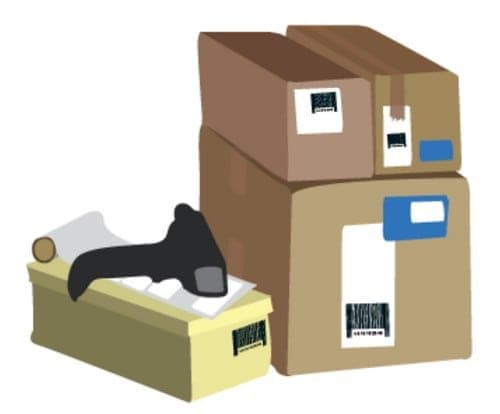 In case of inadequate management of inventory, many calamitous consequences may befall the business. If the adequate check on inventories moving throughout the facility is not kept, it can entail plenty of losses. These losses will stem from:
Loss of units of inventory,
destruction of some items of inventory from insufficient storage,
situations of 'stock-out' where due to poor planning, a stock of essential item necessary for production process has been used up and new supply is yet to arrive. This will halt the entire assembly line.
Similarly, due to non-availability of stock, many customers may have to be turned down which results in the tarnished reputation of a business.
Panic, last-moment orders will cost more money than pre-planned orders.
If you have excess inventory, then you have blocked a large part of your working capital in it and may feel the crunch of it in other areas.
Instances of pilferages are not detected on time.
Hence, the importance of inventory management cannot be undermined.
Functions of an inventory management system: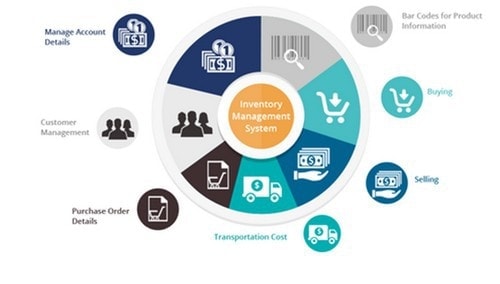 Tracking units of inventory or Stock Keeping Units (SKUs) in their movement through the supply chain – from the purchases department to the warehouse, from the warehouse to the ultimate selling point or from the retail counter, in case of goods returned, back to the warehouse.
Fixing and intimating about reorder levels
Fixing minimum inventory levels based on inventory turnout
Forecasting requirements for next accounting period based on analysis of trends in consumption
Lending supportive measures such as bar-coding of SKUs, tracking inventory stored in various locations of the warehouse, recording the details of various locations in the warehouse and maintaining their logical classification.
Should be able to store vendors' details
Should be able to support conversion of inventory from one unit of measurement to the other easily
Should be able to disclose the value of inventory in home currency along with the features for multi-currency conversions.
Types of inventory management systems
An organization may choose to take a stock of its inventory in any one of the following three methods:
1) Periodic Inventory
It is generally preferred by smaller and fledgling businesses.
Here, a time period is determined in advance at the end of which the inventory is physically counted and reconciled with the accounting records.
The period may be a fortnight, a month, a quarter or six months.
LIFO (Last In First Out), FIFO (First In First Out) are the methods of valuing the closing stock or stock in hand under periodic inventory method.
It is a simpler, conventional method of inventory management.
3) Perpetual Inventory
As the name suggests, under this method of stock keeping, the stock is measured and accounting records updated on daily basis.
Here, the movement of every unit of inventory is tracked and records immediately adjusted to reflect the movement.
It requires a complex, automated system to implement.
It gives a fairly accurate picture of the stock in hand and is very effective in preventing fraud and spoilage.
Because of huge investments in systems and personnel, growing organizations with large volumes of business can afford to have perpetual inventory management system.
Here, the business and warehouse facilities need not allocate any separate time for measuring inventory as it is done on continuous, real-time basis.
3) Just In Time Inventory
This is a relatively newer inventory management technique brought in advent by Toyota Motors in Japan.
In the post-war period, Japanese economy felt crunches for space, money, and materials.
To overcome these obstacles and to make its production processes smarter and less expensive, Toyota implemented Just In Time inventory management system.
Here, the inventories are not ordered in advance and stored with the producer.
The inventories are sourced from the suppliers immediately when a need for them arises in the production process.
This results in smart and efficient production processes as well as the reduction in storage and handling costs of inventory, successfully bringing down the cost of production.
There is one potential disadvantage of this system: if the supplier can't provide the raw materials on time due to some problem in his facility or some infrastructural problems; the organization runs the risk of its entire assembly line getting disrupted. The manufacturing process, in this case, comes to a standstill for want of raw materials resulting in huge losses.
Thus, inventory management makes up a very crucial area of modern management. As the complexities of the business world rise in the wake of globalization and digitalization, adequate inventory management confers the much needed strategic advantage upon the company that can lead to gains in the competitive marketplace and the possibility of passing these gains to the ultimate consumers.
Liked this post? Check out the complete series on Distribution