In this article, Ferrari Vs. Lamborghini would be compared on the parameters of style, power, performance, cost, and popularity. Both Ferrari and Lamborghini companies are Italian companies and are known for producing sports cars.
The history of Lamborghini
"Lamborghini Automobili" was launched by Ferruccio Lamborghini, a tractor designer in 1963 when Enzo Ferrari accused him of poor after-sales services, and he started Lamborghini as he knew the shortcomings of 250 GT line of Ferraris.
The Lamborghini's first production was 350 GT debuted in March 1964 at Geneva Motor Show.
Lamborghini's landmark model named Miuara along with its transverse-mounted V12. Mini inspired it. Miura was the first true supercar considered by many people.
In 1971, Lamborghini's first angular styling whose production began in 1974 and became the most recognizable design in the company's entire history.
The Lamborghini company become popular in the '70s, and 80's because of movies like "Cannonball" and "Wolf Racing Wing."
With the arrival of 5000 Quattro valve, Lamborghini got power as well as had a crazy fresh design and became a direct competition to Ferrari Testarossa an 80's automotive icon.
A model like Diablo VT, Gallardo Superleggera, Murcielago LP670 SV, and few latest models such as Huracan Performance, Urus, and Aventador SVJ are ruling the world.
The history of Ferrari
Enzo Ferrari founded the Ferrari company in 1947.
"1947 125 S" is first-ever motor vehicle produced by Ferrari in Maranello factory.
Ferrari has won 235 F1 and totals 16 F1 constructor's championship till 2018. This total is more than any sports company in history.
Ferrari rear-mounted race car was introduced in 1973 with mid-engine V8 2+2 and the Dino 308 GT4 V8 range of the company.
With the launch of V8, 2+2 company received its name Ferrari in 1976.
From the '70s to '90s company produced V8 range with models such as F40, 308 GTS, F355 Berlinetta.
After 2000s company keeps expanding with the models like California T, 360 Modena, and 458 Italia.
Performance and Style of Lamborghini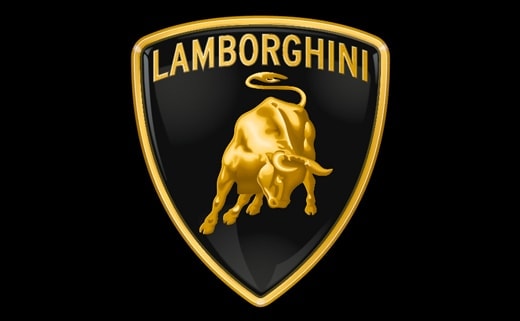 Power: naturally aspirated V10, naturally aspirated V12, and V8 twin-turbo engines are used in Lamborghini. 217mph Aventador SVJ is most powerful existing Lamborghini. It has the most powerful engine created by Lamborghini "6.5liter V12'' which can produce 759hp.
Style: Lamborghini models hold low profile, exterior aerodynamics with sharp edges, and conspicuously displayed active aero and wings.
The performance style of Ferrari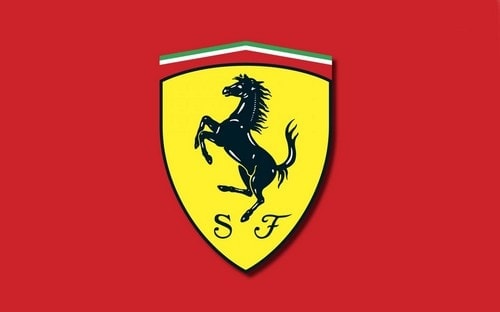 Power: V8 and V12 engine lines are used in the engine line of Ferrari. Ferrari's model 812 superfast has the most powerful naturally aspirated engine "6.5liter V12," which produces 789hp.
Style: Ferrari's car models are known for their elegant sweeping design which uses hidden aerodynamics such as active aero and ground effect, which eliminates the necessity of external wings.
The key differences Ferrari versus Lamborghini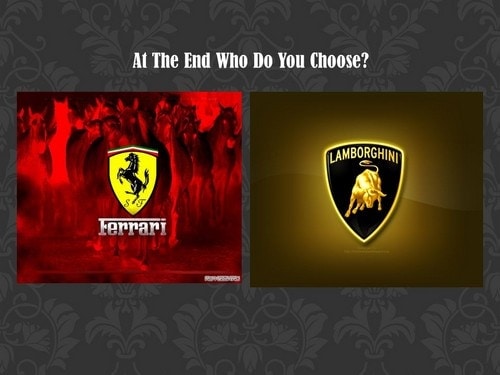 | Lamborghini | Ferrari |
| --- | --- |
| Lamborghini produces sports cars. | Ferrari produces Sports cars and Grand tourer. |
| The body style of Lamborghini consists of 2 door roadster, 2 door coupe, and 2 door spyder. | The body style of Ferrari consists of 2+2 coupe cabriolet, 2- doors, 2 seat spider, 2 seat Berlinetta, 3-door shooting-break. |
| The Lamborghini layout has mid-engine rear wheel drive and mid-engine four-wheel drive. | The Ferrari layout Front mid-engine rear wheel drive, FMR layout, rear mid-engine rear wheel drive, FM4 layout. |
| It has 5 speed manual, 7-speed ISR Semi-automatic transmission. | It is 7 speed dual clutch automated manual. |
| The cost of a Lamborghini is $181,900 and above. | The cost of a Ferrari is $230,000 and above. |
| The horsepower of Lamborghini is 550-700. | The horsepower of Ferrari is 460-963. |
| The headquarter of Lamborghini motors is in Sant'Agata Bolognese, Italy. | The headquarter of Ferrari motors is Maranello, Italy. |
| The website of Lamborghini motors is www.lamborghini.com | The website of Ferrari motors is www.ferrariworld.com |
| The nationality of Lamborghini motors is Italian. | The nationality of Ferrari motors is also Italian. |
| The production output of Lamborghini motors was around 2327 in the first half of 2018. | The production output of Ferrari motors was around 9000 in 2018. |
| The Lamborghini is fully owned subsidiary. | The Ferrari motors is also fully owned subsidiary. |
| The parent of Lamborghini is Volkswagen Group. | The parent of Ferrari is Fiat S.P.A. |
| It is founded in 1963. | It is founded in 1929. |
| It belongs to automotive industry. | It also belongs to automotive industry. |
| It serves worldwide. | It also serves worldwide. |
| The founder of Lamborghini is Ferruccio Lamborghini. | The founder of Ferrari is Enzo Ferrari. |
| The net profit of Lamborghini is US$18.1 million in 2006. | The net profit of Ferrari is 360euros in 2006. |
| The revenue generated by Lamborghini was US$97.5 million in 2002. | The revenue generated by Ferrari was US$ 2.2 billion in 2002. |
| The owner of Lamborghini is AUDI AG. | The owner of Ferrari motors is Fiat S.P.A. |
| The total number of employees in 2004 were approximately 726. | The total number of employees in 2011 is approximately 2695. |