One of the common confusions when doing channel sales or when doing a market analysis is the differences between wholesalers, retailers, and distributors. If you don't understand the distribution hierarchy, then this confusion is common. This article uses simple examples to explain the differences between wholesalers retailers and distributors.
Let us understand the role of each of them in turn. We will start with the simplest.
Retailer – Business-to-customer sales.
Retailers buy from Wholesalers and Distributors
They buy a limited quantity of the same products but will have a large number of products (imagine a stationery shop).
Is in direct contact with the end customer
Retailers are B2C companies – They buy from businesses but sell to customers.
Margins are high but sales are fewer for each unit.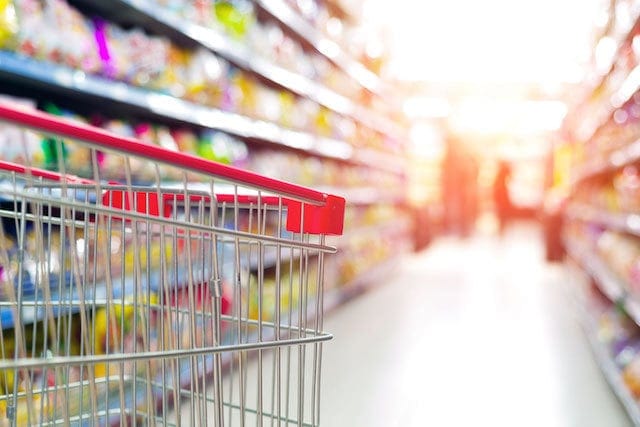 Retailers are the ones you are most aware of. You have been a consumer throughout your life. And you would have brought various materials from shops for consumption. These things can be your clothes, your food, equipment, electronics, and whatnot. Any item, that you buy from a store, is an item that you are buying from a retailer.
A retailer is one who retails the item which means, he sells directly to the end customer. Supply retailers are involved in B2C sales meaning Business customer sales. He buys from businesses and sells to customers.
The retailer himself buys products from wholesalers and distributors. If it is electronic goods, most likely a retailer will buy from a distributor because the distributor visits his place to sell the item. There are also a lot of logistics involved in the distribution of large items so generally distributors visit retailers.
If however, a retailer wants to sell food items, then it is likely that the retailer visits a wholesaler and buys the products wholesale. This is because a single wholesaler generally deals in a limited number of goods and he has huge quantities of those goods. So a retailer might have to visit multiple wholesalers to complete his requirement.
A retailer might stock only a limited number of each item. So if you go to a stationery store, you will see only 50 units of the same pen being stocked. But if you go to a wholesaler, the quantity will be 500000 units in stock with the wholesaler. These are major differences between wholesalers retailers and distributors – the number of units they have in stock at a time.
Wholesaler – Business to Business sales and Business to customer sale
1. Wholesalers have huge quantities of the same product (Imagine a marble shop that is a wholesaler and has a huge quantity of different marble floorings and tiles).
2. If you want to buy from a wholesaler, you have to visit his place. (He does not distribute the items)
3. In large companies, wholesalers may buy from distributors. Wholesalers are lower than distributors in channel sales. There might be multiple wholesalers in the same city.
4. Wholesalers mostly sell directly to other businesses (like retailers) but they are likely to sell to customers who need it in bulk as well (for example a cement wholesaler selling a small amount of cement locally just to meet demand)
5. Are very important in the perishable goods market (fish, vegetables, etc).
6. Major work is of warehousing
7. Margins are lesser but the volumes are huge.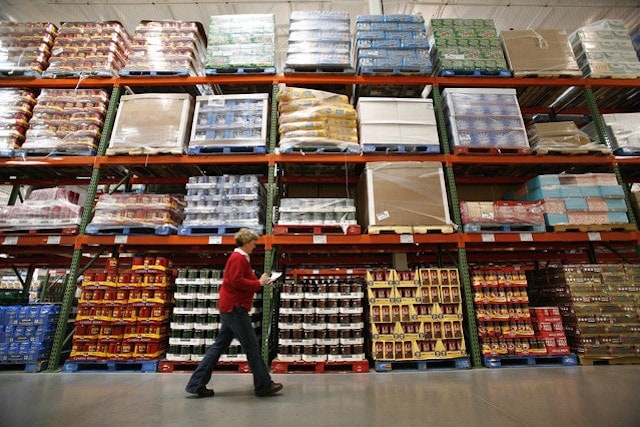 The best example of wholesalers is the local cement guy or the local vegetable market. Although a normal vegetable retailer might roam the market with his van or might visit from place to place, a wholesaler sits in his place and does business.
You might notice from time to time various Cloth wholesale markets where a huge business is done from a small shop. The wholesalers generally operate from a small shop but they will have a huge warehouse nearby from where they supply the material.
Because wholesalers sell material in huge bulk or the material which they sell is in demand, these wholesalers do not move from the shop (this is generally the norm) and they sell most of their products from their shop. Imagine the vegetable wholesaler who might sell tons of vegetables from his shop when retailers visit him.
A wholesaler may buy direct from the company or he might buy from another distributor. If you look at the ice cream market, there is a C&F (wholesaler of ice cream) involved who stocks the ice cream in bulk, and other ice cream vendors may buy from him or the distributor arranges transportation from the wholesaler to the retailer. This bulk stocking wholesaler is needed in every city within a few miles because otherwise, the ice cream will melt. As a result, wholesalers have a huge role to play in perishable goods items.
Finally, distributors are not allowed to sell to end customers whereas a wholesaler might do that. For example – a cement wholesaler generally sells in bulk to the local developers who are erecting buildings. However, he may sell small items through a shop to local laborers, and plumbers who need small work to be done with cement (home jobs). A distributor cannot do that because he is obstructing the sale of the retailer to whom the distributor is selling.
Distributors – Strictly business-to-business sales
1. Distributors are the ones whose job is to increase the visibility and sales of the product, for which they might visit the shop to shop and pick orders.
2. An excellent example of distributors are the ones selling Samsung Smartphones who visit all the shops within a region to ensure that the material is on display by the retailers. You will not find a wholesaler of Samsung but you will find retailers and distributors.
3. Distributors sell to both – Wholesalers and retailers.
4. Transportation is a huge cost for distributors as delivery from warehouse to end retail outlet is the work of the distributor. From wholesalers-distributors to manufacturers-distributors, the role of distributors may come in many ways in a supply chain.
5. Distributors are never allowed to sell to end customers because the distributors have a lower price of the product and this move will cut off the sale of the retailers.
6. The turnover done by the retailers is the target of the distributor. A wholesale distributor is more concerned with secondary sales (sales from retailer to customer) because if secondary sales don't happen, then primary sales happen (sales from distributor to retailer).
7. The major job is visibility, distribution to many outlets, and sales.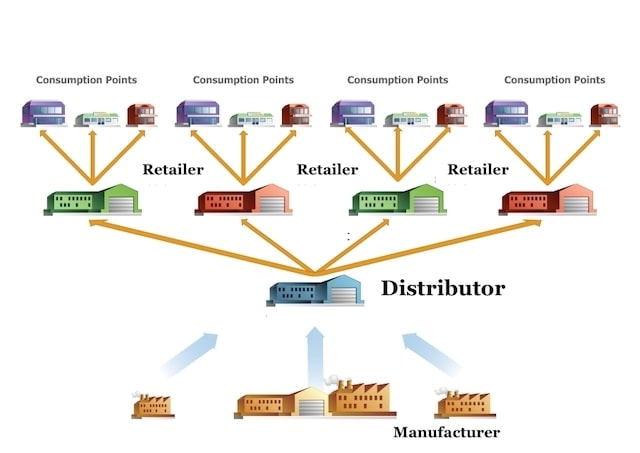 Consumer durable, electronics, hardware or other equipment, and medicines are perfect examples of sectors that use distributors and not wholesalers. A medicine retailer may have more than 1000 different types of medicines. He cannot afford to visit wholesalers who are stocking all these machines.
So the companies appoint a distributor who can distribute the various medicines to the retailer who in turn sells them to customers. Similarly, there are various distributors for washing machines, televisions, and other white and brown goods who distribute products to retailers – small retailers or modern retailers.
There might be vegetable and perishable goods distributors as well. These distributors might visit from town to town and deposit a bulk of the material with the local wholesaler who will later sell it forward to other retailers. In this case, too, the cost of distribution from distributor to wholesaler has to be borne by the distributor.
Transportation is a major cost for any distributor and hence, the distributor considers the cost of transportation in his profitability analysis. Alternatively, a distributor might try to club together various deliveries to the same place so that the cost is lesser for deliveries and transportation.
The main work of the distributor is to push retailers in converting more sales. Imagine the competition between Samsung and Micromax or Oppo or Vivo. There is a distributor for each of these companies and all distributors will try to push their products in the market. They can do this by launching various trade promotions or pushing the retailer in picking more material so that the sale is maximum for their brand.
So if a retailer picks more Micromax units from the Micromax distributor, he is likely to sell the Micromax brand more than Samsung to the end customer. For this to happen, the distributor has to give promotional support to the retailer or push for more sales so that ultimately the retailer sells more units to the end customer.
If the secondary sale is happening (sale from retailer to customer), the primary sale (sale from distributor to retailer) will happen automatically. A good distributor concentrates on secondary sales and not primary sales.
A distributor is also supposed to stock products in bulk but he can anytime order smaller quantities from the company from time to time to distribute forward. Generally, distributors are not expected to have as big warehouses as wholesalers because it is the work of the distributor to distribute and not to the warehouse. Distributors use the storage capacity of retailers below them or wholesalers below them to stock the material.
Wholesaler vs Distributor vs Retailer: What are the differences?
Wholesalers, distributors, and retailers each play a unique role in the supply chain, although their functions can sometimes overlap.
At the beginning of the supply chain, manufacturers produce goods in large quantities, often using raw materials. They then typically sell these goods in bulk quantities to wholesalers or distributors. The wholesale business model primarily involves buying these large quantities and breaking them down into smaller, more manageable quantities for resale. Wholesalers may sell to distributors, retailers, or even directly to end customers in some cases.
Distributors function as a key link between manufacturers and retailers. They may also purchase in bulk from the manufacturer or wholesalers, but their primary role is to maintain relationships with retail stores. Distributors employ sales representatives to promote their products and facilitate the flow of goods to retailers.
Retailers fall at the end of the supply chain. Retailers sell products to the final consumers. Their business model relies on purchasing products from distributors or wholesalers and selling them to consumers in even smaller quantities. Retail stores are the final stop in the supply chain, bringing goods directly to the consumer. In essence, each of these roles contributes to moving products from manufacturers to consumers, each adding value along the way.
Let's visually break down the differences between wholesalers, distributors, and retailers with a simple comparison table –
| Comparison Basis | Wholesaler | Distributor | Retailer |
| --- | --- | --- | --- |
| Primary Role | Buys in bulk quantities and resells in smaller quantities. | Facilitates the flow of goods from manufacturers to retailers; maintains relationships with retail stores. | Sells products to the final consumer in even smaller quantities. |
| Purchase From | Manufacturers | Manufacturers or Wholesalers | Distributors or Wholesalers |
| Sell To | Distributors, Retailers or End Customers | Retailers | End Customers |
| Value Addition | Breaks down bulk quantities into smaller, manageable quantities. | Promotes products, maintains retailer relationships, and facilitates the flow of goods. | Provides a platform for the consumer to directly access and purchase products |
| Volume of Goods | Large | Large | Small |
| | | | |
| | | | |
Conclusion!
So above were the major differences between wholesalers retailers and distributors. All three of them have different jobs and In several industries, either the wholesaler will exist or the distributor. There are only a few industries where wholesalers and distributors both exist.
Understanding the roles of each can help you choose the best partner as you work towards selling products and connecting with consumers. To sum up, wholesalers are responsible for bulk purchases from manufacturers, while distributors serve as a liaison between wholesalers or manufacturers and retailers.
Retailers are at the end of the supply chain, purchasing goods from distributors or wholesalers and selling them to consumers in smaller amounts. Choosing the right partners among these three is key for any business that wants to successfully move products from manufacturers to consumers.
Liked this post? Check out the complete series on Marketing