The difference between intrinsic and extrinsic motivation is that intrinsic motivation is defined as something that you do because of your inner will whereas Extrinsic motivation is defined as something you do because you expect a reward or avoid punishment.
Explanation
Both intrinsic and extrinsic motivation is essential in achieving success. Both of them have a different impact on human behavior and decision-making. People behave differently because of different motivations.
Intrinsic motivation makes you do something, and it is more satisfying and enjoyable. Intrinsic motivation makes you do things without expecting any reward. The only thing that comes out of intrinsic motivation is self-satisfaction.
It is potentially satisfying to do something out of intrinsic motivation. These things give an internal sense of satisfaction and indulge you in a deep learning experience. Volunteering is such an example of intrinsic motivation.
On the other hand, extrinsic motivation will influence your behavior and make you do things with external reward expectations like an acknowledgment, money, etc. Extrinsic motivation comes from external sources.
When you are extrinsically motivated, you continue to do the work even if you don't enjoy it. The simple reason for it being the reward, which will come after performing the task. That expectation of reward fuels the work to perform extrinsic motivation.
In many cases, extrinsic motivation also comes as a process to avoid punishment. For example, a person would work out in the morning because he wants to stay fit. This is an example of intrinsic motivation.
On the other hand, a person will have health problems if he does not work out. Although he does not enjoy working out, he does it anyway to avoid the adverse effects. This is an example of extrinsic motivation.
Intrinsic vs. Extrinsic Motivation – Difference between Intrinsic Motivation and Extrinsic Motivation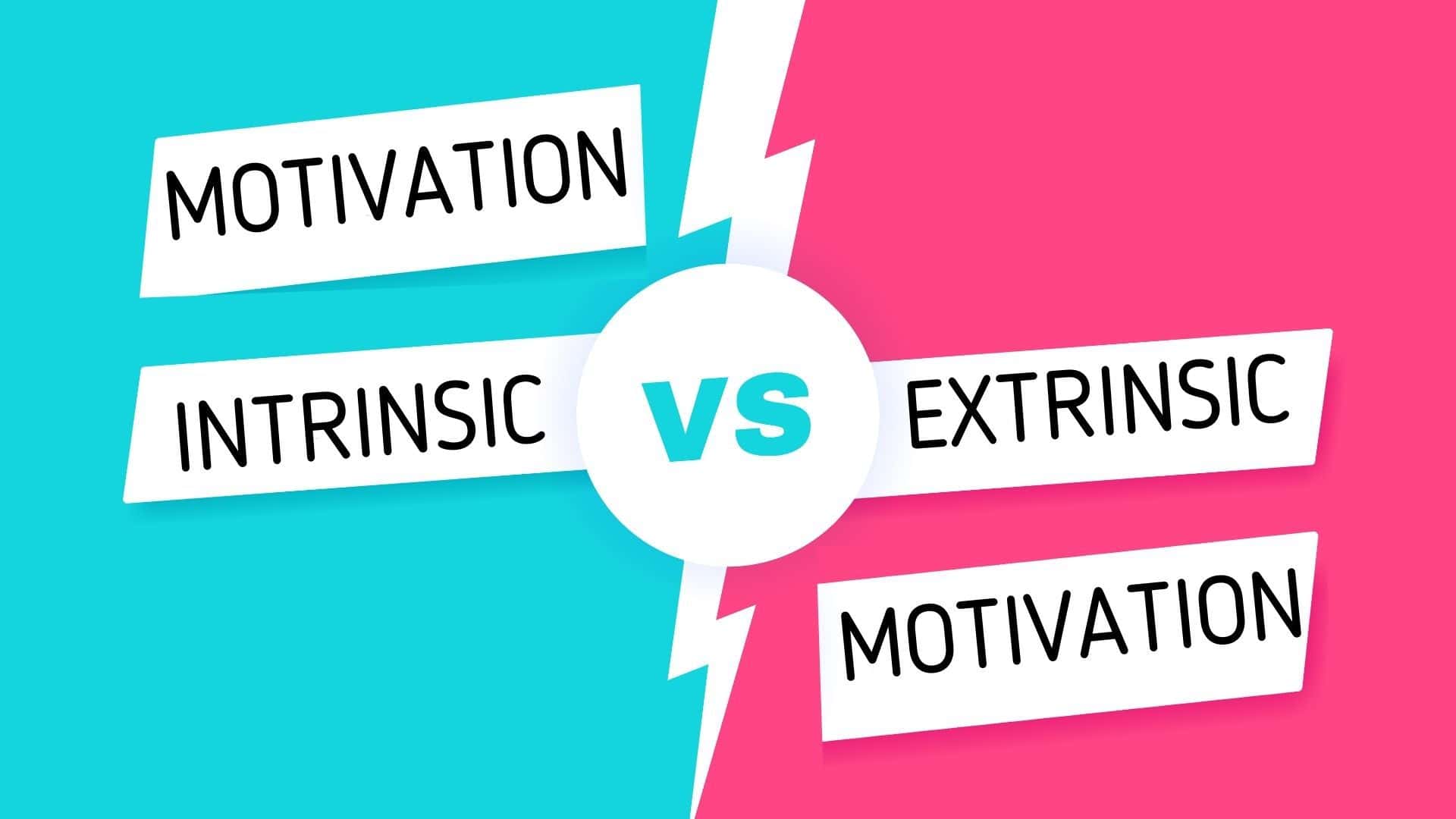 As described above, the main difference between intrinsic and extrinsic motivation is the source from which it comes. In the case of intrinsic motivation, the source is from inside yourself, and in the case of extrinsic motivation, the source is from outside.
This is the reason why intrinsic motivation is more sustainable than extrinsic motivation. The simple reason is that the motivational driver is within yourself and your control. On the other hand, the factors of extrinsic motivation are way beyond your control.
This results in both the type of motivations being extremely opposed to each other. Although this is not true, it seems as if both the motivations are opposite to each other. If you can understand the nature of both motivations correctly, you will be able to balance both of them.
You will be able to become motivated both extrinsically and intrinsically. However, too much of one thing is a bad thing. It means being too motivated intrinsically without extrinsic motivation or vice versa is bad.
Suppose you try to motivate yourself with extrinsic factors for those things for which you already have intrinsic motivation. In that case, you may decrease the intrinsic factors and depend entirely upon extrinsic factors.
This effect is also known as the overjustification effect. However, other studies do not agree with this. They argue that all of it boils down to one specific motivator, which can be intrinsic or extrinsic.
For example, intrinsic motivation increases when there is an extrinsic reward of verbal pleasure. On the other hand, more incentives in monetary terms could decrease intrinsic motivation.
If both the motivations are handled correctly and balanced well, then a high level of motivation can be achieved. You must recognize What intrinsic And extrinsic motivation for you is.
You have to act accordingly so that you have a balance of both.
Developing Normal Motivation
Usually, it is seen that children are full of intrinsic motivation when they are born. Explore their limits and gain personal satisfaction when they master their bodies. But later, as they grow, their motivation is paired with external motivation like the smile or encouragement of parents. This is very important in child development.
It is a critical process, and this is when your child may learn many things. He may also learn to take risks while doing so. If encouragement is not present, then the child may not take necessary risks and explore his boundaries.
Usually, it is seen that children between the age of one and three have a typical pattern of exploration. When they start exploring new things, they may look to their parents for additional encouragement.
This way, both extrinsic, as well as intrinsic motivation, are balanced. They are the ones who find a balance between intrinsic and extrinsic motivation, without which they will find it very difficult to complete regular tasks as well.
When both types of motivations are balanced correctly, it can lead to a very high level of productivity and motivation. Usually, this type is a desirable type of motivation and is independent of other variables. However, it is essential to use the relevant type of motivation for the relevant purpose.
Leveraging Intrinsic Motivation
Intrinsic motivation is comparatively challenging to achieve. Usually, this can be done by increasing the intrinsic motivation of the person himself. Either you like to do a particular thing, or you don't. There is no midway in such a case. To understand this, let us look at the five-factor model of job characteristics that affected work outcomes.
There are three core characteristics of the job characteristic model:
Skill variety, task significance, task identity.
Skill variety is the degree to which a job requires different tasks. This is in a position with a task that is repeated over and over again. On the other hand, task significance impacts. It is the degree to which an employee can see and understand how his work affects other people's lives.
Task identity is the degree to which an employee can understand and identify the expected outcome and how the tasks are a part of and contributed to the finished product.
These three characteristics are entirely dependent on two factors, which are autonomy and feedback. Autonomy is the freedom to determine what the employees can work on and how they can work on it, and feedback is the degree to which the employees know by receiving feedback from the manager.
Leverage Extrinsic Motivation
extrinsic motivation is comparatively easy when it comes to leverage. Remember the carrot and stick model in which a carrot is kept dangling to the person? That's how easy extrinsic motivation is.
A Psychologist named Victor Vroom devised an expectancy theory to explain the working of extrinsic motivation. Based on his research, Victor said that there should be three essential elements for the extrinsic motivation to work.
These elements are expectancy, instrumentality, and valence. Expectancy is the employees' belief that if they increase the effort, then the performance will increase, after which they will be rewarded. Instrumentality is the belief that an increase in performance will be rewarded aptly.
And finally, valence is an employee wanting the reward which is promised to them.
Factors affecting Intrinsic Motivation
1. New skill or knowledge
There is an internal motivation for people who want to learn a new skill. Thirst for knowledge is one of the examples of internal motivation. When people want to learn something new, they are motivated intrinsically.
2. Engagement and accomplishment
People are usually motivated when they accomplish something. They are also motivated when they participate. If a person participates in achieving something, he is further motivated to carry out the same thing to become a master in it.
3. Positive feedback
People self motivate when they receive positive feedback. When people are praised for something that they have accomplished, it makes them repeat it. You have to surround yourself with positive people if you want to increase your intrinsic motivation.
It may not happen that you will accomplish everything every time, but if someone appreciates you for the effort that you have put in, even that acts as positive feedback. A gentle nudge in the right direction could be very useful in developing intrinsic motivation.
4. Sincerity
Honesty and intrinsic motivation are directly related to each other. If you become insincere, then your internal motivation will be lost. You cannot pretend to like something which you do not like.
Find people who give you honest feedback and stick to them. They will help you in pursuit of your goal and also develop sincerity.
5. Gut feeling
always go with your gut feeling. Do what feels correct and good as long as he does not hurt someone. Keep doing it if it gives you happiness. Gut feeling is more important than logical thinking at times.
Factors affecting Extrinsic Motivation
1. Incentive
Money is a classic motivator when it comes to extrinsic motivation. Most of us would have been something else had it not been for the need of money. People motivate themselves to perform a certain task or take up a certain role to earn good money, satisfying their needs.
Once they get involved in it, they work harder to get more commissions, more bonuses, and more incentives, which is a cycle in itself.
2. Completion rewards
These are the rewards that are given after the completion of a specific task. Money, incentives, and commissions are linked to the completion of the task. These rewards can be anything from money to vacation.
3. Unexpected rewards
These are the rewards that you did not expect to receive. For example, you worked hard towards completing a project, and later the company rewards you unexpectedly. Although this was not mentioned initially before starting the job, the reward is welcome nevertheless.
4. Fame
A goal that brings fame is usually motivated by extrinsic motivation. When you know that achieving a certain thing will get you fame, you try to accomplish it. Fame acts as a motivator, which can be said as intrinsic motivation.
Using Motivation to Improve your Success Rate
Motivating yourself is one of the critical components when it comes to being successful. You have to be motivated to accomplish a certain task. That is a different story that motivation can be internal or external. But motivation is an absolute necessity. Rather than depending on your luck, use brilliance and motivation to become successful.
Starting a task is one thing. Many people start the task but do not complete it. You have to ensure that the task is completed rather than leaving at half. If money and fame are not as important to you as self-satisfaction, then you can always remain motivated.
On the other hand, if you depend entirely on the extrinsic value to measure your success, you will feel passionate. A sense of accomplishment is not present when it comes to extrinsic motivation.
You are simply doing a bare minimum amount of work, which is necessary to keep those rewards. This type of extrinsic motivation will not bear success in the long run. Ideally, as discussed above, the balance of both intrinsic and extrinsic motivation is critical for success. But to do that, you have to realize and understand both types of motivation so that you can use them for your advantage.
If there is a job you're going to get and that job requires you to do something that you do not like, it is extrinsic motivation. On the other hand, if there is something that you want to do but cannot do because of multiple hurdles, then that is intrinsic motivation.
Sometimes certain things are supposed to be done, but we do not do them. For example, working out is important for all of us to be healthy. But supposing that you do not have the motivation to work out, extrinsic motivation can be used to your advantage.
You can motivate yourself by saying that if you do exercise for 40 days continuously, you will reward yourself with that new headphone you want to buy.
Thus, it is essential to understand the type of motivation and use it to your advantage.
When is Intrinsic Motivation Better?
Both Intrinsic and extrinsic motivation are important when you want to accomplish something. However, realizing which motivation works in which way will help you to unleash the potential in respective motivations.
Intrinsic motivation is internal and comes from within. There could be multiple reasons for the intrinsic motivation to crop up, but it is essential to acknowledge it and use it properly.
For example, if you would like to play chess, then it is necessary to motivate yourself with the spirit of sportsmanship rather than motivating yourself by the fear of losing. The latter is a negative motivation that works in some instances but not every time.
In this case, intrinsic motivation will work well. It would not matter to you if you lose, but you should love the game. Playing should be your intention and not winning or losing.
When is Extrinsic Motivation Better?
Intrinsic motivation is more within your control, but extrinsic motivation is out of your control.
The external factors which influence extrinsic motivation are beyond your reach, and you have to act according to them. In the case of extrinsic motivation, there may not be a requirement of self-motivation.
A person can work dedicatedly without feeling anything for his work.
For example, the workout will get you in shape and if you cannot get your lazy self up, motivate yourself by carrot and stick model. Set a reward and run towards it. This kind of extrinsic motivation is for your advantage and can make you more productive.
Conclusion
Both intrinsic motivation and extrinsic motivation play an important role in everyone's lives. While one is self-motivation and comes from within a person, the other depends on factors beyond the person's control.
Using both to advantage is important and maintaining a balance is equally crucial.
Understanding the difference between intrinsic and extrinsic motivation will help to get that balance. Although multiple factors affect both types of motivations, those factors can be manipulated for personal advantage.
In the case of business, if you want to keep your employees motivated, then make sure that you motivate them intrinsically instead of the next physically. Extrinsic motivation does work in the short run but fails to work in the long run.