The Athleta marketing mix framework is an important tool that the catalog and online retailer uses to promote its products, target different customer segments, provide maximum value, and gain a competitive advantage over other brands via competition growth to create brand awareness and achieve desired business goals in the consumer market.
Putting the focus on the marketing mix elements and case study analysis gives the message that the company is putting all its efforts into the marketing aspects of the organization for example how it sells products, a wider range of product lines, store management, company-operated stores, online retailing, pricing strategy, advertising, promotion tools and promotional strategies for increasing sales volume, empowering women, getting customer feedback and creating brand awareness in the apparel market.
Introduction: Athleta
# Athleta
Origin Country: United States of America
Founders: Scott Kerslake, Jennifer Jerde
Parent Company: Gap Inc
Founded:1998
Employees 5,000
Headquarters: San Francisco, U.S.
Annual Revenue in Fiscal Year 2023: 1.43 billion USD
Products; Women's activewear, athleisure
The American-origin company Athleta is a retailer that operates through catalog and website. Founded in 1998 the brand was initially designed by women athletes for women. The company is all about empowering women through different marketing mix strategies.
Athleta is a subsidiary of its parent company Gap Inc, a brand that sells products like apparel for the entire family. The company was purchased for 150 million dollars in 2008 by GAP Inc.
Athleta is a premium active lifestyle brand in the apparel market that manufactures, designs, and sells apparel and accessories under Athleta Women. The company launched another segment Athleta Girl for young girls in the year 2016.
Target Market: Athleta's Marketing Mix
Athleta is a family-oriented active lifestyle brand focused on selling Athleta products to the entire family. Although the company sells products to all the customer segments its core target audience is women between the age group of 30 years to 50 years who are looking for an athletic wear brand that incorporates recent trends and offers something comfy and distinct to its customers.
Athleta is a known name in the athleisure sector with a focus on functional clothing. The fashion pieces are meant to be worn on almost all occasions as customers lead a busy lifestyle and are unable to change clothes at their whim for different occasions during the day.
The brand targets girls between the age of 6 years – 12 years through Athleta Girl. It has gained immense popularity in recent years because of its distinct style and design.
Athleta's Marketing Strategy & Marketing Mix (4Ps)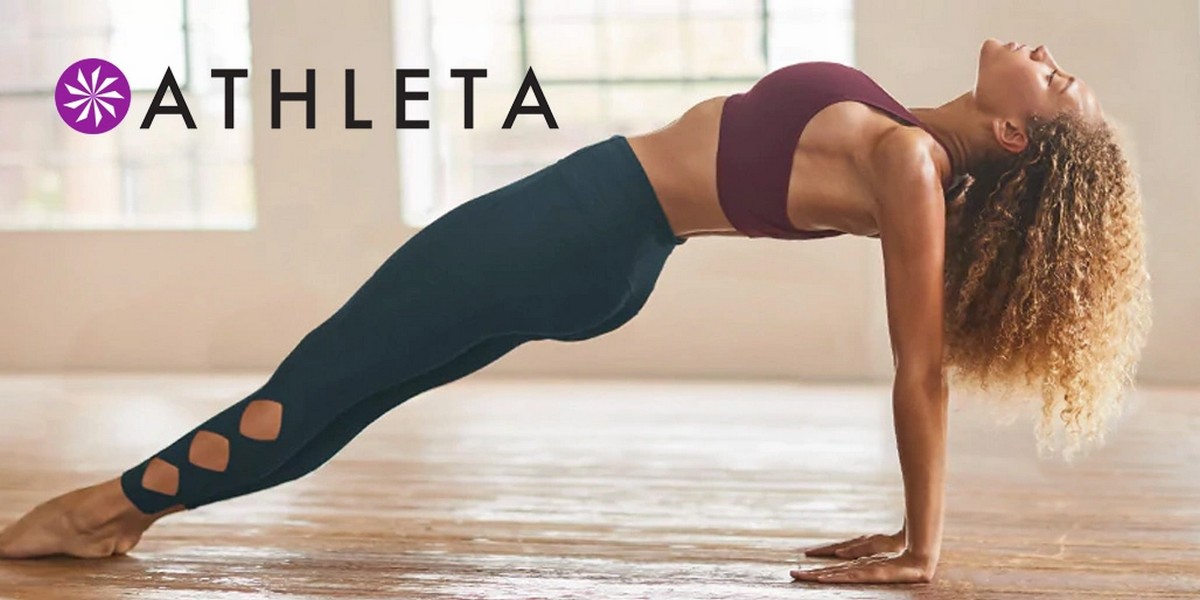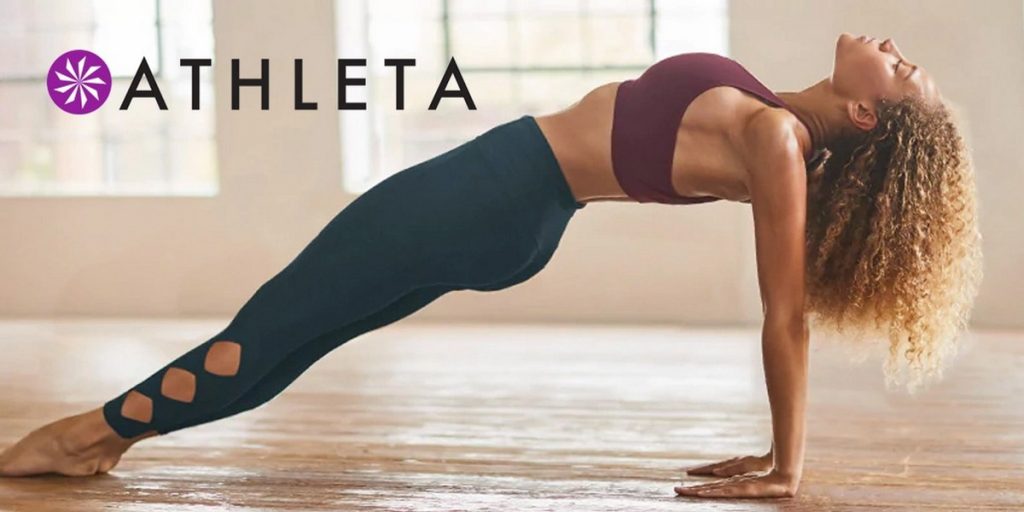 The marketing mix analysis is very important as it helps to create business strategies and promotional tactics that will help the company in budget allocation, increase sales, target the next generation, raise equity capital, ensure a strong customer base, ensure brand awareness, and achieve organizational objectives in the industry.
Many retailers are unable to maintain the growth momentum over the years and the main reason is the absence of case study analysis and a clear marketing and business strategy. The online retailing company Athleta has made significant progress compared to other brands as it provides value propositions to the consumers, product quality, product line, selling quality products, competition growth, price, value, distribution, and promotional tactics.
The message the brand sends is clear that a concise business plan and marketing mix case study can gain insight, deepen the understanding, boost the prospects of raising equity capital, and ensure the growth and success of the company in the industry.
Product Strategy: Athleta's Marketing Mix
The Gap Inc subsidiary Athleta was launched to meet the unique needs of women athletes as there were very few brands that could cater to their specific needs. The brand has entered partnerships with several brands to expand its product line for example in the year 2022 the company added entrepreneur and musician Alicia Keys to its roster which resulted in an expansion of the community, product offerings, and well-being resources.
Athleta launched the Simone Biles Athleta Girl Collection (Limited Edition) in April 2022, Simone Biles Back-to-Back Collection (Limited Edition) in July 2022, Intimates Collection in September 2022, and the Athleta Look in the same month. The brand designed and launched the first Yoga Mat in January 2023 as a part of the "Flow Freely" Yoga Accessories Collection.
Product Strategy of Athleta
There are many retailers in the apparel market, but the active lifestyle brand Athleta has left other brands far behind because of the wider range of clothing, apparel, and accessories in its product line. The company manufactures, designs, and sells high-quality apparel, clothing, and accessories under Athleta Women and Girls.
The brand's product line includes the following offerings –
Bottoms
Athleta, the subsidiary of Gap Inc. offers a wider range of the bottom's product line to its customers in the market. It includes clothing like bottoms, leggings, tights, pants, sweatpants, joggers, sleep bottoms and shorts, etc. The product line is made with Featherweight wrinkle-resistant stretch quality material that has a very comfortable look.
BROOKLYN ANKLE PANT
ENDLESS PANT
JUMP IN SKORT
Tops
Athleta is focussing on the tops clothing product line which includes tanks, sweatshirts, short and long-sleeve tops, shirts, support tops, wraps, etc. Seamless designs, best quality, and first-class finishing make the tops a firm favorite of the entire family.
MOMENTUM SEAMLESS TEE
EVERLASTING TANKS
CONSCIOUS SUPPORT TOP
Dresses
The dresses product line of the Gap subsidiary Athleta includes rompers, jumpsuits, sleep dresses, etc.
ARRIVAL DRESS
VENTURE OUT DRESS
PACIFICA DRESS
Jackets
Athleta offers a jacket product line to its consumers which is a big hit. The jacket product line includes rain and wind, casual, hoodies, fleece, coats and blazers, etc.
FARALLON JACKET
AVENUE BLAZER
ADVANTAGE JACKET
Swim
The swim product line from the brand Athleta includes swim bottoms, bikini tops, one-piece, swim shorts, etc.
CINCH FULL SWIM BOTTOM
LAHAINA SWIM SHORTS
MALDIVES BRA CUP BIKINI TOP
Accessories
The accessories product line of the Gap subsidiary Athleta includes bags, wallets, gear, yoga mats, socks, shoes, sleep accessories, hats, and hair accessories.
ADVANTAGE COURT VISOR
ATHLETA COURT VISOR
ATHLETA BUCKET CAP
Place Strategy in Athleta's Marketing Mix
Athleta is one of the primary brands of Gap Inc besides Banana Republic, Gap, and Old Navy. Gap Inc presents a sophisticated image through Banana Republic and fun fashion and more value for the entire family with its brand Old Navy. The company Athleta is about women's empowerment, quality, and more value, and Gap is for the next generation of trendy apparel. All the subsidiaries of Gap Inc namely Athleta, Old Navy, Banana Republic, and Gap are focused on quality clothing and accessories.
Athleta does not have manufacturing facilities in the USA instead all the clothing is manufactured in China, Cambodia, Bangladesh, South Korea, El Salvador, Taiwan, Sri Lanka, Turkey, and Vietnam.
The brand has spread its product presence to global markets in 43 countries with the help of the distribution strategy of its parent company Gap Inc. which ensures that all its subsidiaries namely Athleta, Old Navy, Banana Republic, and Gap can use the distribution network of the parent company to market their product line. Athleta products are available at 200+ stores spread across the USA and at several international markets like Canada.
Initially, Athleta was an only online retailer but after being acquired by Gap Inc. it changed its sales policy to both online stores and brick-and-mortar company-operated stores. Gap Inc. opened the first of the Athleta retail company-operated stores in Mill Valley, California, U.S. in the year 2011. in the year 2021, the company opened the first of the many company-operated stores in Canada and in 2022 in New York City.
Place and Distribution Strategy of Athleta's Marketing Mix
Athleta is a high-end brand focusing on ethically produced quality clothing in the consumer markets. The marketing mix strategies of the brand focus on the distribution channel of Athleta as well as its parent company Gap Inc. The distribution strategy of the brand makes sure that all the products reach the end customers as quickly as possible. Athleta employees and store management team are trained to handle sales at its online stores as well as Athleta company-owned stores.
The distribution channel adopted by the brand includes –
Company-owned Stores / Athleta Store
There are more than 200+ Athleta stores spread across USA and Canada that sell Athleta offerings like clothing, apparel, and accessories to customers in the retail market. An Athleta Store has a welcoming ambiance and is decorated with modern decor with a focus on sporty mannequins and colorful displays.
The stores are fitness cum yoga studios, part retail stores, and part gathering hubs focusing on selling Athleta clothing to customers in the retail market. The Athleta Store offers fitness classes and free outfit styling to the customer.
Online Store
The online store of Athleta is focusing on its customers as the sales have reached an all-time high. The brand offers discounts and other incentives like coupons to promote its products in the market and ensure higher sales figures.
Other Stores
Athleta sells its products in partnership with other popular stores. REI Co-op sells Athleta curated merchandise on REI's website as well as REI Stores and Zalando, an online European company that also sells the same through its platform. Strategic partnerships have helped in business growth in several new markets.
Price in Athleta's Marketing Strategy
Athleta has seen immense growth over the years as the brand projected sales figures of $37 million in the year it was launched and today it is a billion-dollar brand. The fiscal year 2022 was great for the brand with projections for 2023 showing the company achieving the 2 billion marks.
Currently, its parent company Gap Inc. has other subsidiaries like Banana Republic, Gap, and Old Navy. but Athleta has proved to be one of the most profitable ones which is driving sales growth. Brand Athleta has managed to grab a high market share in the lifestyle and athleisure category leaving competition from other brands far behind.
Brand Athleta has used its marketing mix elements and case study analysis to study the consumer market and identify the perceived value of its products in the industry. It has also identified its competition and the pricing strategies adopted by the rival brands. Athleta wants to promote its business in the market as one of the top brands with quality products and adopt a pricing strategy that will drive sales volume.
The product price strategy adopted by the business is as follows-
Premium Price Strategy
Athleta is a top-level brand launched by and for females. It has adopted a premium pricing strategy and kept premium prices for quality products as it is sure that customers will happily buy its products at premium prices. Even though the pricing strategy is premium pricing the prices are at least 20% lower than those of the competition in the market. This is why the business is confident that even with the high premium price it will easily manage to drive sales and generate higher revenues.
Promotional Strategy (Promotional Mix) of Athleta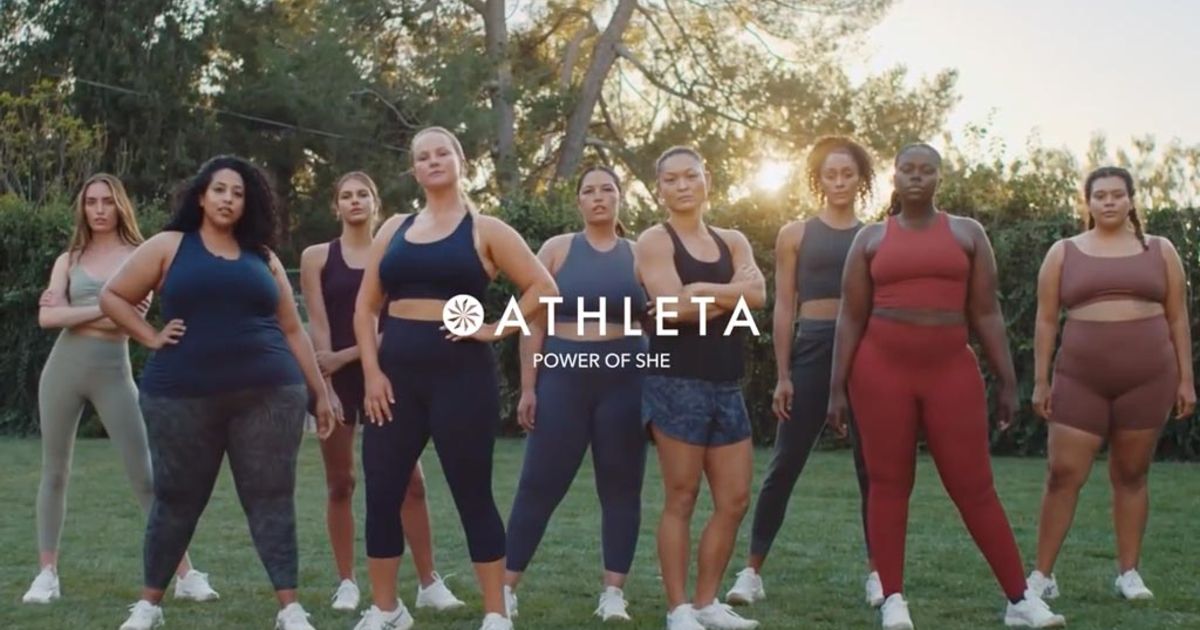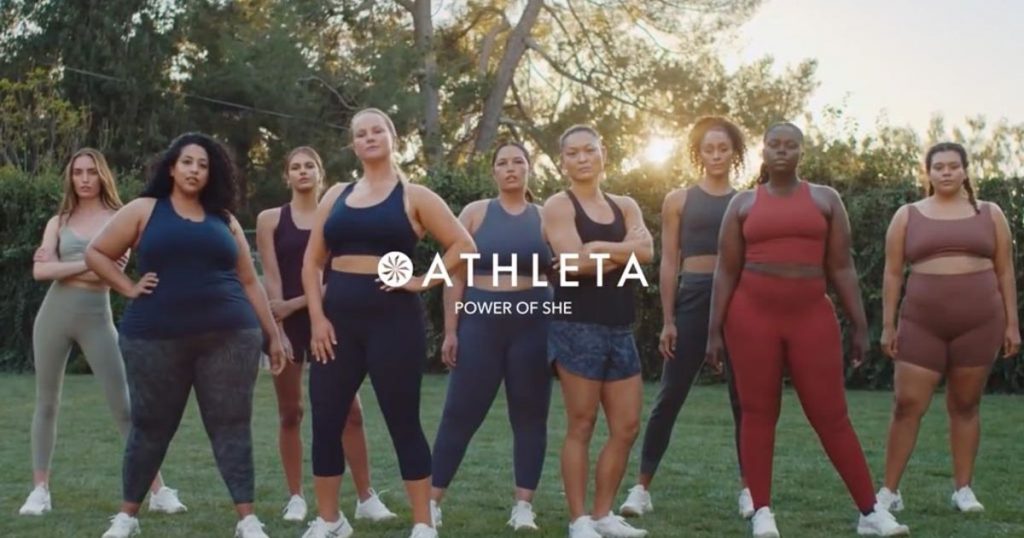 Promotion, advertising, and branding are very important for a business as it helps the business to promote its brand products, increase brand visibility in the market, connect with consumers, give healthy competition to rival brands, and gain a better market share in the industry.
Athleta has aligned its advertising and promotional strategies with its business values. It has taken the help of the following promotion tools to promote its brand in the market.
Sales Promotion Strategy
As part of its sales promotion strategy, Athleta offers discounts, special email discounts, gifts, sales deals, and coupons to its customers. The brand also offers several benefits to its employees like best employee discounts, retirement contributions, and discounts on Athleta merchandise.
Buy Used Athleta Clothing
Customers can buy used Athleta clothing and apparel at discounts and bargain prices from stores like REI Good & Used, ThredUP, and Poshmark. These stores back the used gear with a 30-day satisfaction guarantee
High Traffic
Athleta has adopted various promotional strategies to compete with other companies and drive offline and online sales in the industry. The brand has ensured high traffic to its e-commerce platform by tapping into several formats like Pinterest, emails, Instagram ads, and shoppable features. The combined clicks to both Athleta Women and Girls e-commerce platforms is 28.3 K and social engagements is 2K showing its high popularity amongst the customers in the consumer market.
Sponsorships and Partnerships
Athleta's first sponsored women's athlete was Allyson Felix. The brand has partnered with 11 elite athletes to push its mission of women empowerment further. It has also teamed up with Shop Premium Outlets and thredUP to provide an extraordinary shopping experience to its online customers.
Sustainable Practices
Athleta is a B-Corp company that manufactures its product line like apparel in factories that have fair and safe trade certification and sustainable practices certification. 80% of Athleta products, especially clothing, and apparel, are made with the help of sustainable materials using Tencel Modal and Tencel Lyocell, recycled polyester, recycled nylon, or organic cotton. It also uses effective finishing and dyeing techniques as part of ethical practices. The new fabrics launched by the brand are of maximum value as they have saved a huge amount of waste from hitting landfills.
Customer's Voice
Athleta has a team in place that reads all the online reviews about Athleta products every month and conducts a suitable marketing analysis so that they can incorporate customer views into their marketing mix strategies. Feedback from a customer is always invaluable and the marketing team has taken it positively to get desired results in the industry.
CSR Activities
Athleta is a catalog and online retailer that has been focusing on empowering women and diversity through different marketing strategies. The brand offers several resources and grants to encourage female education. In the year 2020, the company launched the "Power of the She Fund" through which it offered grants to organizations that worked for the betterment of women and girl child. In 2021 the brand launched an immersive digital community called "AthletaWell" that worked for women's well-being and provided Athleta's loyalty program members access to free workouts, wellness experts, classes, and workshops.
Social Media Marketing
The brand is aware of the importance and reach of social media and has consistently posted content with a focus on its values and mission on social media platforms. The athletic wear company offers in-store fitness classes and posts about it on its social media pages. The ability to attract high-quality leads aligns with their branding strategy to boost brand awareness.
Digital Campaigns – Notable Digital Marketing Campaigns
Power of She
The ad campaign "Power of She" stands apart as it is celebrating women's collaboration and empowerment.
Body-Positive
The ad campaign Body-Positive celebrates body positivity. The campaign has been designed to showcase its apparel line All Powerful which showcases nine sizes from XXS to 3X.
Key Takeaways from Athleta's Marketing Mix & Marketing Strategy
Brand Athleta takes its product line and offerings to new levels of elegance and quality. The message the brand sends is that quality always triumphs over everything else. The key takeaways from Athleta's marketing mix and marketing strategy are –
Keep up with partnerships and collaborations with other celebrities and brands
Ensure the company's sustainable practices are highlighted in the market
Put more effort into the promotional activities
Liked this post? Check out the complete series on Marketing Mix