What is an Accounting Information System?
Definition: An Accounting Information System (AIS) is defined as a computer-based system that tracks accounting activities and collects, manages, utilizes, and retrieves financial data to report that to the accountants, business analysts, consultants, managers, CFOs, regulators, auditors, and tax agencies to support all functions and activities of accounting.
In other words, an accounting information system is a system that collects, stores, and processes financial and accounting data to make it available for the users of the same. Usually, an Accounting Information system is a manual system. But, in today's time, many software is available that can act as a computer-based method to track accounting activities with information technology resources.
Accounting information systems are useful in supporting all accounting functions and activities such as including auditing, managerial/ management accounting, financial accounting & reporting, tax, etc. It is associated with tools and systems made for the collection and display of significant accounting info, so bookkeepers, accountants, or managers can make more informed financial decisions. AIS nowadays is software-based and that is why Accounting Information Systems are deployed as a part of a company's IT solutions.
Accounting Information Systems can also be understood as a connection of Information Technology with GAAP (Generally Accepted Accounting Principles). For instance, when a company tries to get a loan from a bank, it is supposed to submit details of its different business activities in terms of operating profit or loss as well as financial position.
In the same way, stakeholders need to have financial information of business for evaluating the performance of the business management. Different laws of countries also require the reporting of financial information to different government departments like income-tax departments, company law boards, sales tax departments, etc. in which AIS plays a crucial role.
Usage of Accounting Information Systems
There are various vital elements of the accounting cycle in the accounting information system. A typical AIS includes the Data that is related to:
1. revenue and expenses
2. customer and employee information
3. tax information
4. sales orders
5. analysis reports
6. purchase requisitions
7. invoices and inventories
8. payroll
9. Ledger, financial statements, and trial balance.
There must be a database structure in the accounting information system to store the financial and accounting data. Usually, these database structures are programmed with a query language. A user will get numerous fields for data input and to edit the previous data in the AIS. It is a secured platform that has preventive measures against viruses, hackers, and other external sources.
Functions of an Accounting Information System
An accounting information system has three primary functions.
1. The first function is to efficiently and effectively collect and store data all the financial data related to the organization. This includes transaction data from source documents, recording those transactions into the journal, and then posting them into ledgers.
2. The following function is to make the information available to the users who formulate decisions. This includes producing financial statements and managerial reports.
3. The last function is to ensure that all the recorded and processed data is accurate.
6 Parts of an Accounting Information System AIS
An Accounting system usually has six essential parts: People, Procedure, Data, Software, Information technology infrastructure, and Internal Controls.
1. AIS People
The first part of the Accounting information system is People. This includes all the people who use this system. This includes accountants, business analysts, auditors, consultants, CFOs, and managers.
2. Procedures
The next essential part is the Procedure. Procedures are the ways that data are collected, stored, and processed.
3. AIS Data
The critical part of an accounting information system is Data. It includes all the information that goes under this system. Different types of data can be sales orders, sales analysis reports, customer billing statements, purchase requisitions, general ledger, etc.
4. AIS Software
The software includes the computer programs that are used for processing data. Some of the AIS tools can be Intuit's Quickbooks, Sage's Sage 50 Accounting, SAP's Business One, Microsoft's Dynamics GP, Oracle's PeopleSoft, Sage Group's MAS 90/MAS 200, Epicor Financial Management, etc.
5. IT Infrastructure
In the Information technology infrastructure, all the hardware is included that is used to operate this system. Some of the examples can be Computers mobile devices, printers, servers, routers, backup power supply, etc.
6. Internal Controls
The last part of an accounting system is Internal controls. This includes the security measures that are used for protecting the data of this system. Some of the associated information and data can be Social Security numbers, Credit card numbers, Salary and personnel information, Customer Information, Company financial data, etc.
Benefits of Accounting Information Systems AIS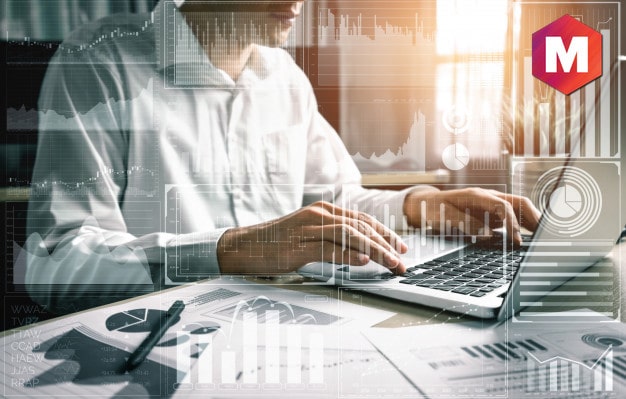 1. Interfacing between departments
With the help of an accounting information system, a company can create an interface between its different departments. In the accounting system, the sales department of a company can upload the sales budget. With the help of a sales budget, the inventory management team can conduct inventory counts and purchase materials. After the purchase of inventory, the accounting information system will notify the accounts payable department for the generation of a new invoice. After this, an AIS can also share this information with the other departments to make them aware of the sale.
2. Internal Control
With the use of an accounting information system, a company can place the policies and procedures into the system. This will ensure that sensitive customer, vendor, and business information is maintained within the company. Through this system, a company can also regulate how much information will be made available to its users.
3. Automates and streamline the reporting system
One of the most significant advantages of using computer-based accounting information systems is that they automate and streamlines the reporting system. It automatically develops advanced reports, modeling and supports data mining. It pulls data from the centralized database, and after processing this data, it generates a summary of the data, which the decision-makers can easily analyze.
Examples of Accounting Information Systems AIS
With the help of well-designed AIS, businesses can run smoothly on a day-to-day basis. AIS also helps businesses when they are in any trouble for uncovering things that went wrong in business channelization. Two of such examples are-
1. WorldCom
The internal auditors of WorldCom Eugene Morse and Cynthia Cooper used the company's AIS in the year 2002 for uncovering around $4 billion in fraudulent expense allocations and other accounting entries.
Because of this investigation, CFO Scott Sullivan got terminated. It also paved the path of new legislation—section 404 of the Sarbanes-Oxley Act that is used for regulating internal financial controls and procedures of the companies.
2. Lehman Brothers
To find out the causes behind the collapse of Lehman Brothers, a proper review of its AIS and other data systems was quite crucial.
It helps in analyzing Lehman Brothers' operating, valuation, trading, financial, accounting, sorts of data systems for creating a proper report to find out what went wrong in its proceedings.
Wrap Up!
On the concluding note, it is clear that components of an AIS all work together to help you use financial data in a result-driven manner. For running a successful business, you need to have a well-developed and updated accounting information system.
From accountants to consultants and business analysts to managers, auditors, CFOs, and regulators- all should use AIS to let different departments within a company work together to have optimized accounting systems for different types of big or small businesses or accounting firms.
Now, what are your thoughts about the importance of the Accounting Information System? Share your views with us in the comment section below.