Bournvita is a drink that is owned by the chocolate specialist Cadburys which is currently owned by the conglomerate Mondelez. The brand has been in existence from the year 1920 and was one of the earliest chocolate flavoured milk additives to be sold under a label. Bournvita known for its strong chocolate flavour and colour is a popular choice for kids and adults alike.
The powder is primarily composed of chocolate, sugar and malt and it is positioned as a stamina and energy booster. The primary target audience of Bournvita are kids of all age group and currently, there are multiple variants of the powder catering to various nutrition and energy needs of kids of all age groups.
Known for its signature violet package and it's "B" the powder is available in the classic chocolate, caramel and little stars variants. Available in the market is also Bournvita brand biscuits.
Strengths in the SWOT analysis of Bournvita
The following are the strengths of Bournvita
Chocolate Flavor: Bournvita which is owned by the chocolate brand Cadburys, as well as its variants such as Bournvita Five Star magic and Bounrvita Little Stars, have the signature rich chocolatey flavour, granular texture and rich brown colour which kids love. The granular texture gives it a well-rounded flavour.
Nutrition: Consumers who consume flavoured drinks do this in order to fortify their kids with higher energy levels or stamina. The powder is composed of nutrients such as carbohydrates, proteins and minerals such as iron, calcium and magnesium and vitamins like B & D.
Cadburys: Any kid grows up hearing the name of Cadburys and its strong association with chocolate. The background that the company has in manufacturing and processing chocolate is something that dates back to many years in history and this backing is the biggest strength that Bournvita has.
Extensive distribution: Mondelez is the owner of a vast channel of distribution and sells to more than 2 million outlets just in India. The drink is sold even in villages today either as bottles, packets or sachets.
Rebranding: In order to beat the competition from Horlicks and Boost the advertisement Jeet ki tayyari indicates that it is best to supplement for brain growth, memory and fitness partner. The drink is also positioned to be rich in pro-health vitamins and rich in honey and almonds. This is a clear difference from the earlier positioning where the primary point was the richness of flavour to one where the benefit is being showcased.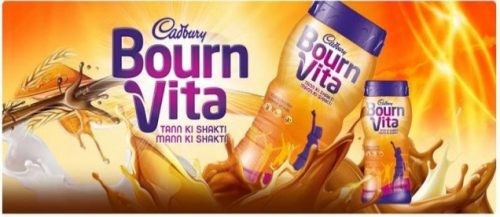 Weaknesses in the SWOT analysis of Bournvita
Some of the key weaknesses of Bournvita include:
Lack of differentiation: There is no clear differentiation between different variants of Bournvita and they are all primarily chocolate flavoured drinks. However, the company is trying to differentiate it using ingredients as the key. They are also trying to differentiate through a benefit based positioning which is also not drastically different from what their competition has to say.
Copy of competitors: Bournvita does not have a new feature to showcase but primarily follows a path or positioning set by market leaders like Horlicks or Complan.
Image of the brand: The drink has always been positioned as one for taste and texture and for active kids. Thus there is a popular belief that the drink is suitable for boys and not for girls.
Opportunities in the SWOT analysis of Bournvita
Some of the opportunities include :
Focus on growth needs: Mothers are fussy and more concerned about the health and nutrition needs of their children and whether their diet is balanced. The right marketing and positioning can help to boost up the sales through meeting physical and emotional needs of growing children.
Importance of extracurricular activities: Today the parents want their kids to excel in all areas and that includes both curricular and co-curricular and they are willing to invest in anything that promises higher levels of achievement. This creates a lot of specific need which can be used to create new target segments.

Threats in the SWOT analysis of Bournvita
Some of the threats include:
Competition: The competition for Bournvita includes drinks like Boost, Horlicks, Maltova etc.
Health conscious customer: There are a lot of controversies that health drinks have been embroiled in that claim that they contain hormones and other growth enhancing agents. This would mean that many of the customers choose to give their kids plain milk than rely on flavouring powders like Boost or Borunvita.
Too many similar products: The health drinks market is filled with products of the same kind who even speak of similar nutrients and same benefits.This brings down the loyalty of the customer who feels that they can keep shifting from one brand to another.
Liked this post? Check out the complete series on SWOT