KFC is a global chicken restaurant brand with a long-standing history of success and innovation. It was founded in 1930 by one cook, Colonel Harland Sanders who created a recipe with a list of 11 secret herbs and spices.
Harland Sanders is an early developer of the quick service food business and an innovator of the restaurant franchise concept. Today, the brand operates 27,760 restaurants in more than 149 countries across the globe. KFC is a subsidiary of Yum! Brands, Inc., which also owns Pizza Hut and Taco Bell. The brand has been growing through digital innovations and building the latest food stores, thereby making it easier for their guests to enjoy chicken.
KFC restaurants offers fried and non-fried chicken products, including sandwiches, chicken strips, chicken-on-the-bone and other chicken products, milkshakes, French fries, soft drinks, salads, and desserts.
Here are some KFC statistics:
Founded on – 1930
Headquarters – Louisville, Kentucky
Country – United States
Industry – Fast Food Restaurant
CEO – Sabir Sami
Revenue in 2022 – $2,834 million as of December 31, 2022
Profits – €1,296 million as of December 31, 2022
KFC brand is the second-largest restaurant chain that specializes in fried chicken. Highlighted below is a detailed analysis of KFC's strengths, weaknesses, opportunities and threats.
KFC Strengths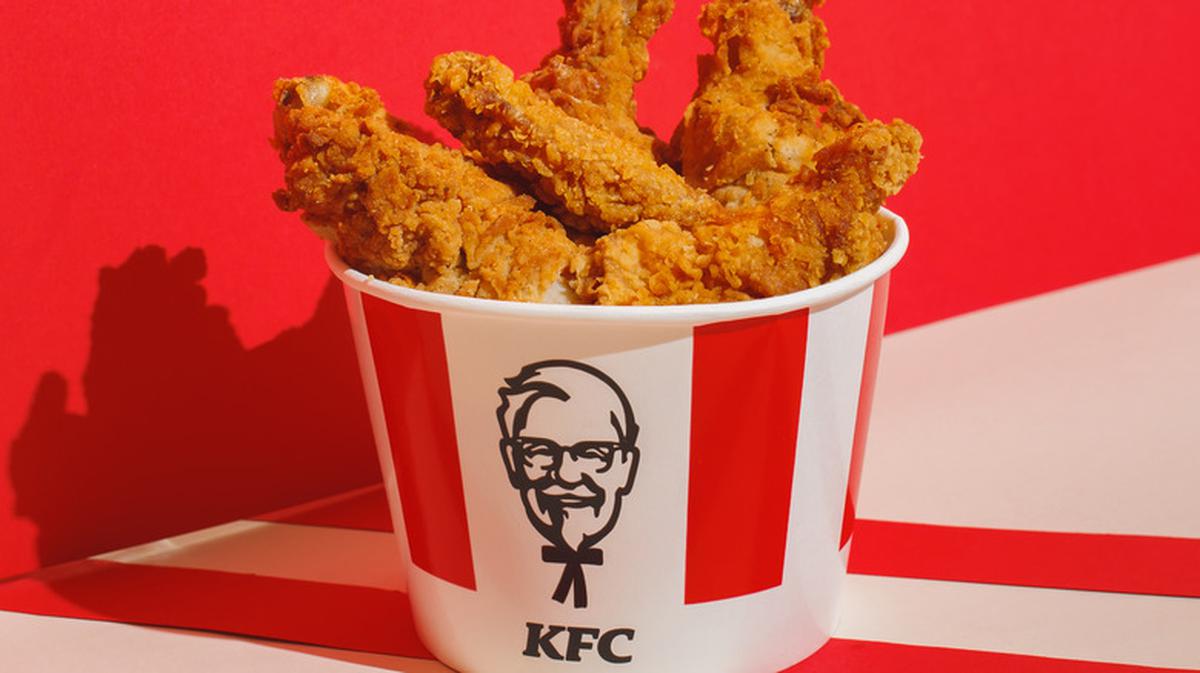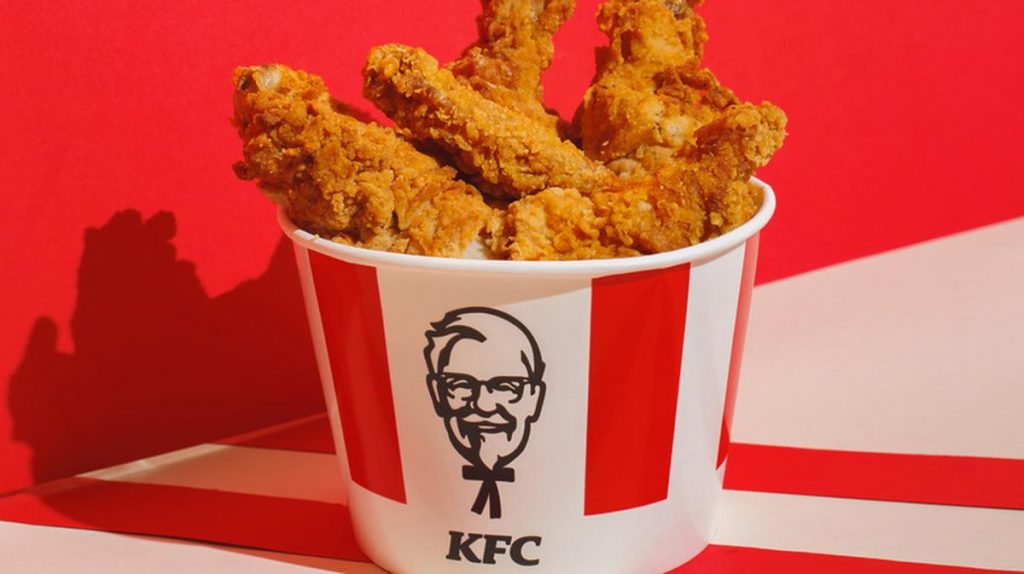 1. Established Global Presence
Geographically diverse operations help KFC mitigate the risks associated with overdependence on a particular market. It also enables to enhance its brand equity and provides growth opportunities.
As of December 2022, KFC operates 27,760 restaurants across 149 countries and territories across the world. Of its total restaurants, 86% are in international markets outside the US.
2. Strong Parent Company
KFC is a subsidiary of Yum! Brands, which also owns Pizza Hut and Taco Bell. Yum's brands are global leaders of the chicken, Mexican-style food and pizza categories. Yum! Brands is one of the world's leading fast food companies in terms of system units with 55,361 units operating in 156 countries in 2022. Yum! Brands have the influence, power and resources to improve KFC as a restaurant as they control so many other fast-food businesses.
3. Broad Product Offerings
KFC restaurants offers a wide selection of items, including fried and non-fried chicken products, including sandwiches, chicken strips, chicken-on-the-bone and other chicken products, milkshakes, french fries, soft drinks, salads, and desserts. It also includes vegetarian items in its menu, which helps them to cater to vegetarian customers.
KFC specialties include the KFC Chicken Sandwich, Extra Crispy chicken and Extra Crispy Tenders, KFC Famous Bowls, Pot Pies, Secret Recipe Fries, biscuits and homestyle sides. This broad portfolio enables it to cater to a wide range of customers and meet the needs of different customers.
4. Financial Strength
KFC has delivered a strong financial performance during the year 2022. The company recorded revenues of $2,834 million during the year 2022, an increase of 3.9% over 2021. The brand's financial strength is attributable to their innovative product offerings and business plans. Its strong financial performance helps enhance investors' confidence and improve the growth prospects.
5. Trademark Recipes
KFC's founder created the most delicious recipe, fried chicken with 11 secret herbs and spices. This is regarded as the company's trade secret behind its tasty crispy chicken meals. The recipe is still unique and unknown to general public.
KFC Weaknesses
1. Lack of Management
KFC being an international fast food server faces difficulty in managing and controlling franchises.
2. Dependence on a single product
KFC's key product is fried chicken, which represents the majority of its product revenue. Such dependence on a single product category makes the brand vulnerable to changing customer choices.
3. Limited Vegetarian items
KFC has a very limited choices for vegetarian customers. These days, vegetarians are important consumers for any food company. Presently, many of its restaurants cater only to non-vegetarian customers.
4. Health consciousness
Nowadays, each individual is becoming health conscious. All fast food restaurants such as KFC have a large content of fat and calories in their meals, which is making people shift to a healthier option. KFC has no healthy meals offered on its menu.
KFC Opportunities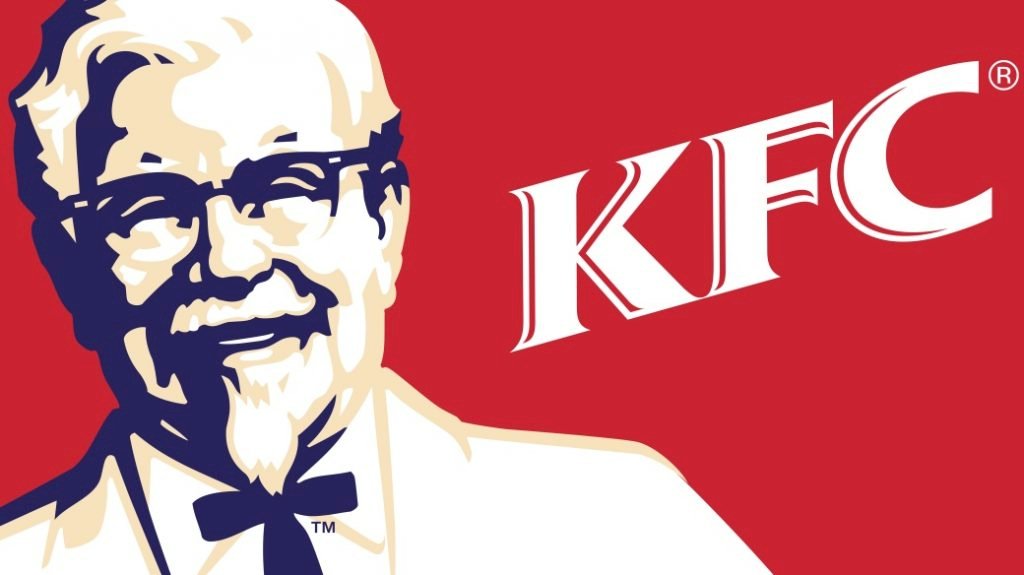 1. Strategic Expansions
In September 2022, KFC opened its 300th restaurant in the city of Rouen, France. With the opening of new restaurant, the brand achieved its development objective of doubling the number of its restaurants in France.
In July 2022, KFC launched a new restaurant in Pinelands, Western Cape, South Africa, which features digital menu boards and the latest in connect kitchen technology. Such strategic initiatives are expected to align the business operations in line with the industry and generate higher returns.
2. New Product Introductions
Launch of new products helps the company expand its offerings to meet the needs of a larger customer base. This in turn could provide the company a competitive edge over its competitors and increase its sales. KFC could launch new meals to its menu and provide pork, beef or only vegetarian meals, which will enable the brand to target wider customer base.
In March 2023, KFC introduced new 100 percent white meat Kentucky Fried Chicken Nuggets made using its original recipe to its menu. Furthermore, in February 2023, KFC added a new menu item, Fried Chicken Wraps, after a successful test in Atlanta. This proves that KFC is a brand known for listening to its customers preferences.
KFC Threats
1. Intense Competition
The brand operates in a highly competitive fast food industry. KFC faces intense competition from other fast-food chains, including Burger King, McDonald's, and Subway. Such competition could impact its market share and profitability.
The brand also competes with local fast food restaurant chains, which offers meals at lower prices as compared to KFC. Its ability to compete successfully depends on frequent introduction of innovative new products, services and technologies to the marketplace.
2. Fluctuation in Prices of Raw Materials
Fluctuations in prices of raw materials poses risk for the brand. The fluctuation in the prices of raw materials might affect the business by increasing the expenses and thereby increasing the prices of the products.
3. Infectious Diseases Outbreak
The coronavirus (COVID-19) is not only a global public health emergency but also a cause of a number of regional and global economic disruption. As a result of the pandemic, KFC franchisees have experienced store closures and reduced store-level operations, including reduced operating hours and dining room closures.
Such disruptions in future could impact the company's operations. Public safety measures can also adversely impact consumer demand for its products in affected areas.
4. Closure of Franchisees
In 2022, KFC suspended all investment and restaurant development in Russia as well as the operations of all company-owned KFC restaurants in Russia. The Russian invasion of Ukraine, including associated macroeconomic conditions, increased energy and other raw material prices, regional instability, and heightened economic sanctions from the international community might adversely affect KFC restaurants located in Russia and Eastern Europe.
5. Foreign Exchange Risk
The brand is exposed to exchange rate risk to the extent that balances and transactions are denominated in a currency other than the US dollar. Currency fluctuations could incur additional costs to the company, or increase its capital expenditure. This may impact the company's competitive position and profitability.
In summary, KFC is the second-largest restaurant chain in the world. The brand has very few weaknesses compared to its strengths. Furthermore, there are exciting times ahead when the brand can increase its presence by capitalizing on various opportunities. The threats that KFC may face are the large competition from other fast food chains. KFC must address the above mentioned issues to stay competitive and ensure long-term sustainability in the fast-food industry.
Liked this post? Check out the complete series on SWOT