World's 2nd largest fast food chain and largest chicken restaurant on the basis of sales is KFC, the successful brand of the parent company YUM! brand. It's been more than 75 years since its inception and still, KFC's original recipe of fried chicken is satisfying the taste buds of customers because it is finger licking good!!.
KFC with its 750000+ workforce, serves fresh delicious fried chicken to customers in nearly 18000 restaurants across the world in 120+ countries.
Segmentation, targeting, positioning in the Marketing strategy of KFC
KFC (Kentucky Fried chicken) uses demographic segmentation to serve the market as per the customer needs & wants. The consumers of KFC are the young as well as young adults.
It used to serve the same menu all around the world which means that it was using undifferentiated targeting strategy. However, in recent times, following McDonalds example, KFC has started localising its menu, giving it better acceptability in the market. Moreover it has transformed its positioning strategy from product based to value based in recent times.
KFC is strongly positioned in the minds of consumers for its Chicken menu. There are very few outlets which serve anything in vegetarian. But when it comes to non vegetarian, KFC is just superb. Its chicken wings, and chicken bucket is a favourite with everyone. This excellent targeting technique is the reason that most non vegetarian lovers flock at KFC.
Marketing mix – Click here to read the Marketing mix of KFC
SWOT analysis – Click here to read the SWOT analysis of KFC
Mission – "Not Available"
Vision- "Not Available"
Tagline- "Finger licking Good".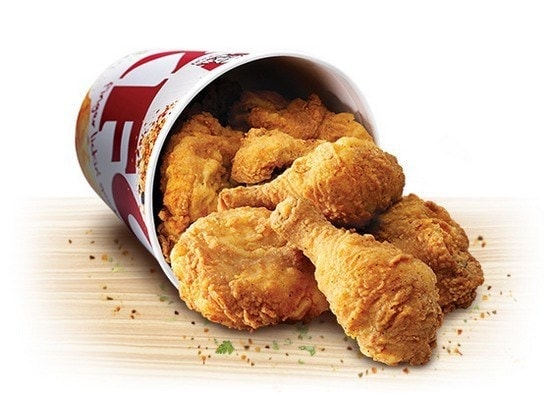 Competitive advantage in the Marketing strategy of KFC
Original recipe of fried chicken with secret blend of 11 herbs & spices have been the driving force for KFC from last 75 years. KFC has a broad menu with many options for customers and now even Vegetarian food items have been added by KFC which has helped KFC in increasing its customer base and sales volume.
Presence in developed & developing nations is helping the company in strategizing its future growth plans as it is giving them exposure & experience which is essential element in and fast food industry's success.
BCG Matrix in the Marketing strategy of KFC
Its Hot wings, Sandwiches and Grilled chicken are stars since majority of its sales comes from these menu items.
Other menu items those in veg, desserts & in chicken (even burgers) are question marks since KFC is not able to differentiate itself on these menu items from others like McDonalds or local fast food joints.
Distribution strategy in the Marketing strategy of KFC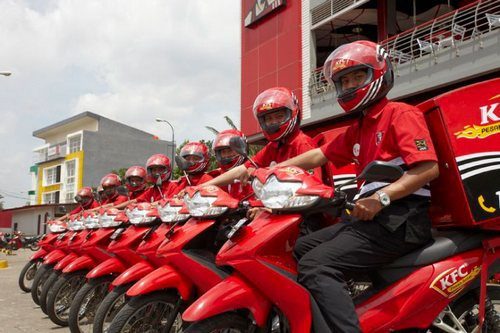 With 18000 restaurants delivering finger licking delicious fast food across the world, KFC has evolved itself through the years and having strong tie-ups or strategic partnership with the supply chain partners is helping them in serving its customers in a better way.
KFC always believes in keeping its outlet in premium areas as well as in malls and shopping complexes. These KFC outlets can also carry out delivery for online orders of KFC. As a result, KFC covers both – online and offline deliveries.
Brand equity in the Marketing strategy of KFC
KFC is currently ranked 147 in the global brand ranking table. Sustained positive brand positioning has helped the company in creating top of mind awareness (TOMA) . With its introduction of Veg-menu and localisation strategy, it is now catering to the left-out segment which will help in its brand building.
Another factor which strongly helps KFC is its continuous branding initiatives with above the line as well as below the line marketing tactics.
Competitive analysis in the Marketing strategy of KFC
KFC is facing strong competition from McDonalds, kokoriko, kyochan and many other local & national fast food companies. Also the local fast food joints are giving head on competition to KFC in the developing nations. In developed nations the different fast food outlets are eating up each other's market share.
One of the major competitors of KFC is McDonalds and Subway. Both of them are in the burger category and where McDonalds offers burgers, Subway offers sandwiches. Subway is yet to reach its complete distribution potential but KFC and McDonalds are constantly at loggerheads with their vast global presence.
Market analysis in the Marketing strategy of KFC
Although more than 50% of its sales come from Developed nations but those markets have stagnant growth rate and developing nations like India, China and many others have big potential for KFC.
The market is still growing but fast food chains have low acceptance in developed markets. Developed nations are becoming more health conscious, it's only developing nations which will share the market dynamics.
Customer analysis in the Marketing strategy of KFC
Customer of KFC are the people from different age group, all who want to satisfy their taste buds with the finger licking delicious chicken menu. Most of the customers can be defined as youngsters or young adults who can shell out a minimum amount of money to have a delicious meal.
Liked this post? Check out the complete series on Strategies