Airbus is one of the largest Aerospace companies in the world. The company which actually deals with commercial airlines is Airbus SAS, which is a subscidiary of Airbus. Airbus itself is involved in manufacturing of multiple product lines including military aircrafts, supersonic jets and others. Airbus is the arch nemesis of Boeing, another company known and loved for its prowess in Aerospace engineering. Airbus has manufacuring facilities in multiple countries and is growing well year on year.
STRENGTHS in the SWOT ANALYSIS OF AIRBUS :
Market Share: AIRBUS enjoyed a 57% market share in the year 2015 growing from 50.5% in the previous year, outstanding its major competitor BOEING. AIRBUS has A320, A330 and A380 in the respective categories, i.e. Single-Aisle, Widebody and Very Large Aircraft. The figure shows the market share in terms of a number of orders in the mentioned categories.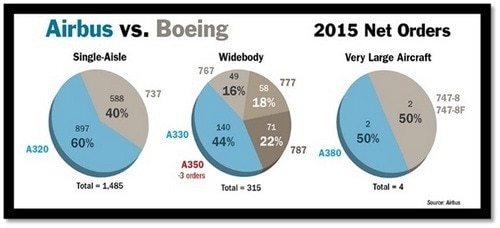 Innovation: AIRBUS has always concentrated on innovation in technology and design. AIRBUS' A350 XWB has been a prime example of AIRBUS' approach towards continuous innovation. It has used next generation manufacturing and assembly techniques in A350's production. Airbus has convinced its European partners and suppliers to develop aircraft components and assemble the jetliner on a single assembly line which is a revolution in the industry.
Eco–Efficiency: AIRBUS has the vision to be recognised as a leader in eco-efficient solutions for sustainable aviation. AIRBUS has launched Blue 5, which is an initiative which deals with five areas of environmental focus: save energy, save water, reduce waste, reduce CO2, and reduce VOC.
Strong parent company: It has a strong support from the AIRBUS group, which has a revenue of over 64.45 billion Euro. This strong patronage has allowed AIRBUS to survive in the stiff competition.
WEAKNESSES in the SWOT ANALYSIS OF AIRBUS :
Accumulating Backlogs: AIRBUS has been accumulating backlogs by delivering less number of aircraft when compared to the orders. BOEING, its major competitor has lesser number of backlogs comparatively with higher delivery to order ratio.
Operational inefficiencies: AIRBUS has always been labelled as inefficient in operations when compared to the rivals. It has a history delayed launches such as A 350 and A 380
High Production Costs: AIRBUS has higher production costs when compared to BOEING for instance, AIRBUS' A 380 which had to be delayed by over a year which increased the overall production costs and also affecting the share price of the AIRBUS group by 26%.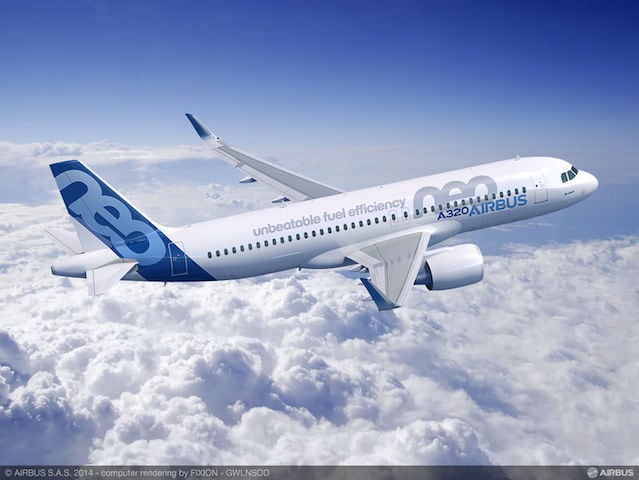 OPPORTUNITIES in the SWOT ANALYSIS OF AIRBUS :
Growing Demand: AIRBUS has projected a need for 33070 aircraft valued at the US $5.3 trillion over the next 20 years. This presents a great opportunity for AIRBUS to gain the advantage over the rivals.
Expanding Passenger Traffic: With the growing Passenger traffic due to the rising middle class in the emerging nations, AIRBUS has a great opportunity to tap this market and gain market share.
Advancement in Technology: The Aircraft industry has undergone many technological breakthroughs in the past few years. This can help AIRBUS improve on its weaknesses and deliver faster results.
THREATS in the SWOT ANALYSIS OF AIRBUS :
Tough Competition: BOEING has been its toughest competitor and has always come across with something new which has challenged AIRBUS. With the emergence of new markets, the battle for market share is going to be even tougher.
Losing on important markets: Russia and China are planning to develop their own commercial Aircraft and that is a threat to AIRBUS. China is poised to become the world's leader in terms of air passenger traffic and thus to miss out in such a country would affect its AIRBUS' business.
Liked this post? Check out the complete series on SWOT