The SWOT of Ferrero rocher discusses the strengths, weaknesses, opportunities and threats for one of the deliciously packed and tastiest chocolates in the market – Ferrero rocher.
Strengths in the SWOT analysis of Ferrero Rocher
Offers a quality and luxury product – The chocolates by Ferrero rocher are known to have the same taste, whichever part of the world you buy them.
Has captured huge amount of market share in boxed chocolates – The distribution of this chocolate is fantastic as it has reached far and wide and the boxes are available everywhere.
Available in packaging of 3 nos, 12 nos, 18nos, 24 nos – the various package size are advantage as you can vary the sizes when gifting someone as per their importance.
Considered as a ideal product for gifting – Very few chocolates have been able to achieve that because of the competition in that space. But cadbury and Ferrero Rocher lead in the gifting space.
Ferrero Rocher gets a instant customer recognition due to its packaging – Another point which is commendable is that the chocolate melts rarely and at very high temperature, and even at room temperature the consistency is normal.
Available in variety of new packages both for seasonal purpose and special events
Ferrero Rocher brand has launched two new brands Ferrero Cappuccino and Ferrero Rond Noir.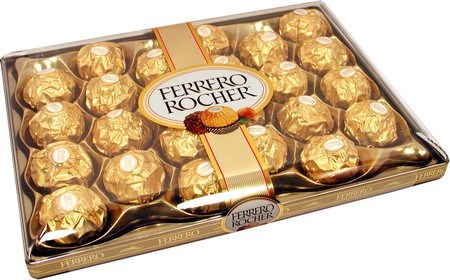 Weaknesses in the SWOT analysis of Ferrero Rocher
Highly priced – When compared to other alternatives, it is higher priced. But that is natural to achieve its premium image, But it does affect turnover.
Not advertised – A big negative for Ferrero Rocher is that it is rarely advertised and hence it loses its market shares to other competitors due to affect on brand recall.
Perception of chocolates being unhealthy in majority of masses
Not available easily
Opportunities in the SWOT analysis of Ferrero Rocher
The introduction on new flavors will help in gaining more market share
Increase in the usage of internet – Advertisements can be done on the net or even on other media vehicles so as to increase demand. It should make use of the recent E-commerce wave.
Increase in the demand of the three piece impulsive pack
Threats in the SWOT analysis of Ferrero Rocher
Imitation of Ferrero Rocher
Bad economy cycles
High competition from other chocolate brands
Increasing trends of Nutri-bars replacing chocolates – A major threat to the likes of Ferrero Rocher whose brand equity depends only on its chocolates.
Liked this post? Check out the complete series on SWOT