T.G.I. Fridays is a popular American restaurant chain that has its main focus on casual dining. It was formed during the year 1965 and is headquartered in Texas, United States. The name T.G.I. Fridays stand for 'Thank God It's Friday'. It is a franchising operation having its franchises in many outlets. It has its largest franchise in New Jersey called The Briad Group.
The design carried out by T.G.I. Fridays these days is more contemporary with granite exteriors, wallpaper, and red-and-red white stripped lamps instead of Tiffany. The exterior doors have F shaped handles along with a metal cup placed above the door which says "In Here, It's always Friday". It has the largest menu on Fridays by also having an emphasis on alcoholic beverages.
About T.G.I. Fridays
Type: Casual dining restaurant chain Industry: Food service
Founded: 1965, New York City, United States
Founders: Alan Stillman
Headquarters: Dallas, Texas, United States
Area served: Worldwide
Current CEO: Ray Blanchette
Number of employees: 170,000 (2022)
Major products: American cuisine, cocktails
Let us examine the SWOT analysis of T.G.I. Fridays.
Strengths in the SWOT analysis of T.G.I. Fridays

Casual dining restaurant – T.G.I. Fridays is a casual dining restaurant that focuses on serving tasty food and beverages. People can enjoy on a daily basis as they would do so on weekends.
Ingredients – The Hella Cocktail is a big hit that was founded by three Brooklyn people who has created best mixers, bitters, syrups, and DIY kits. Hella is T.G.I. Friday's official bitters. The food does not have any artificial colors or flavors in it.
Various menu options – T.G.I. Fridays have various menu options that can be had in the restaurant or order online. It has various menus for lunch, dinner, beverages, and fast food. The restaurant has a great menu in categories like appetizers, burgers, sandwiches, chicken, seafood, pasta, steaks & ribs, salads & soups, desserts, kids menu, party platters, sides, drinks, and lunch menus.
Brand value – T.G.I. Fridays is a popular brand and are known across the globe.
Global operations – T.G.I. Fridays have currently about 870 restaurants in about 60 countries.
A fun place – T.G.I. Fridays are considered the most fun place that serves good food, good music, and good drinks.
Excellent marketing strategy – T.G.I. Fridays have a successful marketing strategy to make them visible across the world.
Weaknesses in the SWOT analysis of T.G.I. Fridays
Limited advertising – T.G.I. Fridays have less advertising in comparison to its competitors. This is a great weakness as it might lose the attention of many customers.
Menu for health-conscious people – T.G.I. Fridays have a varied menu but missed to take care of people who are health-conscious. People who are very health conscious will not prefer such heavy menus.
Aggressive promotion – T.G.I. Fridays have launched new and aggressive promotion wherein a customer can get all the appetizers for only $10. By this, T.G.I. Fridays are peddling up and pushing low-quality food at any cost. This is a great weakness when it comes to low food quality.
Processed and frozen food – T.G.I. Fridays are known for processed and frozen food that is not healthy.
Controversy – During the year 2013, investigators have raided many T.G.I. Friday's outlets and found that the bars were having low-cost brands that premium brands while the customers were charged for premium brands.
Opportunities in the SWOT analysis of T.G.I. Fridays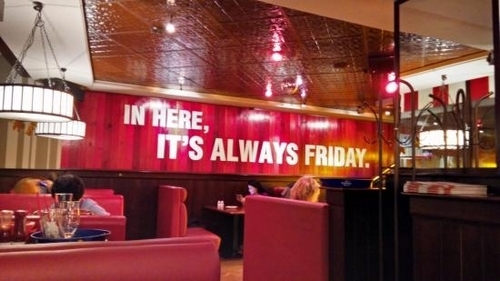 Aggressive advertising – T.G.I. Fridays can adopt aggressive advertising to get more business. This will ensure that more customers will flow into their restaurant.
Business operations expansion – T.G.I. Fridays can expand its operations in the untapped markets. By this, they can get more opportunity to grow their business.
Increase in purchase – There is an increase in the purchasing power in the developing countries. This provides a huge opportunity for T.G.I. Fridays for their business growth.
Threats in the SWOT analysis of T.G.I. Fridays
Raw materials cost – There could be a great fluctuation in the cost of raw materials, thereby leading to the fluctuation of cost in the food products as well. This is a serious threat to the T.G.I. Fridays it would impact the customers as well.
Unstable global economy – The unstable global economy could also be a threat to T.G.I. Fridays business.
Customer segment – Many health-conscious people will not prefer to enter into such a high-end restaurant by considering their health factors. This will impact having a strong customer base forT.G.I. Fridays.
Liked this post? Check out the complete series on SWOT