One of the largest furniture, appliances and home accesories company in the world, Ikea is known for its unique design and because of its portable installations. Ikea makes ready to assemble furniture, which you can order and assemble it yourself. Interestingly, the name Ikea is an acronym based on its founder name, house and hometown – Ingvar Kamprad Elmtaryd (farm where he grew up) and Agunnaryd (home town). Ikea operates out of Netherlands.

Strengths in the SWOT Analysis of Ikea :
Brand Value: Ikea is currently at 46th position in the world in brand value of Forbes list. Its value stands at $11.9 billion. The top 10 retails in the world according to brand value is in the following graph. Ikea stands number 6th in the top 10 organization in the retail sector.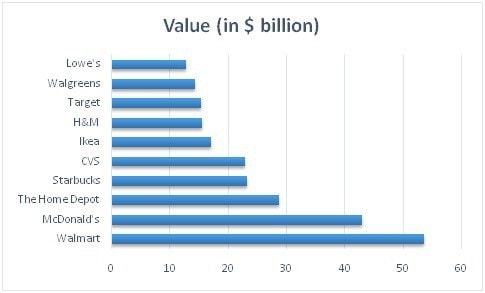 Financial Strength: The revenue of Ikea was around €32.7 billion in 2015. Its financial profits for the same were €14.437 billion.The share of Europe in Ikea's sales was a staggering 69%.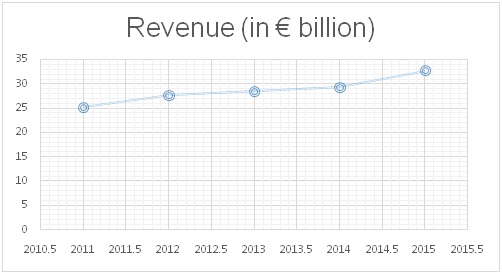 Products: Ikea's biggest strength lies in the kind of product it manufactures and designs. Its DIY kind of products are pretty famous among customers and that makes them a primary choice for many of them.
Cost Consciousness: Ikea's products are very cost effective and are a value for money. Customers get a high ROI on the money they spend on this furniture.
R&D: They are on a constant research and innovation to keep bringing the prices down for the customers and also to keep adding different furniture to their portfolio.
Marketing: Ikea is known to be a smart marketer and it has fantastic product placement in movies as well as on television. At the same time, it concentrates well on Above the line and below the line marketing methods to make a strong brand for itself.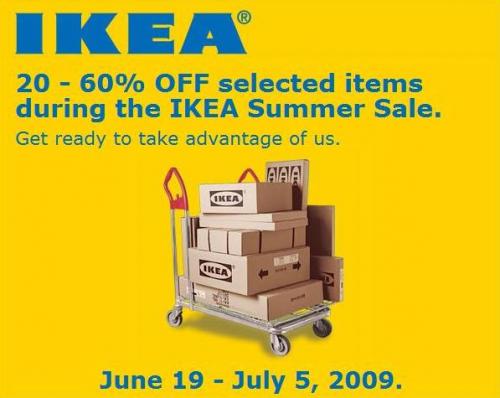 Weaknesses in the SWOT Analysis of Ikea :
Negative Image: Ikea has operations in many countries and that is why it keeps getting into local troubles in some of them. Ikea got into a corruption case due to expansion problems in Russia. They recently came in news for issuing an all men catalogue in Israel mocking their ultra-orthodox Jewish community. Steps like this result in negative publicity.
Control for standards: Ikea's main concern is to keep the cost minimal but at the same time provide good quality service and high product performance. This is not always possible.
Scaleability: Ikea has operations in many countries so same standards are not followed everywhere. Hence their product portfolio is not entirely replicable in all the locations and scalable which creates problems for the company. This also increases their cost.
Environmental Problems: Ikea needs to keep in check about its stakeholders. Ikea has been in the news about environmental issues many times creating a bad brand image.
Increasing Raw material costs: Ikea's fundamental rule is to keep the cost low but with increasing raw material costs it is hard to keep up with the company standards.
Opportunities in the SWOT Analysis of Ikea :
Environmental Friendly: There is a certain growing demand for eco-friendly products in the consumers these days. This might help in the growth strategy for Ikea.
Cost-conscious Consumers: Consumers are now becoming very cost conscious. They would opt for such products as they tend to change their furnishing periodically.
Developing Countries: Countries were per capita income is low such low-cost products could do wonder. China and India would prove to be great markets.
Saturated markets: Places like India and China where there is huge population and where people need unique solutions to their space usage problems are countries which Ikea should target and focus on.
Threats in the SWOT Analysis of Ikea :
Counterfeit: Many local/regional companies have copied Ikea' products. Ikea needs to constantly keep updating and innovating their offerings to stay ahead of such copy-cats and not down trade on their revenues.
Changing Laws: Changing government laws and tax policies may have a bad impact on the prices of Ikea's products. They might not be able to keep up with their promises if taxes become very high.
Internet: DIY was a preferred choice for many customers but with the advent of the internet and social media there is nothing that customers can't learn and look into. So, Ikea may be losing its primary success factor of DIY products.
Higher Income: Growth of Disposable Income have led consumers to trade higher in the market chain.