Dairy Milk is a milk chocolate brand which comes under Cadbury and the parent company is Mondelez International.  Dairy Milk is a 100-year-old chocolate brand and has gained credibility of its consumers. Dairy Milk is now surrounded by the threat of consumers moving towards healthy products and reducing consumption of high sugar content products.
Strength in the SWOT Analysis of Dairy Milk :
Brand Name: Cadbury's Dairy Milk is one of the most celebrated brand names globally. Being a 100-year-old brand, people have equated chocolate with Cadbury and Dairy Milk especially.
Strong Distribution: Cadbury has identified needs of different market perfectly and accordingly has set up strong distribution which has helped it gain strong market share in urban as well as rural parts of various countries.
Cadbury's support: Cadbury, being one of the largest confectionery companies around the world, has a strong hold in many countries. It has set up strong distribution channels around the world and has financial stability.
Strong Brand Loyalty: Dairy Milk is a part of an impulse buying industry, confectionery. In such an industry, customers tend to switch brands at zero cost and thus maintaining customer loyalty is difficult. But, Dairy Milk has been able to maintain strong brand loyalty.
Strong Brand Recall: Dairy Milk is one of the most successful products of Cadbury and has a very strong brand recall. People equate chocolate with Dairy Milk, especially in areas where awareness of other brands is very low.
Strong Advertising: Dairy Milk has always positioned the brand as a family product with specific importance to its target audience which is 10-25 years of age.
Variety in offerings: Dairy Milk is present in 4 different variants which are Chocolate, Fruit & Nut, Roast Almond and Crackle. This attracts a different set of consumers and helps in increasing revenues.
High Number of SKUs: Dairy Milk has a high number of SKUs especially for its chocolate version. In India, it has SKUs starting at Rs. 10 and ranges till about Rs 200. This presents the high number of options and offerings for different types of consumers and markets.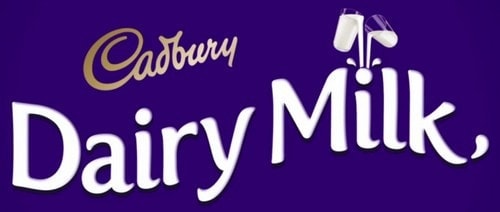 Weaknesses in the SWOT Analysis of Dairy Milk :
Because it is one of the most loved brands in chocolates, there are very few weaknesses which Dairy milk has.
High Sugar Content: Cadbury Dairy Milk has very high sugar content, as per food net India; Cadbury Dairy Milk had over 50% (w/w) sugar content. The current trend globally is to move towards healthy products and thus this is a weakness.
Lower cocoa content than the competition: Cadbury Dairy Milk has about 2.58% (w/w) of cocoa content which represents the intensity of chocolate in the product. Other competitors like Amul and Schmitten had over 3% Cocoa content.
Controversies: Cadbury has had to face its share of controversies.  Cadbury's worm controversy in India had made a big impact on its brand credibility and Cadbury had to put in a lot of marketing effort to be able to overcome that. Such controversies affect the trust on the brand.
Opportunities in the SWOT Analysis of Dairy Milk :
Low Sugar variant: Cadbury Dairy Milk can come out with products with low sugar or zero sugar content considering the fact that health awareness is increasing around the world and people are moving towards healthier products.
Nutritional variant: Being in line with bringing out new variants, the market for nutritional chocolate is emerging and Dairy Milk can come out with a variant with high Nutrition content.
Continue market domination with high brand engagement and interesting advertisement: Cadbury dominates various markets around the world in the confectionery segment. Being an impulse market, it is very important to keep engaging customers and roll out interesting advertisements.
Threats in the SWOT Analysis of Dairy Milk :
Low Switching cost: Dairy Milk's marketing expenses are higher considering the low switching cost as it falls under the impulse buying category.
Competition: Dairy Milk has to compete with many brands around the world like Lindt, Ferrero, Amul, Hershey's and Schmitten etc. Such competition reduces market share.
Increasing health awareness: With increasing health awareness around the world, People are moving away from high fat containing products to healthy products.
Liked this post? Check out the complete series on SWOT