D mart is a supermarket and hypermarket retail chain that is based out of India. The chain which is a multi-category retailer offers a wide range of products under its umbrella. Some of the categories it deals with include consumer goods, groceries, personal care products, home care solutions, deli, kitchenware, furniture and home appliances.
The company was started by Mr. Radhakishan Damani with the objective of offering value-based products to families across the country at affordable rates. The retailer is said to be modelling itself on Big Bazaar and follows similar pricing strategy. The company that is headquartered in Mumbai also sells a lot of its private labels such as D Mart Premia and D Mart Minimax.
D Mart has multiple stores at various location across India and also a fairly well spread out distribution channel. The company registered an annual revenue of 1.86 billion USD in the year 2016 and the business is expected to also showcase a steady growth.
Strengths in the SWOT analysis of D mart :
Strengths are defined as what each business does best in its gamut of operations which can give it an upper hand over its competitors. The following are the strengths of DMart :
Weaknesses in the SWOT analysis of D mart :
Weaknesses are used to refer to areas where the business or the brand needs improvement. Some of the key weaknesses of D Mart are:
Focus on certain places: Quite unlike their competitors, who are present everywhere, D Mart has focused more on the Western States and has a very low presence in the South. This has restricted them from gaining market prominence.
Slow growth : D Mart has established almost 16 years ago much before the retail boom set a fire in India. However, it has not been able to capture the market even as much as many of the later entrants primarily because of its long-term focus.
Sustainability of low pricing: The company has a zero credit policy and thus vendors and suppliers give them a much better price which is how the company is able to afford the low prices that the competitors cannot imagine.
No frills : D Mart follows a no-frills approach where the focus in to cut costs wherever possible. Their facilities are basic and lack the frills of most upmarket retailers. The customers who come here essentially look at the low prices of products on offer. So thus the sustainability of this differentiator is questionable.
Opportunities in the SWOT analysis of D mart :  
Opportunities refer to those avenues in the environment that surrounds the business on which it can capitalize to increase its returns. Some of the opportunities include:
Technology: Technology has a lot to offer to retailers in terms of in-store experiences and retailer can use IoT, artificial intelligence etc to create value-adding services to their customers for which a premium can be charged.
Personalization of services: Customers are looking for personalized services for which they are willing to pay extra. Retailers should capitalize on this propensity to pay more and increase the quality of their services.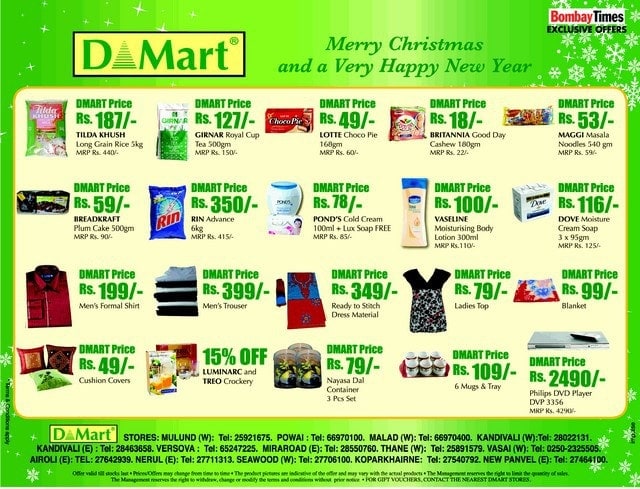 Threats in the SWOT analysis of D mart :
Threats are those factors in the environment which can be detrimental to the growth of the business. Some of the threats include:
Online retailers: People in cities especially are highly lethargic about leaving their homes and prefer to shop online today. Companies like Amazon and Flipkart thus become major threats to most retailers.
Online Start-ups: The hottest trend in India is online start-ups. Many of them are aggregators who bring together the supplier and the customer cost-effectively. These companies are the emerging threats more so because many new brands are cropping up in the aggregation market primarily because of lower barriers to entry.
Liked this post? Check out the complete series on SWOT