Founded by Conrad Hilton on May 31, 1919, now owned by Hilton Worldwide, As of 2017, there are more than 570 Hilton Hotels & Resorts properties in 85 different countries and territories across six continents. These Properties are either franchise owned or are operated by independent operators by Hilton.
Hilton Hotels & Resorts is Hilton's flagship brand and is one of the largest hotel brands in the world. The brand targets both corporate employees and travelers with a property in major cities, in the vicinity to airports, convention centers, and popular vacation destinations around the world.
Segmentation, targeting, positioning in the Marketing strategy of Hilton –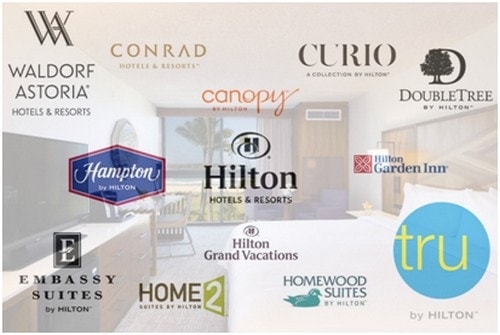 Brand segments its services on basis of its unique ambience and experience, the bundle of offerings and other complementary services like Spa, Gym, Hygiene factors, pricing, and staffs.
The brand focuses on premium pricing strategy thus catering the high profile business class and upper class of the society. It uses a differentiating strategy to make it promising for its customers.
With its various brand offering Hilton positions itself in diverse portfolios :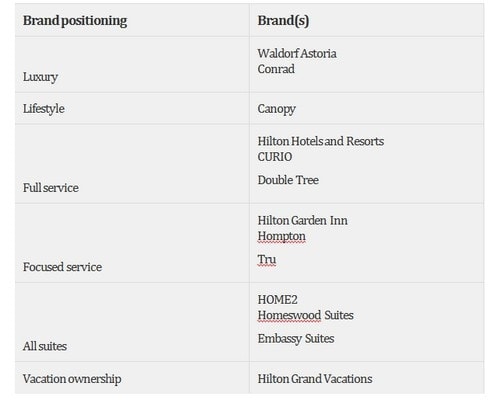 Marketing mix – Here is the Marketing Mix of Hilton Hotels.
SWOT analysis – Here is the SWOT analysis of Hilton Hotels.
Mission – "To be the most hospitable company in the world – by creating heartfelt experiences for Guests, meaningful opportunities for Team Members, high value for Owners and a positive impact in our Communities."
Vision – "To fill the earth with the light and warmth of hospitality –by delivering exceptional experiences – every hotel, every guest, every time."
Tagline – "Travel should take you places"
Competitive advantage in the Marketing strategy of Hilton –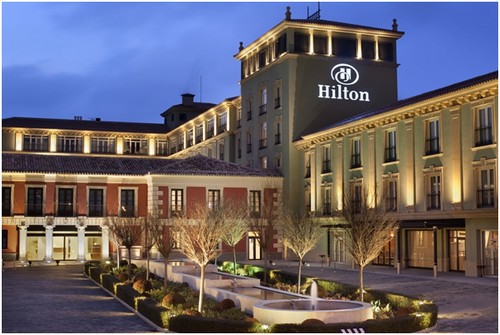 1) Strong Financial Company :
Global Hilton company generated $9.14 billion in the financial year 2017. The company reported net income of $841 million in the fourth quarter and $1,264 million for the full year including a $665 million provisional tax benefit for tax reform that occurred in the fourth quarter. The adjusted EBITDA for Q4 2017 was $498 million and $1,965 million for the full year. The brand returned a total of $1.1 billion in capital to shareholders in the year 2017.
2) Renowned Brands :
Brand recognition and brand trust are most essential for the player in the hospitality industry to flourish. Hilton as a brand over the years has been successful in making trust among its customers.
By making Technical innovations to improve customer experiences and Constant upgrade of business processes
Exceptional employee retention
Showcasing a strong brand presence with around 540 hotels in over 78 countries
Old is Gold: They have been in the industry for 93 years now making them real experts at what they do.
Use of Technology: The Hilton Honors application has been utilized 19 million times for Digital Check-in since its inception, a rate of one million times each month. Hilton keeps on scaling its Digital Key innovation, with visitors ready to utilize their cell phone as their room key at 1,000 lodgings today.
BCG Matrix in the Marketing strategy of Hilton
The brand Hilton Hotels operates in various segments such as Luxury, Lifestyle, Full Service, Focussed Service, All suites and Vacation ownership segments.
With Waldorf Astoria Hotels & Resorts and Conrad Hotels & Resorts featuring as the cash cow for the brand. Hilton Hotels & Resorts, Curio – A Collection by Hilton and Embassy Suites by Hilton appears to be stars for the brand while others continue to be the question mark Hilton group.
Distribution strategy in the Marketing strategy of Hilton
Starting at 2013, around 70% of the rooms marked under Hilton were franchised to free administrators and organizations. Amid its 2007– 2013 ownership for, Blackstone Group sought after a system of expanding the brand reach through franchise based operability, while moderately couple of new properties were really operated by Hilton.
Subsequently, the extent of franchised rooms developed altogether amid this period. This strategy of franchising is quite popular in the hospitality industry among most of the players, as the parent organization does not need to pay for the support and overhead expenses of franchised properties. Franchisees have to maintain strict brand standards to maintain a licensing agreement with the brand. Many of Hilton's lead properties, air terminal properties, and biggest resorts, in any case, are corporately overseen.
Most of Hilton's airport properties, other flagship properties, and resorts are however corporately managed.
Brand equity in the Marketing strategy of Hilton
Hilton features as 54th position on Forbes top 100 brands list and at 9th position on the top regarded company as of June 2018.
Hilton topped Brand Finance's 2018 list of top 10 Most Valuable Brands list for the third year in a row and recorded a BSI score of 82.39 and an overall brand value of 6,330.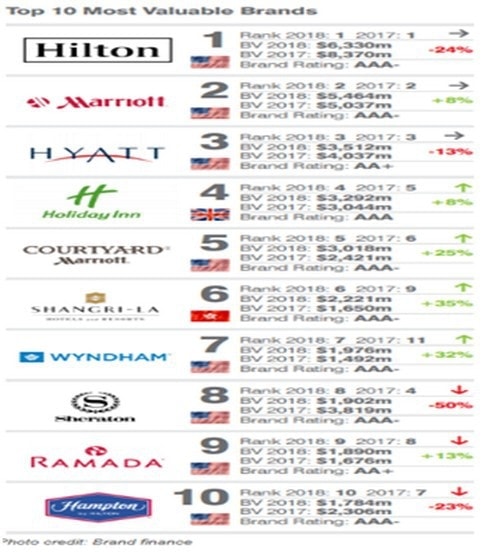 Competitive analysis in the Marketing strategy of Hilton
With the hospitality industry having competitors from various ends varying from local players to international competitors, Hotel chains, private property holders or short rent home providers such as HomeAway/Airbnb etc.
Top Hilton Competitors across the world
Peninsula
Four Seasons
Four Seasons
Mandarin Oriental.
Aman
Intercontinental.
Rosewood Hotels & Resorts
Fairmont Hotels & Resorts
Shangri-La Hotel and Resort
Regis Hotels & Resorts
Taj Hotels by ITC
Oberoi
The brand competes on factors such as brand name, its quality services, and accommodation. The Hilton competes on the factor such as brand name, services, pricing, accommodation quality, cordial staff behavior, and strategic locations of the hotels.
Market analysis in the Marketing strategy of Hilton
The Hotel business has turned out to be imperative in the previous years because of tourism business opportunities growing across borders. The industry not just assumes an essential part in the life of individuals however and in addition the economy of the nation. Industry over the years has also seen tremendous development and advancement of technology, thus it is important for every player in the industry to be promptly keeping up to date.
Hilton Hotels over the years has been tremendous in development and different parts of the business, such as Leadership, Teamwork (Employee turnover), Motivation (Customer maintenance and fulfillment), Goals and objectives.
With more than one out of five in rooms under development globally being created under a Hilton mark, and in addition almost 310,000 rooms in the pipeline, the brand has maintained its reputation as the fastest growing in the hospitality industry. The best-performing arrangement of brands in the business keeps on growing its worldwide impression – opening almost one lodging for every day and including five new nations in 2016 – while conveying industry-leading innovations which provides an exceptional experience to its guest.
Customer analysis in the Marketing strategy of Hilton
Hilton Hotel mainly focuses on building hotels on locations popular with the target customer segment.
The brand targets customer who are middle and senior aged professionals in the age bracket of 26-60 years with high level of income and coming from the upper social class. Also, the brand also targets individuals who enjoy living a luxury lifestyle, accordingly, the company charges premium prices for its products and services which are perceived to be of a relevant qualification.
Liked this post? Check out the complete series on Strategies