With more than 4, 20,000 (2017) workforce on its role, Accenture has been leading the professional service & management consulting business worldwide. Founded in 1989 in Dublin Ireland, the company has been prospering its business in more than 120 countries globally servicing three-quarters clients of the fortune global 500. It operates in five businesses meant to deliver integrated and technology enabled solution for the clients.
Recently the company has rebranded its logo by branding its respective business segments and repositioning itself as new age company digitally advanced offering customer-oriented solutions.
Segmentation, targeting, positioning in the Marketing strategy of Accenture –
Since Accenture serves clients in more than 40 industries globally, therefore it uses a mix of demographic, psychographic, geographic segmentation variables to cater to the changing needs of the clients.
It uses differentiated targeting strategy for catering the differentiated needs of the customers.
Positioning helps in understanding where the products stand in the mind of the potential customer. It has repositioned itself by branding its operating segments respectively wherein it uses value & product class based positioning strategy to create connections with the customers.
Marketing mix
Mission- "Solving real business challenges of the clients through innovation and deep industry knowledge"
Vision- "The people to lead, the knowledge to transform and vision to transform"
Tagline-"High Performance, Delivered".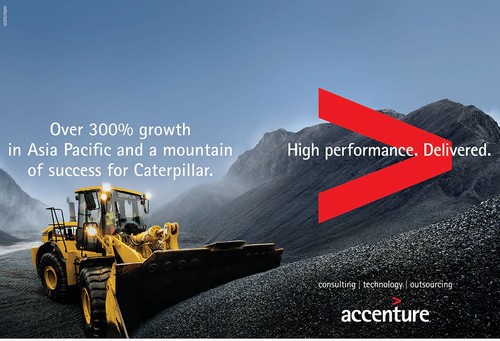 Competitive advantage in the Marketing strategy of Accenture –
Strong portfolio: Its presence in interrelated services and operating groups is helping the company in creating an efficient ecosystem and operational support system for addressing the problems of its clients digitally and in most effective manner.
Financially Strong Group: With such broad product/service portfolio of each business segment offering its services to across 40 industries has helped the company in becoming largest consulting company (by revenue) globally.
The workforce of Millennials:  Out of its 4, 20, 000 workforce, it has hired more than 1, 50,000 Millennials in last 3 years globally investing more than  $1000 million in training in order to revamp its Workforce structure and realign it to the performance achievement.
BCG Matrix in the Marketing strategy of Accenture –
As the company operates in 5 business units/ segments namely communications, Media & technology, financial services, Health & public service, Products and Resources catering to the diversified needs of the specific industry under each of these 5 business segments.
Out of these communications, Media & technology, Products and Health & public service are Stars in the BCG matrix while other two are question marks in the BCG matrix.
Distribution strategy in the Marketing strategy of Accenture –
Value delivery system is the key differentiator of Accenture which help the brand in developing scalable and standard processes so as to deliver the services in a cost-effective manner and the one emphasizing on quality and productivity.
It delivers the services to its clients with the help of its 4, 20,000 professionals globally operating from more than 60 locations.
Brand equity in the Marketing strategy of Accenture –
Accenture has been ranked 38th world's most valuable brand in the 2017 Forbes magazine list while it has been ranked 37 in the Interbrand 2017 list. The brand has been valued at $77.8 billion as of May 2017 (market capitalization value method) generating revenue of $36 billion. The brand is a pioneer in consulting services across the world.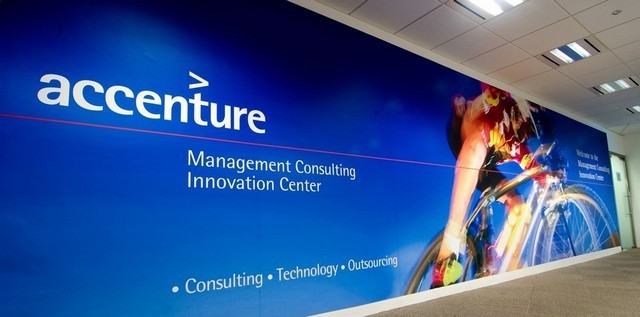 Competitive analysis in the Marketing strategy of Accenture –
It operates in highly competitive and rapidly changing market where a variety of companies small, big MNCs, Government organisations, outsourcing firms and other competitors on one or other market factor.
As the company have various Forbes global 2000 clients so it competes with other companies like CSC, IBM, Microsoft etc. in different businesses on the factors such as Skilled workforce, brand pull, innovative product/ service, Technical know-how, efficient value chain, Reach & scale of operations and presence in emerging markets.
Market analysis in the Marketing strategy of Accenture –
Emerging markets are the markets from where the resources are sourced in most of the business segments in which Accenture operates however developed nations contribute a major share of revenue. Developing economies are playing important role in controlling operating cost in a volatile market affected by factors such as government regulations, political stability, labour cost, competition between the rival companies, etc.
Customer analysis in the Marketing strategy of Accenture –
MNCs, government organisations and various institutions in varied industry etc are the Customer groups of Accenture. As the company deals with a large number of offerings, its customer group varies accordingly based on the type of the services offered to the specified industry player.
Liked this post? Check out the complete series on Strategies