The common organizational structure is defined as the outlining of activities in any organization. It includes apt co-ordination between all the employees and also between employers and employees through task allocation and supervision of allocated tasks.
The structure refers to the method applied by the entities to arrange individuals and their assigned jobs in a precise manner to achieve optimal efficiency and productivity.
It is important to establish certain rules and regulations at the onset if you want to run an organization like a business entity, an education establishment, a charity, or a government agency at its best.
The common organizational structure will need to be definite so that all the individuals involved with it knows, understands, and works accordingly. The position and functions of the employees are determined beforehand so that all the clogs of the entity can operate smoothly and achieve its desired goals effectively.
Common organization structure is a formal arrangement that works as a foundation stone of the company. You cannot work in an environment where the responsibilities are not defined because it will ultimately pave the way for chaos.
Delegation of duties and the correct chain of command is an absolute must if you desire a workplace where things will run smoothly in an organized manner.
Remember the best common organizational structure is dependent on several factors, for instance, its size, work, range of business and revenues and it is vital to establish the hierarchy at the beginning so that every one of the individuals involved knows what to do and whom to report.
Common organizational structure is a diagram or a method that a company sets up so that all its employees can follow it diligently for work efficiency. It simply describes what an employee's role in the company is and to whom should he report to receive further instructions.
Different Types of organizational structures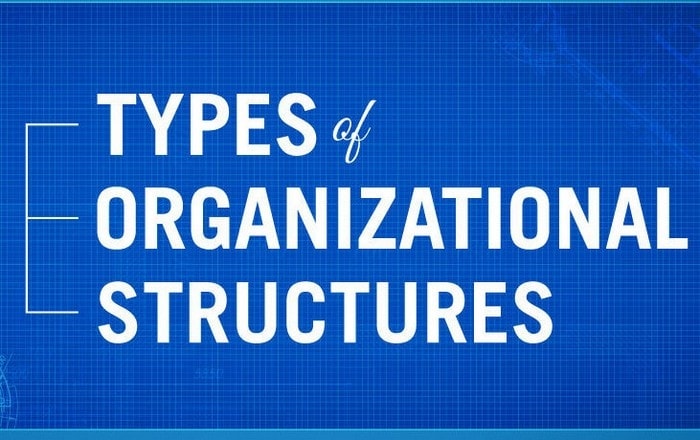 Set up an organizational structure that is defined and distinctive if you are interested in an efficient, professional environment. Both small and large entities need a prepared configuration to encourage smooth and effective work-flow.
There are several common organizational structures that you can mold or change as per your requirements.
It is important to realize which one is going to suit you the best so that you can implement it in your system. Some of the most popular and common organizational structures have been explained below for your convenience.
#1 Hierarchical Structure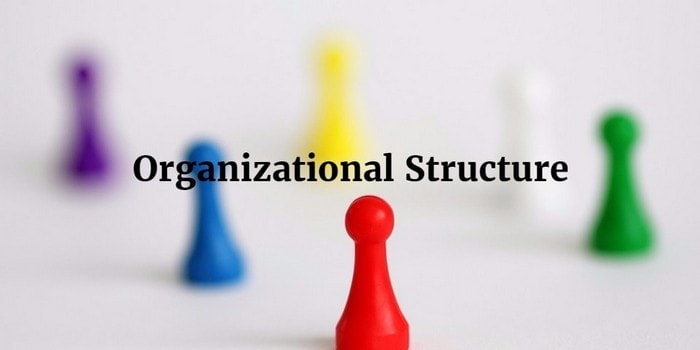 Large business organizations, governments, military organizations, and organized religious groups are some prominent examples that follow a hierarchical structure.
It incorporates several levels of authority and management by grouping the employees under capable supervision. The hierarchical structure is no doubt one of the most common organizational structures, and it uses the vertical command system for organizing the workers and allocating them their responsibilities.
The grouping of employees is based on several factors like the geographical location for instance in case of an international entity the company might decide to group its workers according to the country of their origin and in some cases, the employees are grouped in lieu of the common services they provide.
#2 Functional Organizational Structure
If you are looking for a common organizational structure that can departmentalize by common job criteria and functions, then you should opt for Functional organizational structure. It is appropriate for departments like purchase, finance, marketing, accounting, and human resource that needs individual handling.
The structures enable you to group employees as per your needs; for example, you can make a group of salespeople or people dealing with the purchasing department together. Each department will have a manager of its own who will answer to the head of all the functional divisions.
He, in turn, will have to report directly to the company head or a specific director who has undertaken the responsibility of handling operational areas.
#3 Horizontal Structure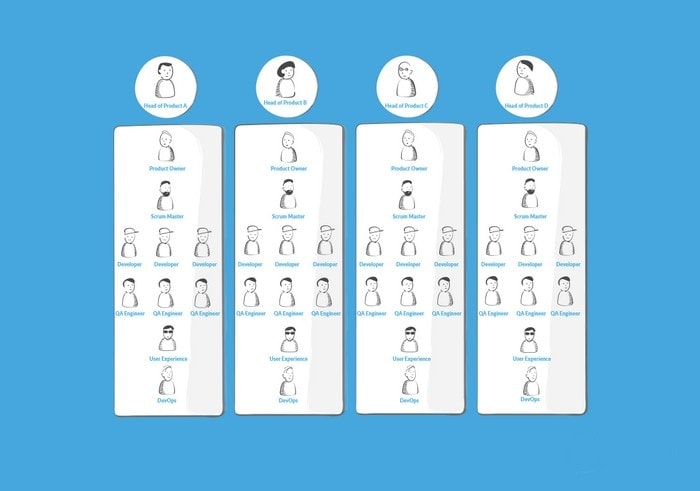 If you are looking for an apt and common organizational structure for a small business entity or a new start-up, then you should certainly opt for Horizontal Structure.
In a small company, there are few employees, and you can easily eliminate several structure levels that are part of middle management.
Now the well-trained workers can make independent decisions and act quickly for the betterment of their organization. Direct involvement does not mean that the employees do not have superiors. It signifies shared accountability in a relatively transparent system.
#4 Matrix Structure
If you are looking for a common organizational structure, then one of the best options is Matrix structure. In this organizational management system, the workers with similar skills are grouped to complete a specific assignment.
The reporting relationship is set up as a matrix where you have to follow both vertical and horizontal reporting level, and hence, this is why it is known as a Matrix structure.
For example, an employee is part of a team and reports to his team manager, but he may also be working as a member of another group and will also have to report to the head of that group.
 The advantage of incorporating a matrix organizational structure is that the employees are aware from the onset that they have a dual responsibility, one towards their department and other towards organizational projects. They learn to prioritize their responsibilities and work accordingly.
The twin command chain offers a balanced thought-process and greater flexibility. It also creates new opportunities to share resources and encourages open communication.
An important disadvantage of matrix organizational structure is that sometimes the complex layers can create confusion, especially during tiring times. The most important question that needs answering at that point in time is who is responsible for the wrong decisions.
#5 Divisional Structure
If you are looking for a common organizational structure, then the perfect choice is no doubt Divisional Structure. Within this system, the organizational entity has several divisions that are based on either geographical location, market, or products, and each of them is equipped with required resources for better dealings.
You can also opt for multi-divisional structure if your parent company owns further subsidiaries that use its brand name in the market. The different divisional structures are as follows-
If your company is dealing in multiple products, then the best common organizational structure for the entity is product-based divisional structure.
All the divisions within the organization are equipped to handle a specific product line. The structure includes smaller as well as multiple divisions and has its sales and marketing team.
Each group reports to its executive, who is responsible for overseeing that particular line. The advantage of this organizational structure is that every product is dealt with separately, and you can pay attention to all the finer details in an efficient manner.
An important advantage of Divisional Structure is that the failure of one entity does not threaten other subsidiaries as the operational working is independent.
Market-based divisional structure
In the market-based divisional structure, the division is based on customer, industries, and markets. It is suited for entities that deal in specific and unique services and products. The customized approach is appropriate to meet customer expectations.
This structure also helps the company to remain aware of demand changes so that it can take appropriate steps to meet them successfully.
Geographical divisional structure
Sometimes an organization is spread over a vast place, and it needs to organize its common organizational structure by region because of the difference in the needs and demands of that place.
The geographical divisional structure is ideal for companies that need to be near a particular location either for the source of supply or because the products are suited for the customers of that particular location.
The geographical structure is organized as per districts, states, and even particular regions, and the employees have to report to its central authority.
#6 Network Structure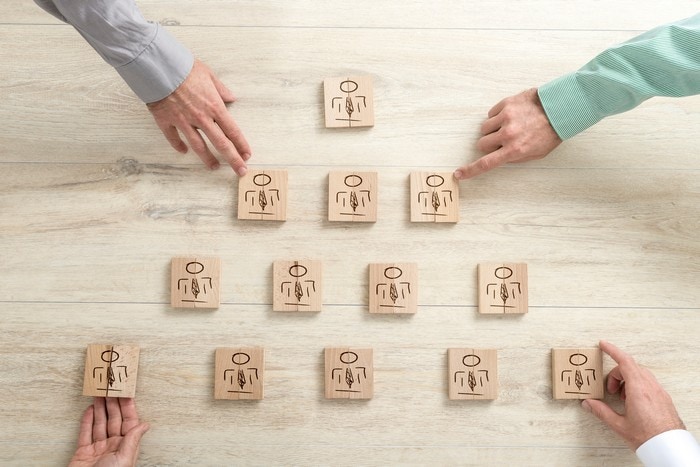 One of the common organization structures is Network Structure. It is a flexible and decentralized system that helps to manage, control, and coordinate both external and internal relationship between top-brass and managers.
It felicitates open communication and the independent making of decisions and hence, is considered a more agile and controlled structure.
#7 Modular structure
One of the most common organization structures is Modular Structure that helps to create strategic units. These focus on special areas and departments that are outsourced to create further benefits for the company.
The key lies in the fact that you will have to separate the department without causing harm to the entire organization.
This structure helps the company to become flexible and take outside help when required. For instance, your company might be proficient in manufacturing but might be lacking in marketing tactics. Hence it takes help of an outside business entity for increased brand awareness.
#8 Team-Based Organizational Structure
Team-based organizational structure is a flexible and common organization structure that ensures admirable teamwork, instant decision-making, and suitable problem solving within a company.
Teams are created to work for a common goal where the individual workers keep on working diligently with their specific task. The team is comprised of people that compliment each other in skills so that the specific task can be achieved with minimum effort.
The teams are disbanded after the completion of that specific project, and you have to create another one for another project. Team-based organizational structure is gaining more and more prominence in recent times as it can increase the work efficiency and productivity of an organization to a greater degree.