The quality of performing one's duty thoroughly or taking one's obligations to others seriously with absolute sincereness is understood as conscientiousness.
Other characteristics that are parts of conscientiousness are integrity, honesty, fidelity, justice, and saintliness.
Being conscientious is one of the most critical personality traits that not only play a significant role in personal well being but also is quite crucial in familial and social wellness. In the words of Robert Green "Bob" Ingersoll who was an American writer and orator during the Golden Age of Free Thought-
"If there is any God, there is only one way to please him, and that is by a conscientious discharge of your obligations to your fellow men."
So, concepts of conscientiousness are quite significant when it comes to understanding business and personality management.
In this post, we will dive deep into the world of consciousness to understand what it is and how you can incorporate the characteristics of a conscientious person.
Conscientiousness in Personality Test Theories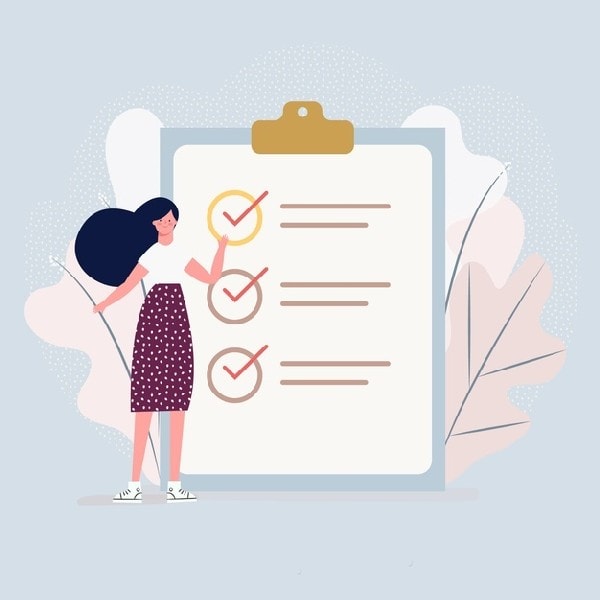 According to the Big Five Personality Test Traits, there are five traits of people that decide the overall personality of individuals. All five features include-
Openness
Conscientiousness
Extraversion
Agreeableness
Neuroticism
All the things altogether conclude the behaviour, consciousness, discipline, and mindset of a particular individual. Research on the personality trait proved that these are fundamentally important to decide about a person.
Openness demonstrates a person's challenging authority and its open-mindedness.
Conscientiousness is about organizing ability and self-disciplined characteristics of the individual.
Extraversion checks social well being and the outgoing thing.
Agreeableness indicates a person's friendly and courteous manners.
Lastly, the stability and balance of a person are decided by Neuroticism.
These personality traits help in judging a person through their behaviour and how they manage things they are responsible for doing and accomplishing. People need to balance everything for living a good life.
Neither too much, nor too less- Living a balanced life is excellent for your health and longevity. Stress and aggression can make your life dull and depressed; try to be organized and disciplined. And for that, you must know about conscientiousness and other traits.
Conscientiousness is quite crucial in ensuring the self-discipline in an individual. The highly conscientious person will be a kind of a perfectionist, compulsive and workaholic.
Let us unfold some of the critical layers of a conscientious individual in the next section-
What is Conscientiousness?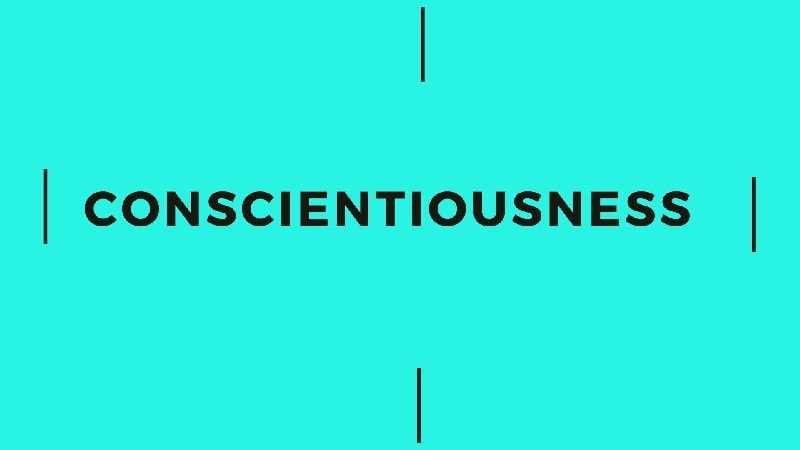 As discussed above, conscientiousness is related to self-discipline, and the people who have high conscientiousness are more organized, hard-working and goal-oriented.
They don't believe in making quick decisions; instead, they focus on taking the time and organizing things by following a schedule.
And not only this, consciousness includes responsibility, reliability, and self-control. Impulse control and self-regulation are also associated with conscientiousness.
Behavioural Patterns of High & Low Levels of Conscientiousness
Low and high level of conscientiousness, both are bad when exceeding the normal range.
People with high conscientiousness are more inclined towards perfecting themselves.
They work according to a pre-planned schedule and do not believe in taking instant decisions. When people are busy in their world by improving themselves, they are at less risk of stress.
Also, this urge to attaining perfection can be a nightmare sometimes.
Meanwhile, when people are at their low conscientiousness, they believe in spontaneity and flexibility.
They go beyond the comfort zone and think out of the box. But similar to high consciousness, it can be not very good for well-being.
When people don't worry about discipline, they are careless and unreliable.
They take an instant decision because they do not have the time to think and plan anything. So both have pros and cons.
Therefore, it is recommended that people should be in a healthy range of conscientiousness.
Maintaining a proper balance of conscientiousness is essential for having a proper lifestyle where things are channelizing thought self-management in a reliable and result-driven manner.
Now, in the next section, we will have a look upon the different traits that conscientious people incorporate-
Traits of Conscientiousness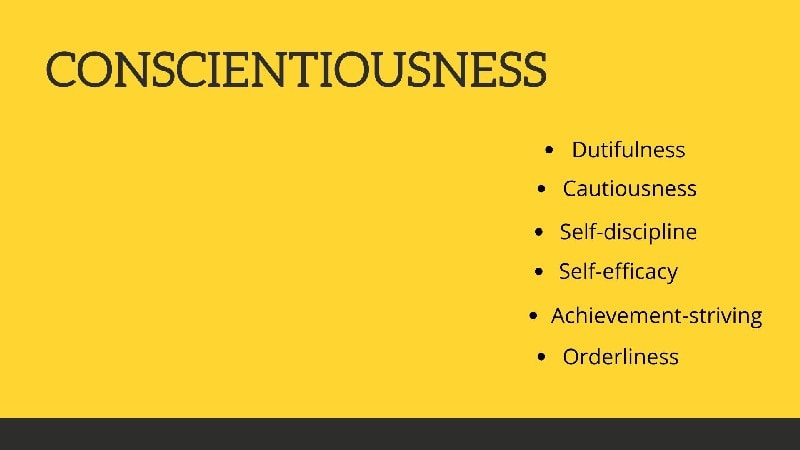 As conscientiousness is one of the characteristics of the Big five Personality Test Traits, there are sub-traits of it as well.
Six sub traits that play a crucial role in deciding the conscientiousness of an individual are-
Dutifulness
Cautiousness
Self-discipline
Self-efficacy
Achievement-striving
Orderliness
These are the deciding factor of the level of conscientiousness. Let us now understand these sub traits in a more detailed manner.
Dutifulness– When a person is self-disciplined; it is self-evident that s/he is dutiful towards their work. People often take it lightly but being devoted to the associated tasks and responsibilities is crucial. Any person who takes their work lightly isn't going to succeed in life. So, being dutiful is very important for a conscientious person.
Cautiousness– Cautiousness is when a person is attentive and aware of a danger that is coming from any side. And the cautious person will always take the precautionary measure, so s/he knows if there is something wrong. So, if a person is at the right level of conscientiousness, s/he will be cautious towards the surrounding. This trait enables a conscientious individual to adeptly complete its duties without being failed because of some impediments.
Self-discipline– Discipline is about being organized and concerned about rules. Also, a person who is more into creating a routine and strictly following them, then s/he can be considered a self-disciplined person. Discipline isn't only a thing at work but in your own life. If a person is self-disciplined, s/he will be more attentive and care about her/his career. Discipline is directly proportional to self-management and goal accomplishments.
Self-efficacy– One of the highest levels of conscientiousness is when a person achieves self-efficacy. Being modest and dealing with prospective situations will make a person attain this level. Not everyone can be this because the disciplined person isn't very social because s/he is lost in her/his world. But if someone attains it, it is an achievement. Albert Bandura, a Canadian-American psychologist once said-
"In order to succeed, people need a sense of self-efficacy, to struggle together with resilience to meet the inevitable obstacles and inequities of life."
Achievement Striving– Setting a particular goal and then fixing your mind to achieve it ensures achievement striving, which is quite significant for conscientiousness. A person who doesn't deviate from his/her path and follows his/her aspirations is achievement-striving. And this is indeed important for a person to be goal-oriented.
Orderliness – A person who is well-organized, systematic and regular is someone who has an excellent score of conscientiousness. Diligence and cleanliness both are essential factors for having orderly behaviour. All are associated with each other.
Factors influencing Conscientiousness
Conscientiousness varies from person to person and from time to time.
A person exactly can't have the same level of conscientiousness as the other, nor must it be constant for a specific person. It is said that the society, surrounding and mental ability is the factor that influences conscientiousness.
It was surveyed that those children whose parents were affectionate towards them had a high level of conscientiousness.
And those children whose parents lived away were more in a stressful situation and had low conscientiousness.
The value of love and respect is very much associated with the brain, and that affects a person's consciousness.
Also, the structure brain was responsible for the change in the conscientiousness of individuals. People were also affected by peer pressure and because of society.
Also, one's way of handling any situation has been a prominent factor that influences conscientiousness.
Final Thoughts about Conscientiousness!
Conscientiousness can be considered as an ingredient of success.
When a person has a right level of conscientiousness, s/he feels sensible, organized, well maintained, goal-oriented and cautious. But when this level increases, a person tries to attain the level of perfection.
And it can be not very helpful at times when a person can't achieve his/her goals he/she feels betrayed.
Therefore, it is essential to maintain the level of conscientiousness.
Don't degrade its level; you will be careless, don't even increase it to being perfect. Maintain a moderate level that is more of a benefit to you.
How important do you consider the conscientiousness of an individual in achieving success in life?
Do you have conscientiousness? What traits of a conscientious person do you incorporate?
Tell us about your thoughts about the concepts of conscientiousness in the comments below.
Liked this post? Check out the complete series on Personal Development