Sensodyne is a brand of oral care products from Glaxo SmithKline Beecham which caters to a very specific issue that is very common amongst young adults today – sensitive teeth and gums. Sensodyne not just protects people with sensitive teeth but also offers long-term relief to the problem while also providing long terms protection from sensitivity and cavities.
The popular variants of Sensodyne are Sensodyne Whitening, Sensodyne Deep Clean, Sensodyne Fresh Gel, Sensodyne Rapid Relief, Sensodyne Repair & Protect, Sensodyne Fresh Mint etc. In addition to toothpaste, the brand also has specially designed toothbrushes for sensitivity.
Sensodyne has been a huge success in just a matter of few years and currently, they are estimated at a value of 150 crore INR in the Indian oral care market- a huge achievement for a brand which targets a very niche need.Globally Sensodyne is estimated at a market value of 4.3 million Euros and has a market share of 9.4% in the oral care market.
Strengths in the SWOT analysis of Sensodyne
The following are the strengths of Sensodyne:
Successful niche marketing: Sensodyne caters to customers who experience difficulty in having very cold or very hot foods because of sensitive teeth and gums. The primary strength of the brand is the ease with which it was able to identify a need like this which was untapped in a crowded oral care market.
Wide product portfolio: Though Sensodyne primarily caters to sensitivity issues, the brand also has broader categories which look at other oral care problems like whitening of teeth, bad odor of the mouth, cavities, plaque, receding gums etc. This has resulted in a number of Sensodyne variants such as Sensodyne Whitening, Sensodyne Deep Clean, Sensodyne Fresh Gel, Sensodyne Rapid Relief, Sensodyne Repair & Protect, Sensodyne Fresh Mint etc.
Benefit Positioning: Sensodyne has been positioned very successfully in terms of its functional benefits like sensitivity protection and complete oral care. Rather than just pushing the product GSK looked at initially educating the customers about the problem and then putting forth Sensodyne as a solution to the problem by focusing on the benefits it provided towards resolving the problem. This approach was largely responsible for the growth of the brand.
Buy-in from specialists: During the initial phase of the launch of Sensodyne, customers were mostly unaware of an issue called sensitive gums and thus people were unsure about investing in a toothpaste for sensitivity. However, GSK was able to successfully circumvent such doubts of customers by roping in dentists and other oral care experts to testify for the benefits of this brand.
Complete package: Sensodyne is marketed as a complete package for sensitivity since it not just has toothpaste but also toothbrushes that are specially designed for sensitive teeth. They also cover three areas of oral care namely essential care, advanced care, and specialist care thereby closing any gaps that may exist in this segment.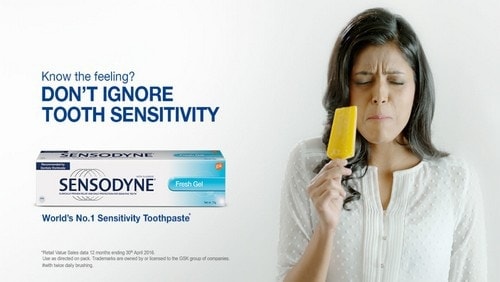 Weaknesses in the SWOT analysis of Sensodyne
Some of the key weaknesses of Sensodyne are :
Customer Perception: Customers often perceive Sensodyne as a toothpaste for sensitive teeth and gums and they feel that it may thus not be able to address other aspects of oral care like cavities or odor management. Though Sensodyne is trying to tell customers that it also addresses other oral care issues it has not been very successful in convincing them even today.
Medical product: The initial marketing and positioning, as well as the pristine white packaging of Sensodyne, gave customers an impression that it was a medical product which was to be used after a doctor identified such a problem. This gave customers an impression that Sensodyne could be used only by those customers who experienced sensitivity problems in their toothpaste.
Opportunities in the SWOT analysis of Sensodyne
Some of the opportunities include :
Growth in the sensitivity segment: Till the time Sensidyne really came up with an effective awareness campaign on sensitive gums and teeth, customers across the globe were hardly aware of such a problem. But with the effective marketing tactics of the company, the awareness has grown from 17 % to 35 % is just a matter of two years. The estimated market size for sensitivity products is around 1 billion USD currently.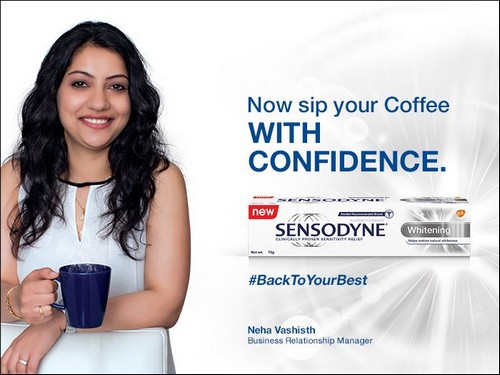 Threats in the SWOT analysis of Sensodyne
Some of the threats include:
Negative vibes about chemicals: The key ingredient in Sensodyne is Novamin and through clinical trials have revealed that it is safe for consumption people are still apprehensive about ingestion of chemicals from toothpaste.
Liked this post? Check out the complete series on SWOT