Nirma Detergent is a successful brand of washing powder that is hugely popular in India. The brand which was introduced in the year 1969 in India redefined the meaning of washing powder in the Indian market. Till Nirma came into the market the detergent market was dominated by products from multinational companies and it was perceived that detergents could be used only by the higher income classes.
It was at this time that Karsanbhai Patel started manufacturing and selling Nirma a detergent that was priced in the economy segment and could be afforded by everyone. The detergent achieved a lot of success and slowly went on to become one of the highest sold brands in its category. Currently, Nirma is available in the powder and cake format and the other variants include Nirma Popular and Super Nirma.
Strengths in the SWOT analysis of Nirma
The following are the strengths of Nirma Washing Powder:
First mover advantage: Prior to Nirma Washing Powder, Indian customers were of the perception that most of them could not afford detergents. However, Nirma changed this perception and also got complete control of the economy segment before any other brand could make it to that segment.
Undisputed market leadership: Nirma was the market leader for many years in its segment. The company had a market share of almost 30 % in the detergent market for close to a decade. However recently it has been moved into the second position by Active Wheel, but it still continues to have a market share of 27 %.
Pricing: Nirma introduced the washing powder at a rate of Rs 3 per kg during a time when the lowest priced detergent was Surf at a rate of Rs 13 per kg. Though the product was low priced, the washing powder was of good quality. This perception of a good quality product at an affordable price was what made Nirma a huge market success.
Market Penetration: Nirma Washing Powder has a deep penetration in the Indian market and the product is sold in over 2 million outlets through 400 distributors. With manufacturing facilities in around 6 location in the country, the cost of distribution was kept minimum since they owned their distribution channel.
Captive Production: In order to control the costs, Nirma decided to do backwards-integration and started owing and operating captive production plants for their raw materials. Two such units were set up in Bhavnagar and Baroda and this effort led to a sharp decline in product costs.
Penetration in the rural market: The rural market in India account to around 70 million households which is a huge market. Nirma Washing Powder which started off selling to villages became a huge success in the rural markets of India and it continues to be so even today.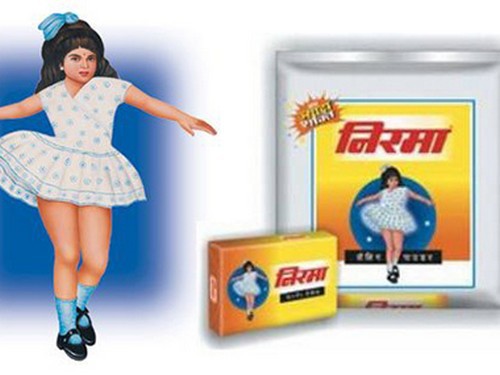 Weaknesses in the SWOT analysis of Nirma
Some of the key weaknesses of Nirma Washing Powder are :
Perception of cheap: Though Nirma washing powder gained success through its "sasta" image, in the long run, the brand has not been able to move out of that image. People still perceive it as a low priced and thus low-quality product.
Failure in repositioning: Nirma made an attempt recently to get into the premium segment by positioning itself against HUL. For this, it had released a series of advertisements featuring Hrithik Roshan, which was the first time it used a brand ambassador. However, the brand failed to reposition itself since it started losing market share to brands like Sunlight and Active Wheel.
Unable to cope up with market dynamics: The detergent market is changing very fast and growth has tapered to around 2 % as the levels of penetration of each brand has maxed out. To survive in the competition, brands have no other choice but to entice customers to pay more for current products by improving the value propositions. Nirma, however, has not been successful in doing that.
Opportunities in the SWOT analysis of Nirma
Some of the opportunities include :
Diversification: The village to city migration rates have increased making marketers look at niche segments for business. In the detergent market companies are trying to identify specific needs like detergents for washing machines, stain removal.bleaching, fragrance, smoothening etc and creating products that satisfy each of these needs. This is giving detergent companies increased the scope for diversification.
Threats in the SWOT analysis of Nirma
Some of the threats include:
Competition: The main competitor of Nirma are Active Wheel, Sunlight, Ujala, Rin and Ghani Detergent.
If you liked this article, we bet that you will love the Marketing91 Academy, which provides you free access to 10+ marketing courses and 100s of Case studies.