Strengths in the SWOT analysis of Dunkin Donuts
A strong niche – Fast food is a competitive segment in retail. But even in fast food, Dunkin Donuts concentrated on a unique niche which is why it could explore its own potential. This niche was Desserts like Donuts, Pastries, Bagels, Muffins, Cakes and whatnot – everything related to a bakery. Imagine the worlds largest bakery and you can understand what Dunkin Donuts does. Besides bakery items, coffee is a very big hit too. In fact, after 2003, Dunkin donuts started concentrating more on its Coffee then on its donuts.
Brand following – The brand is famous for two things – One is its Coffee / Donuts and the other is the Ice creams under Baskin Robbins. Both the brands have huge fan following and people love the food items that come out of both of these companies. In 2014, Dunkin Donuts changed its name to Dunkin Brands Inc and had 4 sub brands – Dunkin Donuts, Baskin Robbins, Mr Donut and Togo's franchise. It has a total revenue of 6.2 Billion dollars.
The franchise model is a hit – The reason Dunkin Donuts could become a big name in the food industry was because of its excellent Franchise model. The four things which Dunkin Donuts requires a franchise to have are – an Available market, Prior experience of running a food service, Passion for business excellent and the right resources. Below is an excerpt on applying for franchising from the page of Dunkin Donuts.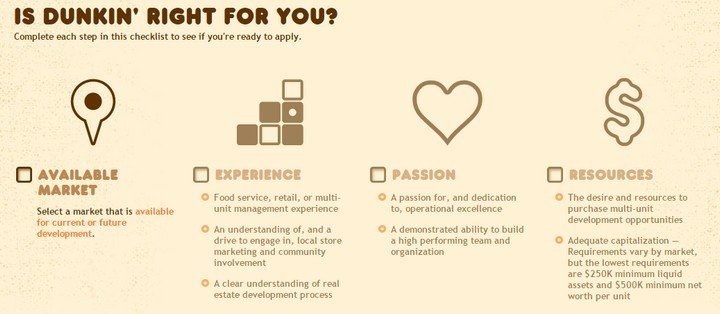 Smart marketer – A positive thing going for Dunkin donuts was the fact that they are very smart marketers. Right from the logo, to the colors used to the way they have marketed themselves to the "Blue Collar crowd" while keeping the "White collared people" in mind is a thing to learn from them. Dunkin donuts is a favorite of everyone and is not premium or pricey in any way. Furthermore, their geographic expansion has been strategic. As you can see from the above image, Location is the first criteria they keep for allowing a franchise to develop.
Excellent Supply chain – Dunkin Donuts sells bakery products, which are sweet and easily infected. Thus, it needs to plan its logistics and supply chain in such a manner that it reaches the retailers Just in time. It cannot afford a lot of wastage of food items during transportation and the product has to be served fresh to the customer. At one time, All bakery items were made within the shop. But Dunkin slowly changed the model to centralized manufacturing to ensure quality of the products. The transport was upgraded too to ensure that the product is always kept at the right temperature.
Heritage / Experience – It is one of the oldest franchise and in fact, it was at the helm when Franchising began in the US. Before Dunkin Donuts, franchising was frowned upon and people did not trust companies which franchised. William Rosenberg, the founder of Dunkin donuts, was adamant that franchising was the future of the organization and the country. And hence, he formed a union which focused on getting franchise businesses to run. Rosenberg was a genius at franchising and is considered a father figure in Dunkin donuts even today. It is said, that till date, the coffee served in Dunkin donuts, is of the same formula used by Rosenberg back in 1960's.
Weaknesses in the SWOT analysis of Dunkin Donuts.
Localised Competition in new territories – Although Dunkin Donuts dominates in several countries, it has delayed its expansion in others due to which a lot of competitors have popped up in geographical areas not covered by Dunkin Donuts. Example – Mad over Donuts is a very popular Donut chain in India and there are similar localised competition opening all across.
Direct competition – From starbucks which has a large chunk of the coffee and breakfast or snack segment to Costa coffee or krispy kreme, there are many direct competitors for Dunkin Donuts. It has to keep its eyes on its shoulders to survive against these competitors.
Indirect competition – A major worry for Dunkin Donuts is the indirect competition. From pizza hut, KFC and McDonalds which has a large chunk of the fast food segment to various local food outlets or even branded ones, every customer who goes into these food chains is an indirect competitor (these chains do not serve coffee or bakery products. Hence indirect competition).
Franchise relations are poor – Although the company is known for its fantastic supply chain and operations management, still it is known to be poor in developing franchise relations, a problem which has resulted in the franchise's expanding slowly then competition.
Delayed expansion in developing economies – Dunkin Donuts is not expanding as fast as it can. It should have been present in a lot of emerging and developing economies which is not the case. In fact, even in a growing economy like India, Dunkin donuts is not present far and wide.
Opportunities in the SWOT analysis of Dunkin Donuts
Expand the market – Products are good, but market expansion is needed especially as earning of people rise and consumption of branded products is increasing. Dunkin donuts is one such world renowned brand that people will like to consume from.
Target the health segment – Bakery products are essentially heavy in calories. But like Subway did it in sandwiches, Dunkin donuts can have a separate low calorie range. From Coke to Pepsi to other products and franchise's, everyone is recognising the potential for healthy snacks
Expand the menu – There is always potential in the food segment, especially in the desserts and sweet market. So Dunkin donuts can always add fresh and yummy snacks to its menu to increase footfalls in stores. It did just that. From a trademarked 31 flavors in Baskin robbins, the brand has more then 150 flavors today. And besides, the flagship store of Dunkin donuts has many different type of Donuts and Coffee to keep their customers happy. Further expansion and something new is always expected by the customers.
Threats in the SWOT analysis of Dunkin Donuts
Franchising – If the brand it is not expanding as fast as other fast food chains, even after existing for so many years similar to the other fast food chains, then there is some issue in the franchising and distribution side. More distributors, C&F and sales people need to get involved to liquidate the products faster.
Shelf life – Being bakery products, the shelf life of Dunkin donuts products are quite less when compared to McDonalds or KFC or Pizza hut which are made on order basis. This affects the bottom line.
Competition – Like any other brand, direct and indirect competition is a major threat to Dunkin donut. But one of the worrying factors for the brand is, it is not expanding as fast as its major competitors like Starbucks, KFC, Pizza hut, McDonalds, Burger king or others.
Raw material procurement and cost – The cost of logistics is huge for a brand like Dunkin Donuts which follows the Just in time technique.
Also read – Marketing mix of Dunkin Donuts | All SWOT articles on Marketing91
Liked this post? Check out the complete series on SWOT