Marlboro is one of the best selling and the widest selling Cigarette brands in the world. One of the key factors which differentiates Marlboro from any of its competitors is its strong usage of advertising and its frequency of advertising as well.
Strengths in the SWOT Analysis of Marlboro :
Brand Value: Marlboro has a whopping brand valuation at 21.9 billion dollars. Due to this brand valuation, it is ranked 26th in the worlds top 100 brands list. It commands a healthy market share in the US. In US itself, its market share is 44% of the total cigarette market (2015 figures). In a single year, more then 420 billion cigarettes of Marlboro are sold worldwide.
Increasing Global Value: Where other brands might be facing problems across the globe due to economic issues, Marlboro has been rising steadily. The graph shows a steady increase in the global brand value of Marlboro from 2010 to 2016. It has reached the value of $84.14 billion in 2016.
The barrier to new entrants: The high brand recall of Marlboro plus the sales worldwide suggests that maximum people prefer Marlboro as their choice of a cigarette brand. This gives them the advantage to enjoy and command high market share thereby creating a barrier to new entrants and cutting the competition.
Domestic Market: Marlboro cigarettes are manufactured in the US. They also have a stronghold of around 44% market share in the US. This gives them a healthy lead in the competition. This provides them with a stronghold in the market and commands customer loyalty.
Strong Marketing – Marlboro is known for its marketing communications. Initially it targeted mainly women but slowly it expanded to men and later on conquered the complete market. The marlboro man, with his strong chiselled looks and the flavor focus is famous across the world.
Association with sports – A smart tactic by Marlboro was that it was associated at length with premium sports like Formula one racing where the complete clothing of the ferarri team was done by Marlboro. Similarly it was also a strong participant in other racing series like Nascar and motorbike racing.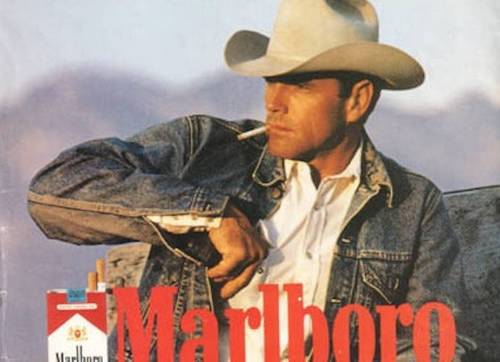 Weaknesses in the SWOT Analysis of Marlboro :
Growth Rate: The growth rate of cigarettes as a product has been reducing year-on-year. The government has taken steps like steep tax increases on cigarettes and efforts to kerb sales of tobacco products by making larger pictorial warnings mandatory on cigarette packs. The government's aim is to reduce tobacco use by 20% by 2020 and 30% by 2025.According to the Euromonitor study, cigarette sales in India contracted at a compound annual growth rate of 2.2% in terms of retail volume between 2010 and 2015.
Competitive Market: This industry already has too many well-established players. All of them have been invested into making their market share grow. The top 10 brands in this industry are Marlboro, Davidoff, Parliament, Dunhill, Lucky Strike, Camel, Pall Mall, Benson & Hedges, Insignia and Goldflake.
Future Costs: As it clearly seen in the prices of cigarettes increasing due to increase in taxes and imposing regulations on it. This can inflate the prices of cigarettes in the country and thereby might lead to losses for the top brands.
Opportunities in the SWOT Analysis of Marlboro :
Global Markets: Marlboro can look into new markets or emerging markets for expansion and increase in profits. Naturally, with its brand pull, the name of Marlboro will be enough to pull people towards this cigarette brand.
New Products: They can come up with different flavours and target new customer base. They can also invest in R&D and come up with safer and more innovative products. This would definitely take up the revenues.
New Acquisitions: Marlboro is the biggest player in this industry so it has a substantial amount of cash flow and reserves as profits. They can buy out the competition to move towards as the strongest brand all over the world.
Threats in the SWOT Analysis of Marlboro :
Growing Competition:High competition can create a negative aspect for the premium brand such as Marlboro. This might lead to less revenue and thereby lower profits.
Government Rules and Regulations:With GST in picture stricter laws and regulations for cigarettes and tobacco products can make them even costlier. This can have a negative impact on revenues and profits of Marlboro.
External Business Risks: There is a high amount of risk involved in such business from the foreign as well as domestic agents. Increasing health consciousness of the public can decrease the market share of cigarette in the country. The increase in products such as nicotine patch and other addiction remover are becoming extremely popular these days.
Liked this post? Check out the complete series on SWOT