The top name in the Beauty and cosmetic industry is L'oreal, a french company, which has some fantastic brands in its portfolio. L'oreal sells products through its own brand name (L'Oreal Paris) as well as owns various top brands such as Maybelline, Garnier, Essie and many others. L'Oreal also owns The Body shop, where it displays all the brands that it owns, and there are many of them.
Here is a list of the global brands of L'oreal.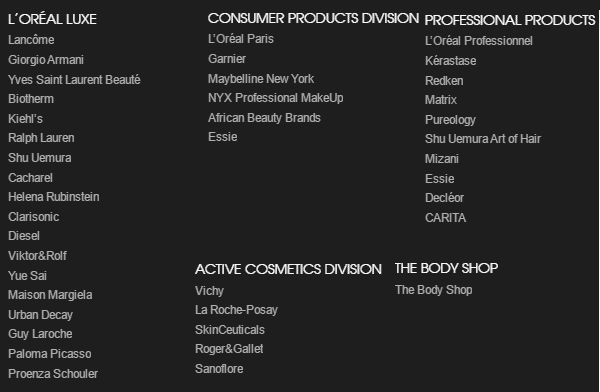 L'Oreal has close to 30 – 40 brands and it operates in 130 countries with these brands. Naturally, it has widespread distribution. It has a combination of product lines, some of them being consumer products which are found everywhere and some of them being of the L'oreal Luxe category which are found in select stores and are designed with a premium theme. Here is the SWOT analysis of L'Oreal.
Strengths in the SWOT analysis of L'Oreal
Largest Beauty/ Cosmetics company – Without a doubt, L'oreal is the largest Beauty and cosmetics company in the world. Where other companies have a product line concentrating on cosmetics and personal care, L'oreal as a company is completely focused on Beauty products, which is the reason for the phenomenal success of the company in this sector.
Continous R & D – When it concerns beauty and cosmetics, then only pure manufacturing is not the way to go. You have to involve Dematology, cosmetology, skin care, hair care, sun protection and various sciences into it. The affect of a cream under hot and cold conditions can be very different. Hence, there are continous R&D experiments going on at L'oreal to ensure the safety of their consumers and also to keep trying for new products.
Fantastic product and brand portfolio – The product lines within the brands of L'oreal are all one ace after the other. Where Garnier is focused towards stronger hair and personal care, Maybelling is focused towards beautification. And both of them are excellent names in what they do. L'oreal has ensured that each brand, as it is established, keeps the focus on its core strength which contributes to the strengths in the SWOT analysis of L'Oreal.
High quality of products – A brand image is established only after the consumer purchases the brand and is happy with the quality of the products and then repurchases the same brand again and again. There are die hard fans of L'oreal Paris, Maybelling, Garnier, L'oreal Luxe brands, Body shops and the various other brands of l'oreal. As long as it is a L'oreal brand, you can be rest assured that the quality will be amazing and it will be tried and tested.
Strong integrated marketing communications – Each brand in the portfolio of L'oreal is known for its integrated marketing communications. Not only are these brands famous for their Above the line marketing campaigns, but they are very good in their point of purchase marketing as well.
Really good stars in the brand portfolio – Maybelline, Garnier and L'oreal Paris are three Stars (and can also be counted as cash cows) in the brand portfolio of L'oreal. These brands contribute a lot to the bottom line of L'oreal and help the other brands in surviving and thriving. With the profit from these brands, L'oreal is able to invest and get further growth in its other products and brands.
Widespread Distribution – Because the brand is present in 130 countries, there is widespread distribution leading to economies of scale and the sharing of fixed expenses like warehouses, factories and others. Thus, the costing of the products is also controlled.
Natural and Organic in nature – One place where the costing of the brand takes a hit but where the brand itself blossoms is its decision to be completely Natural and Organic in nature. Since 1987, L'oreal has stopped animal testing completely. It is 100% natural and organic in nature and hence the choice of animal lovers. If you did not know this, then it is another reason to choose L'oreal over others.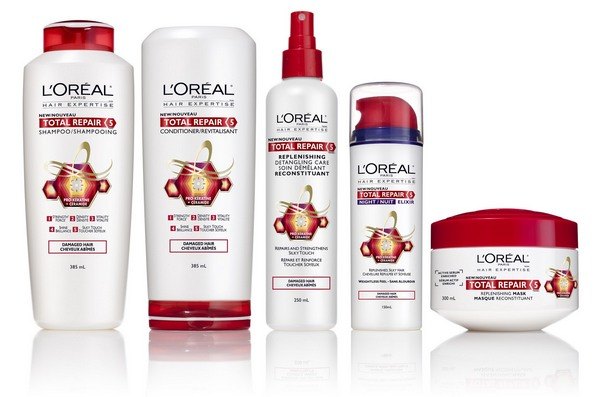 Weaknesses in the SWOT analysis of L'Oreal
Too many sub divisions – Handling such a large operation is always fraught with problems and issues and it is a similar case in L'oreal. The firm is known to be slow and bulky in nature because of the various sub divisions it has. Employee management is also a problem in L'oreal as the firm has close to 60,000 employees. Thus, human capital expenditure is huge.
Hair care is a degrowing segment – Garnier is one brand which is suffering the brunt of competition because it is in the hair care segment where there is lot of competition from both – HUL and P&G.  Sunsilk is from HUL and Head and shoulders from P&G, both very strong in the hair care segment.
Profit margins are lower – Higher investments in R&D, organic processes as well as the massive expenses of distribution means that the profit margins of L'oreal are a bit lower as compared to competitors. However, although this has been a weakness, the R&D has also made L'oreal one of the top brands in the beauty segment so this weakness has to be taken with a pinch of salt.
Opportunities in the SWOT analysis of L'Oreal
Market potential – The market potential of personal care and beauty items is only going to increase. The world is an oyster and here and there under developed economies are developing and becoming newer markets. Exploring these newer markets will give better sales down the line to L'oreal then staying in the same saturated markets.
Product mix expansion – Expanding the product lines as well as introducing new products in the product mix will result in the complete product mix expansion – something which will be the target of L'oreal management as well.
Demand for organic cosmetics – As Peta and other animal right activists are becoming active, the demand for organic cosmetics is on the rise. This demand is a positive sign for the likes of L'oreal which have used organic method of R&D since start.
Revival of Body shop – Body shop is going through a slump and has not really picked up as a retail outlet. The potential is yet to be explored. By investing in rejuvenating the brand, L'oreal can make the Body shop the go to destination for people who love to deck themselves up. It can become a one stop shop for everything related to your body. But it needs to be revived in that direction.
Threats in the SWOT analysis of L'Oreal
Dynamic nature of cosmetics industry – With constant updation being demanded in the cosmetics industry, keeping up with the times is ultimately very difficult. You cannot keep everyone happy at once and that seems to be the conundrum. Plus, the competition is not going to keep quiet and they keep coming up with smart tactics of their own. As a result, the dynamic nature of the cosmetics industry keeps the brand on its t
Cash crunch – A brand like L'oreal which has so many sub brands has to divide the cash it earns into many different segments. As a result, if the economy slumps then it faces a huge problem. Economy problems are always existing in one country or another, as a result of which, cash inflow from that country stops. This causes problems in the overall cash flow and working capital management becomes difficult. However, the economy as a whole is poor including the European countries as well as Asian countries. This has caused a cash crunch for the company and danger looms if the economy slumps.
Liked this post? Check out the complete series on SWOT