Lay's is a multi-billion dollar brand from the armoury of PepsiCo. Lay's is an 80-year-old potato chip brand which has gained credibility and popularity around the world. Lay's is particularly famous for its advertising commercials which have created a distinct identity for the brand.
Strengths in the SWOT Analysis of Lay's :
Strong Brand Name: Lay's has been able to create a strong brand name itself with popular advertisements and celebrity associations. Lay's is an 80-year-old brand and it has gained credibility and trust around the world. In the potato chips segment, Lay's is one of the most popular brands around the world.
Strong Global Presence: Lay's drives on PepsiCo's global presence and is present in over 100 countries and has a strong presence in the Americas, Europe, Asia-Pacific, Middle East and Africa. The strong global presence has helped in building a multi-billion dollar company. Distribution is one of the strongest points in the SWOT Analysis of Lay's.
Strong Distribution Network: Lay's has an advantage in terms of distribution since it drives on PepsiCo's distribution system, which is one of the strongest in the world. The strong distribution allows Lay's to be available and accessible and to have a large customer base.
PepsiCo as a parent company: Lay's has a competitive advantage being a brand from the armory of PepsiCo. PepsiCo is one of the largest FMCG companies in the world and thus managing capital and high investment for a brand is possible for the company.
Good Positioning: Lay's has made sure it reinvents itself as per the choices of its target group and has positioned itself well amongst the youth. Through its advertisement campaigns, it has positioned itself as an evening or party time snack which attracts its target base.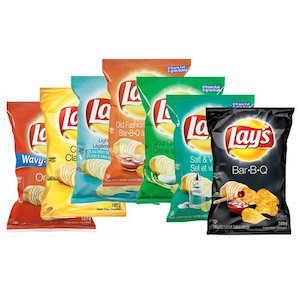 Weaknesses in the SWOT Analysis of Lay's :
High-calorie content: Lay's has been tagged as a product with high-calorie content considering its constituents, especially potato wafers which include high fat and cholesterol.
Less localized flavors: Lay's has focused on its successful global flavors around the world and has not introduced many local flavors. This proves to be a disadvantage when compared to other local competitors.
Brand Cannibalization: Lay's also has to compete with other PepsiCo brands worldwide such as Doritos, Cheetos, Fritos and Kurkure etc. This creates a dent in market share of Lay's.
Labelled as "Nothing More than Chips": Lay's is positioned as a tea-time/party-time snack and thus it is considered as nothing more than chips, this leaves a market which is looking for a part time meal.
Air in packets: It is the brunt of all jokes that there is a lot of air in a packet of Chips. Although there is scientific reasoning for the same, Lays, being one of the most famous brands around, has seen most of the jokes played with the background being the packet of Lays chips.
Opportunities in the SWOT Analysis of Lay's :
Increasing Disposable income: Disposable income of people in emerging nations is increasing quickly and thus it will have a positive impact on demand for food and beverages. Lay's can take advantage of this situation with its strong distribution channel.
Rural Penetration: Rural market in countries like India, Pakistan and other emerging nations can be explored more by Lay's which can increase its customer base and revenues.
New Localized Flavors: Taking the queue from Kurkure, one of PepsiCo's brands, Lay's should also look to bring out localized flavors which can attract a number of people and thus can increase sales.
Brand Extensions: Lay's is a very popular brand and thus PepsiCo can look out to extend the same brand with other snack related products. This will help enhance customer base and increase revenues.
Threats in the SWOT Analysis of Lay's :
The abundance of Local substitutes: Local substitutes of Lay's are present in abundance in all market. These local products are according to the tastes of the market and thus give high competition to branded products like Lay's. In India itself, there is Balaji and Diamond which are strong competitors.
Increasing health awareness: Health awareness is increasing amongst the target group, which is a threat to the brand as people are moving away from high-calorie products to healthy products.
Threat of New Entrants: In the recent years, a threat of new entrants has increased as new brands have emerged in different parts of the world. For example, Catty Chins in US or Balaji in India.
Liked this post? Check out the complete series on SWOT