Amul is one of the largest milk and milk based products manufacturer in India. Known to be the founder of the white revolution in India, Amul has some strong products and brands up its sleeves, strongest of them being Amul ice cream. Similarly, the Milk & Dairy products company has a very in depth product portfolio including cheese, butter, curd, chocolates, ice cream, and others. You can visit the following link to refer to the marketing mix of Amul. However, following are the points in the SWOT analysis of Amul.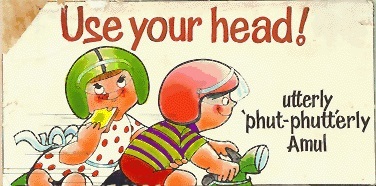 Strengths in the SWOT analysis of Amul
Very high market share in ice cream – Amul has the top market share in ice cream segment which further helps it push other products into the market.
Excellent brand equity – amul is a beloved brand over the years and the contribution of amul girl and her outdoor ads should specifically be mentioned here.
Excellent quality management – even though amul has such a wide and large distribution network, hardly any quality complaints come for amul.
Strong distribution network – This is one company which is strong in urban as well as rural distribution. You will find amul present even in small towns and villages.
Good product portfolio – Amul had a deep product portfolio when compared to any fmcg company. It has many different variety of milk milk based food items like cheese, butter, milk, buttermilk, lassi and many others. In ice creams too, amul has a large variety of flavours
Strong Supply chain – Vendors love Amul and amul is known for the white revolution in India.
Rural presence – Strong rural presence of Amul is its plus point. It is mentioned here separately because this rural presence gives amul a strong competitive advantage.
Weaknesses in the SWOT analysis of Amul
Cost of Operations – Amul's operation is huge. And so is the cost. Plus the sector is such that maintaining margins becomes difficult day by day. Thus, to face international players, Amul needs to maintain the operations in the same manner it is carrying out today. It is not a weakness but rather a constant challenge for Amul. In fact, during summers, the brand faces severe shortage of supply.
Chocolates – Amuls expansion to chocolate has failed and hardly any product of Amul chocolates is selling in the market. Amul needs further products to expand its product line and increase bottomline.
Opportunities in the SWOT analysis of Amul
Export – Amul can export its product to other countries thereby increasing its turnover and margins exponentially.
Concentrate more on chocolate market – Amul has a no advertisement policy which creates a problem for its foray into additional products. Amul should in fact have separate SBU's and concentrate more on increasing its product line through chocolates or other such products.
Threats in the SWOT analysis of Amul
Increasing competition in Ice cream segment – Many players, local and international, are entering the ice cream market thereby taking away share of wallet from Amul. Kwality walls, Naturals, London dairy, Havmor, Arun ice cream, Vadilal, Ramani, are some of the few brands who are directly in competition with Amul.