Amul is a brand owned by Gujarat Cooperative Milk Marketing Federation Ltd. (GCMMF) which are at the forefront of the Dairy revolution in India. Amul is known for its delectable range of dairy products and is driven by its commitment to farmers and consumers alike. In this article, we conduct a detailed and comprehensive SWOT analysis of Amul.
Amul, an Indian dairy cooperative, was founded on December 19, 1946, in response to the exploitation of small dairy farmers by traders and agents. The milk prices were arbitrarily set at the time. The name "Amul" is derived from the Sanskrit word 'Amulya', which means 'priceless'.
In 1965, the National Dairy Development Board (NDDB) was established to replicate Amul's model throughout India. Under the leadership of Tribhuvandas Patel, Amul celebrated its 25th anniversary with Morarji Desai, Maniben Patel, and Verghese Kurien in 1973. The cooperative was further developed through the efforts of Verghese Kurien and H. M. Dalaya.
Dalaya's innovation of making Skim milk powder from buffalo milk was a technological breakthrough that revolutionized India's organized dairy industry. Today, Amul's cooperative model benefits more than 3.7 million farmers.
Amul is recognized for its well-established distribution and delivery network for dairy products, which includes a wide range of products like Amul Taaza, a long-life UHT product packed in Tetra Pack cartons that undergo ultra-heat treatment to remove all harmful micro-organisms while retaining nutrition. Amul also has a significant market share in the national ice cream market, with a wide range of dairy ice cream products.
Introduction to SWOT Analysis of Amul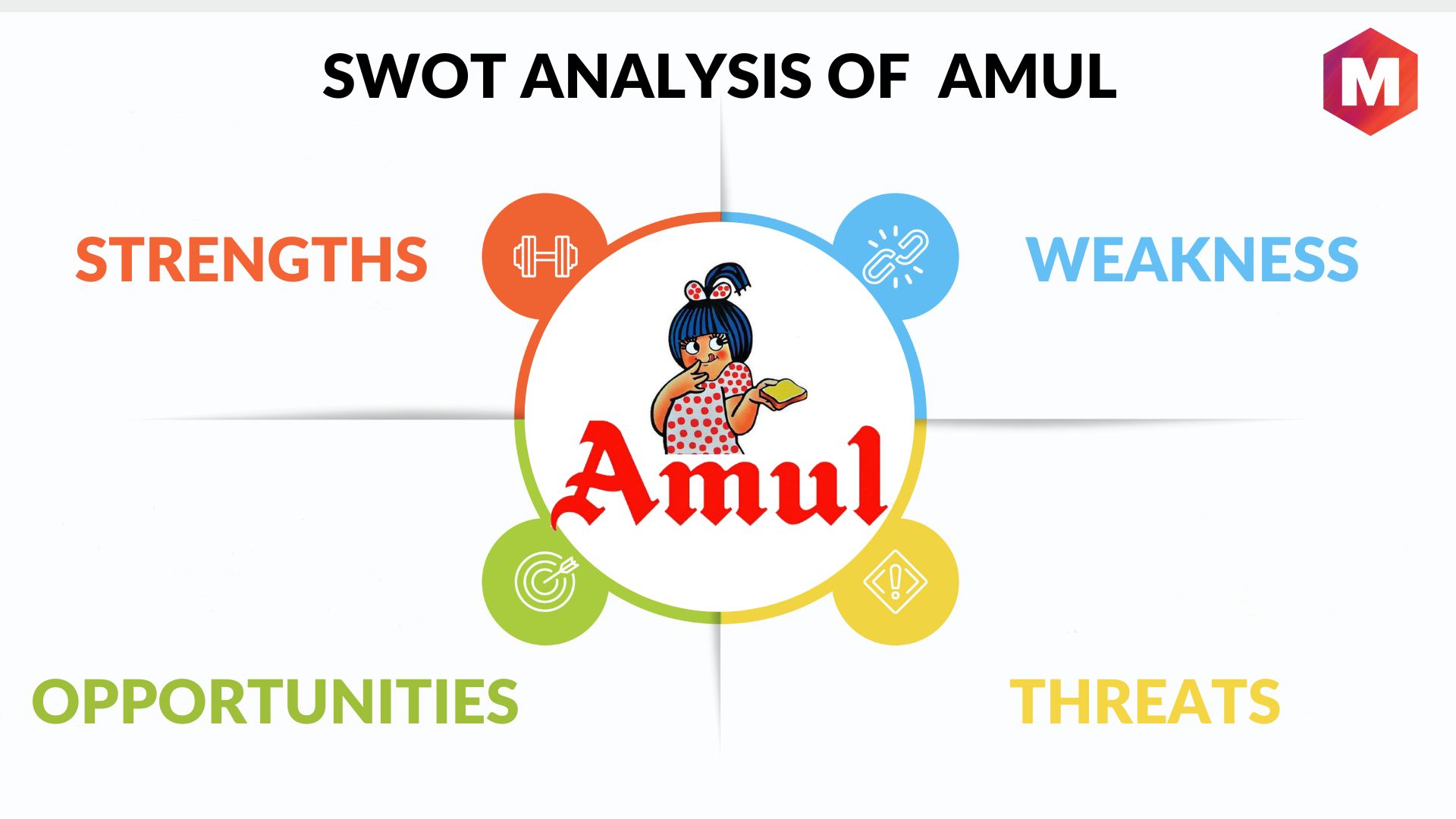 About Amul
Industry: Dairy cooperative
Products: Milk products
Founded: 14 December 1946
Founders: Tribhuvandas Patel and Sardar Vallabhbhai Patel
Headquarters: Anand, Gujarat, India
Area served: Worldwide
Current CEO: Jayen Mehta
Number of employees: 1,000+
Revenue: Rs 55,055 crore
In this article, we are going to cover the SWOT analysis of Amul. Before we do that, let us understand the brand Amul and some of its key differentiators.
Turnover: In the fiscal year 2022-23, Amul posted an impressive turnover of US$ 7.2 Billion, underscoring its dominant position in the Indian dairy sector.
Daily Milk Procurement: Amul sources a whopping 27 million liters of milk daily. This mammoth procurement task involves collaboration with 18,600 village milk cooperative societies, ensuring consistent quality and volume.
Extensive Reach: Amul's operational expanse is vast, collaborating with 18 member unions across 33 districts. This vast network comprises a staggering 3.64 million milk producer members, a testament to its integrated and inclusive business model.
The Amul Ethos
Originating from Gujarat's dairy cooperatives, the name 'Amul' is synonymous with a dual objective:
Empowering Farmers: At its core, Amul's vision has always revolved around ensuring fair and remunerative returns for its vast network of farmers. By ensuring they receive a fair share of the profits, Amul has revolutionized the livelihoods of millions.
Serving Consumers: Equally important is Amul's unwavering commitment to its consumers. The brand prides itself on delivering top-quality products that offer excellent value for money. Be it the creamy texture of its butter or the rich taste of its chocolates, quality assurance is paramount.
This unique blend of farmer empowerment and consumer satisfaction has not only set Amul apart in India but has also made it a model emulated worldwide.
Amul and Sagar-branded products enjoy an unparalleled market presence due to their distribution abilities. With an extensive infrastructure comprising 76 sales offices, Amul's distribution network is a force to reckon with. This vast network includes around 10,000 dealers and a million retailers, making it one of the most expansive in India.
Amul has an in-depth product variety in the Dairy Segment. From the everyday essentials of milk to the indulgent scoop of ice cream, Amul offers it all. Its diverse product range includes:
Amul offers a wide range of products, including
Milk (UHT, lactose-free, A2 cow, buffalo),
Butter (salted, unsalted, garlic),
Cheese (processed, mozzarella, paneer),
Yogurt (plain, flavoured, buttermilk),
Beverages (flavoured milk, cold coffee, energy drinks),
Protein products,
Ice cream (cones, cups, bars),
Ghee (pure, cow, sagar), and
Milk powders (skimmed, whole, condensed).
In essence, Amul is a beacon of excellence in the Indian dairy sector. They combine farmer welfare with customer satisfaction. This why Amul's journey is a testament to the power of cooperative efforts as well as their commitment to quality.
Strengths of Amul
Large Production Capacity: Amul's vast production capacity, managed by the Gujarat Co-operative Milk Marketing Federation Ltd (GCMMF), allows it to deliver about 26.3 million liters of milk daily. Such impressive figures not only place it amongst the top global dairy entities but also cement its 13th rank in a 2023 research by Yahoo Finance.
Brand Value: Amul has been ranked as the world's strongest dairy brand by the Brand Finance Food and Drink Report 2023. Its Brand valuation is a whopping $3 Billion.
Market Leadership: Amul's strategies and quality have propelled it to the forefront of the Indian dairy market. A prime example is its commendable 40% market share in the organized ice cream sector, which is poised for growth. Further, its dominance in the growing flavoured milk sector is huge. As per Amul's Mr Sodhi, they are 90% market share holder in Flavored milk segment.
Technology Investments: To keep pace with its tremendous growth, Amul doesn't shy away from harnessing the latest in dairy technology. This continuous technological adoption ensures efficiency, quality, and scalability in operations.
Brand Mascot: The 'Amul girl' is not just a mascot but an emblem of the brand's legacy and values. Her enduring presence in Amul's marketing campaigns resonates with generations and contributes to the brand's recognizable identity.
Product Quality: Winning consumer trust isn't easy, but Amul has done it consistently through transparent operations and unwavering product quality. This dedication is further solidified by international certifications like ISO 9001 and HACCP, attesting to their global quality standards.
Diverse Product Catalogue: From milk and cheese to a broader dairy product portfolio, Amul's diverse offerings cater to varied consumer tastes. Utilizing a singular distribution channel for this extensive product range ensures wider accessibility and market penetration.
Cooperative Structure: At the heart of Amul's success lies its cooperative model, fostering collaboration, and community among the member farmers. This setup not only guarantees farmers a stake in business decisions but also ensures their economic prosperity.
Extensive Distribution Network: Amul's distribution network is nothing short of vast, covering over 18,700 villages in India. This ensures that even the most remote consumers have access to fresh Amul products, enhancing the brand's reach and loyalty. Amul also has a page on its website for any distributors who want to apply.
Sturdy Supplier Bonds: The relationships Amul nurtures with its farmer-suppliers are built on trust and transparency. This rapport ensures a consistent supply of top-notch milk, pivotal for their diverse product range.
Competitive Pricing: Amul's pricing strategy is rooted in providing value. This ensures that a broad consumer base, even the price-sensitive ones, find their products both accessible and affordable.
Social Responsibility: Beyond profits, Amul is dedicated to societal welfare. With initiatives focusing on rural sanitation, rural health, education, and skill development, it aims to elevate rural living standards and provide sustainable growth avenues.
Global Outreach: Amul isn't just an Indian favorite. With its products gracing shelves in the USA, Gulf Countries, Singapore, the Philippines, Japan, China, and Australia, it's clear that the brand has a substantial global presence, further accentuated by its esteemed "Trading House" status.
E-commerce: Amul has been adopting digital technologies and e-commerce platforms to enhance its operations and customer reach. It has implemented various initiatives such as blockchain-based traceability system, artificial intelligence-based quality control, cloud computing-based data management etc. It has also partnered with online platforms such as Amazon, Flipkart, BigBasket etc. to sell its products online.
Weaknesses of Amul
Dependence on raw milk supply from farmers:

Amul sources its raw milk from

over 18,600 village societies

and more than 3.7 million farmers across India. However, this also makes it

vulnerable to fluctuations

in milk prices and availability due to factors such as weather conditions, animal diseases, feed costs and government policies.

High Operational Cost: The vastness of Amul's operations, due to its size and intricate structure, means operational costs are substantial. Should demand fall, these high costs can strain the company's finances. Moreover, their heavy reliance on dairy unions and communities for milk supply further adds to their operational complexities.
Legal Controversies: Amul's decision to run advertisements that not only promoted their products but also appeared to criticize competitor products landed them in legal trouble. Hindustan Unilever's lawsuit in the Bombay High Court in 2017, which they won, not only brought financial repercussions but also affected Amul's public image.
Inconsistent Portfolio Success: While Amul is a household name for many dairy products, some of their diversifications, like chocolates, haven't seen the same success as their dairy offerings. Achieving consistency in portfolio success is pivotal for sustaining the brand's image.
Price Volatility: The brand's commitment to offering cost-effective products makes it vulnerable to fluctuations in raw material costs. If input prices rise, such as milk, it could squeeze profit margins, especially when passing these hikes to price-sensitive customers becomes a dilemma.
Slower Decision-making: The cooperative model, which is at the heart of Amul, can sometimes slow down decision-making processes. Seeking consensus among numerous cooperative members can potentially delay market responsiveness or the rollout of new strategies.
Battling Intense Competition: The dynamic dairy landscape in India requires Amul to be on its toes. Competitors might unveil similar products, use cutthroat pricing, or invest heavily in advertising, all of which can threaten Amul's market position and profitability.
Handling Perishables: Dealing predominantly with perishables like dairy products demands a robust and efficient supply chain. Ensuring products get to consumers fresh and on time becomes a logistical challenge, especially given their vast distribution network.
Cooperative Model Vulnerability: Amul's prosperity is deeply interwoven with its cooperative model. Disruptions, be it internal disputes or administrative issues among the millions of affiliated farmers, could have cascading effects on the brand's performance.
Segmented Brand Perception: While Amul offers a plethora of products, it hasn't established itself as a premium brand in every category. Being primarily seen as a dairy expert can make diversifications into non-dairy segments challenging.
Emerging Local Rivals: Amul, despite its national and international stature, faces competition from rising local brands. Brands like Hatsun Agro, Dinshaws, and Vadilal in the ice cream segment, among others in different categories, are slowly chipping away at Amul's market dominance. Their growth can potentially dilute Amul's market share over time.
Opportunities of Amul
Per Capita Milk Consumption: While countries like the USA or the EU boast significantly higher per capita milk consumption rates, India's consumption averages around 97 liters per year. This figure points to a substantial potential for growth in the Indian market. If Amul can harness this potential, it can drive demand even further. For instance, promoting the health benefits of milk, introducing flavored milk variants, or even running educational campaigns can effectively address this gap.
Expansion of Product Portfolio: Amul's strong distribution network and substantial brand trust are crucial assets. By investing more in research and development or considering strategic mergers and acquisitions, Amul can introduce new products that cater to diverse consumer needs. Think of Amul's successful butter cookies launch; using their distribution strength, they can replicate such successes with other products too.
International Expansion: There's a big world outside India, and Amul is poised to cater to it. Specifically, regions like the Middle East and other Asian markets with a significant Indian expat population are ripe for expansion. Using its brand identity, Amul can introduce familiar tastes to these overseas Indians, creating a sense of home away from home.
E-commerce and Grocery Deliveries: Online shopping has transformed consumer behavior. By forging partnerships with e-commerce giants and online grocery platforms, Amul can ensure its products are just a click away from consumers, enhancing convenience and boosting sales.
Health and Wellness Trends: The wave of health consciousness has led to an increasing demand for healthier dairy alternatives. By developing low-fat, reduced-sugar, or even plant-based dairy products, Amul can cater to a broader audience, from health enthusiasts to vegans.
Sustainability: In today's age, sustainability is not just a buzzword but a consumer demand. By adopting and showcasing sustainable farming practices—think organic farming or renewable energy usage—Amul can appeal to a conscientious consumer base that values ethical and environmental considerations.
Non-Dairy Segments: While dairy is Amul's stronghold, diversifying into non-dairy alternatives presents a significant growth opportunity. Offering products like almond milk or vegan cheese can cater to an entirely new segment of consumers searching for such alternatives.
Farmer Support and Training Programs: At its core, Amul thrives because of its vast network of farmers. By investing in robust training programs and resources for them, the brand can ensure improved productivity, better animal welfare standards, and environmentally sustainable practices. This not only strengthens its supply chain but also enhances its brand image.
Premium Products: There's a section of consumers who don't mind paying a premium for gourmet experiences. By introducing high-end, luxurious dairy products, Amul can capture this lucrative market segment.
Rural Penetration: India's rural areas remain a largely untapped market for many brands. For Amul, deepening its roots in these areas can give it a significant edge over regional competitors, ensuring the brand's ubiquity.
Threats of Amul
Increasing Competition: Amul, often dubbed as the 'Taste of India', has seen the landscape of the dairy market evolve rapidly. While it continues to be a significant player, the brand now faces stiff competition from various fronts. In the milk and dairy domain, brands like Mother Dairy, Aavin, Kwality Ltd, Nadini Dairy, and HUL are increasingly claiming market share. The story is similar in the ice cream sector, with strong contenders like Kwality Walls, Baskin Robins, Havmor, and London Dairy. This rising competition makes it essential for Amul to continually innovate, expand its product line, and strengthen its marketing strategies.
Counterfeit Products: Brand imitation and counterfeit products are a growing concern for many top brands, and Amul is no exception. These fake products not only eat into Amul's sales but can also tarnish its reputation if consumers can't distinguish between the original and the counterfeit. Collaborating with authorities, implementing stricter quality controls, and public awareness campaigns can be potential strategies for Amul to address this challenge.
Market Saturation: Being one of the oldest and most widespread dairy brands in India, some markets are now experiencing saturation when it comes to Amul products. This saturation could potentially stagnate growth. To mitigate this, it's imperative for Amul to continually gauge market pulse. Detailed market research can help identify regions where the brand's presence is limited, allowing Amul to venture into untapped territories and cater to fresh demographics.
Regulatory Challenges: The food industry, especially dairy, is heavily regulated. With changing times, these regulations undergo modifications, be it for food safety, environmental considerations, or packaging and labeling requirements. Being proactive is the key here. Amul needs to stay updated with these regulatory shifts and adjust its operations accordingly. For instance, if new labeling laws require more transparency about ingredients, Amul must promptly update its packaging to reflect this, ensuring compliance and maintaining consumer trust.
Questions on Ethical Standards: The controversy between Amul and PETA highlights the ongoing debate over the treatment of animals in the dairy industry. As consumers become more conscious of the ethical and environmental impacts of their food choices, companies like Amul are under increasing pressure to ensure that their production practices are in line with ethical standards.
Conclusion
Amul has a strong position in the Indian dairy industry, but it faces several challenges that could impact its growth and profitability. The company needs to address its weaknesses, such as reducing its dependence on raw milk supply, improving its quality control measures, and resolving distribution challenges.
It also needs to take advantage of opportunities to diversify its product range and attract investors. Moreover, Amul needs to manage the threats it faces from competition, lactose intolerance awareness, price sensitivity, fluctuation in milk prices and availability, and ethical concerns related to animal treatment. Overall, Amul needs to stay vigilant and adapt to the changing market conditions to maintain its strong position in the industry.
Liked this post? Check out the complete series on SWOT