A system that is used to define hierarchy in the organization is called the organizational structure. It gives the organizational leadership direction in terms of job identification and functions and who reports to whom within the organization. This structure, therefore, helps the organization in identifying and meeting objectives for growth. In most cases, it is illustrated in the organizational structure chart.
Types of Organizational Structure
Companies come in different sizes. Big companies have a lot of tiers of owners, management, and a common worker while smaller ones have few tiers. The larger the company, therefore, the more detailed its organizational structure will be.
To meet organizational structure needs, different companies embrace different structures as explained below;
1) Divisional Structures
Best suited for organizations that operate with business units that are very distinct. I.e. projects or products of these companies are governed independently or distinctly of each other. Examples of companies with this type of organizational structure include retailers like the Banana Republic, GAP, and Old Navy among others. They all operate as distinct companies but form the GAP Inc. and the GAP brand.
With divisional structures, the company responds easily to market changes. Again communication is easier within divisions and team identification is paramount. On the other hand, inefficiency might arise as some efforts may be duplicated. Again, there is a higher chance of conflict between divisions especially if one division is more successful than the other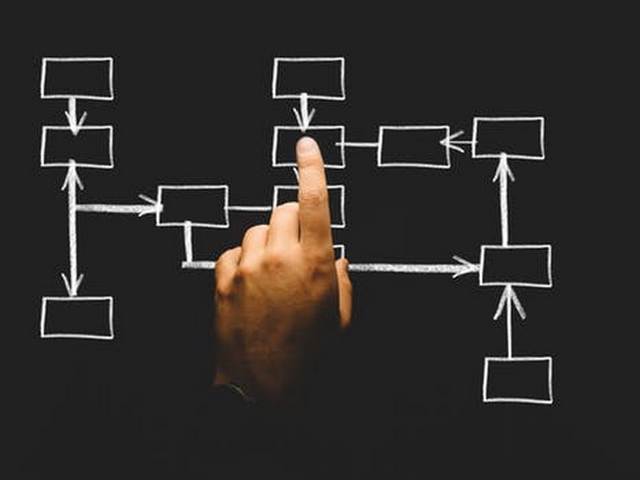 2) Functional Structure
This type of organizational structure is entirely based on each person's job duties and responsibilities. It is also referred to us the 'bureaucratic organization structure' and it divides the company on the basis of specialty. E.g. under this structure, different divisions are assigned to marketing, sales or even accounting. Again, with this structure, the organization benefits from the fact that employees specialize on one function, therefore, guaranteeing efficiency.
The downside of this type of organizational structure is that it's not easy to enhance strong communication lines between departments i.e. if departments are in different locations and this might lead to unnecessary conflicts.
3) The Matrix Structures
For every project or role there are two supervisors to report to in the matrix structure. It might be complicated but very essential in large corporations functional in different areas or localities.
The Matrix combines different structures with different functions. Teams made up of skilled individuals from various departments are assembled and assigned a project. As such, a person reports to two bosses i.e. the divisions' supervisor the project supervisor. Here, all departments are well represented in organizational projects. Again all departments are included in all function of the organization i.e. from actual product fabrication to final product marketing.
The only downside of matrix structures is that jurisdiction and responsibilities may not be clearly spelled and this may cause unnecessary confusion. Also, sometimes matrix organizations may favor a select group when it comes to development or sensitive projects.
4) Geographical Structures
This structure provides a hierarchy for those organizations which have operations in different locations. Either locally or internationally
Despite the fact that different organizational structures are developed to meet different organizational needs', all of them report to a centralized group of professional executives i.e. the Chief Executive Officer or President depending on member ranking. While companies may adopt any of the above structures, some may not strictly adhere to the set structural guidelines. A good example is a startup with a few employees controlled by the secretary or personal assistant to the manager who handles everything from accounting to the management of payroll.
Elements of Organization Structures :
The elements of organizational structure help management in effecting change for the achievement of organizational goals. The six elements include;
1) Company size and number of employees
The more the employees, the more the tiers of management. This is for efficiency and effective running of the organization structure. The organizational structure needs to be evenly elastic so as to accommodate more employees and possibly more managers in future.
Room for growth is an important factor in the companies' structure. Structures that allow for growth are easily edited for salary scales and different job descriptions with very minimal or no disruptions to the company's operations
2) Geography
Organizational structure may at times depend on the number of corporate locations that are needed to account for planning. The more locations the business has the more autonomous each location will be in order to be efficient. Hierarchy communication sometimes becomes a challenge during the creation of an organizational structure within a larger geographical area. Those managers with their seniors in a different location must, therefore, establish a clear way of communication so as to obtain proper instructions and guidance.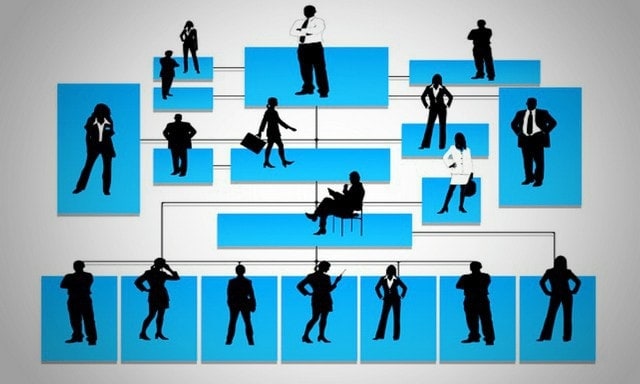 3) Product Evolution
During startup, companies start with single line products that comprehensively cover the industry. As time goes by and as the company grows, departments that cater for other products are created leading to product development and thus adverse effects and changes to the company's organizational structure.
4) Authority of Distribution
According to research carried out recently, an organization's structure is adversely influenced by the authority preferred. Authority can either be centralized or decentralized. Decentralized management allows lower-level managers to have an influence on the decision making process. Centralized management keeps key decisions with specific executives.
5) The marketplace
The target market and location also influence the company's structure. E.g. manufacturing companies may opt to sell their products via wholesalers or directly to consumers. For this to be successful, the structure needs to be set up in such a way that these factors are kept separate. This will also include a different marketing team and sales force.
6) Control
Most management Gurus comply to the fact that companies with a higher level of quality products have more strict rules and operate in a regimented environment; this mostly affects companies that manufacture high-end technology products, medical equipment, and some handcrafts organizational structure..
Those companies in mass production may not have much control over product quality and will, therefore, have a different organizational structure.
Considering the above, therefore, organizations should embrace the idea of establishing a well-organized structure through which decisions are made and employees' roles clearly spelled as this will not only guarantee efficiency but profitability as well organizational structure.
Thank you for reading our article about organization structure!
:)