Ethics and moral issues are common in the day-to-day life of everyone, and they both play an important role in defining and shaping the attitude, personality, and behaviour of an individual.
The word "Moral" is derived from Greek word "mos" meaning custom, and the word "ethics" is derived from the Greek word "ethikos" meaning "character."
If we put it in simple words, then morals are customs defined by a group of people and ethics is the character of an individual person.
Morality is concerned with the principles of doing right or wrong, and on the other hand, ethics is the right or wrong conduct of an individual person in a particular situation. Many people get confused with the usages of these words and most of the times use them interchangeably.
Ethics are enforced by external bodies such as institution, culture, or group to which a person belongs. For example, all professionals such as policemen, lawyers, and doctors have to abide by ethical code related to their profession regardless of their own personal preferences or feelings.
In simple words, we can say that ethics are important for acceptable behaviour to exist in a society or culture. Morals are also predisposed by society or culture, but it does not validate your acceptance in society, and it is more of a personal choice, and these can also be referred as personal principles which are upheld by the individual. Generally, ethics are consistent in nature. However, it varies in contexts.
For example, an ethical code for a doctor's profession is consistent and does not vary from hospital to hospital no matter in which part of the world hospital is located.
However, an individual's moral code usually remains consistent in all contexts, but it can change radically by the change in personal beliefs and values.
Definition of ethics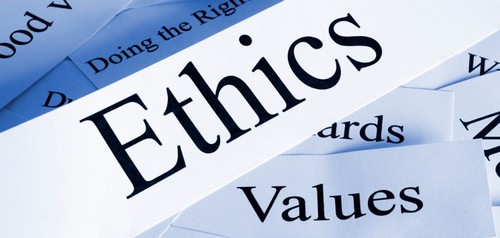 Ethics can be defined as a branch of philosophy that deals with the principles of a group of people or even an individual. The work of ethics is to guide people to decide on what is right or what is wrong. Ethics are standards to govern a nation or the life of an individual.
Ethics can also be referred to as moral philosophy. Truthfulness, honesty, respect, loyalty, integrity, and fairness are some of the examples of ethical principles.
Definition of Morals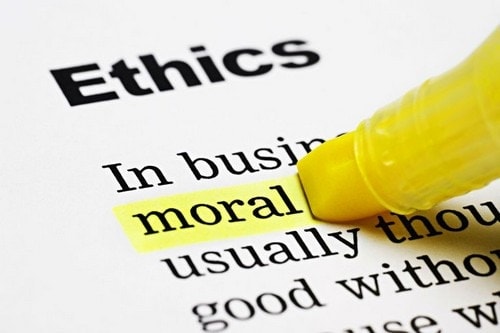 Morals are the beliefs or values set by an individual or a group of people or society or community to tell the difference between right and wrong.
These are the rules made by society or culture to help us to decide what is right. Morals are not enforced by an official body and are not objectively right; they are considered right to follow in any given situation.
Therefore, it is commonly said that something can be morally correct, but it may not be objectively correct. Be loyal, do not cheat, always tell the truth, be patient, and be generous are some of the examples of moral values.
Key differences between Morals and Ethics

| | | |
| --- | --- | --- |
| | Morals | Ethics |
| 1. | The moral is habits or principles with respect to the right or wrong conduct. It also prescribes us what to do and what not to do. Mainly, morality is a personal regulator that stops us from doing right or wrong. | The set of rules established by a particular class of human or a culture or a group. |
| 2. | It is originated from the inside of an individual. | It is originated and mainly enforced by external forces such as social system. |
| 3. | Morality is followed by an individual because of his/her believe in it. | Ethics are followed by an individual under the influence of society. |
| 4. | Morals are usually consistent and change only when the beliefs of individual changes. | Ethics are dependent on others, and its importance is based on the perception of others. |
| 5. |  It has no applicability in the business environment. | It is applicable in a business environment. |
| 6. | Morals are generally expressed in the form of clear rules and statements | Ethics are usually abstract in nature. |
| 7. | An individual does not have the freedom to think and choose. | An individual has the freedom to choose what to follow and what not to follow. |
Here is a video by Marketing91 on Ethics vs Morals.
Conclusion
People need to have some principles which can help them throughout their life to cope up with different situations. These principles are named as ethics.
On the other hand, morals are not as strict as ethics, but these are the principles which are considered correct by the majority of people.
Because of this reason, they are acceptable by the majority of people all around the worlds, and people with good moral values are welcomed and respected in all parts of the world.
To put in simple words, you will be punished and charged for not abiding by the ethics of your profession or simply as a citizen of a country, but you will not be charged or punished for not having good moral values; however, moral values are important to keep harmony with others.
Liked this post? Check out these detailed articles on
Topic of Personal Development
Alternatively, check out the Marketing91 Academy, which provides you access to 10+ marketing courses and 100s of Case studies.