Blogging involves a lot of writing. And to keep you focussed and write in a continuous flow, you would need access to a capable app that gets you into the mood. That brings us to the best blog writing software. Now that most of us work on a Windows ecosystem, we thought we would list out the best blog writing software tools for your needs.
It would indeed be convenient enough to work with an online or offline blog writing software while you are creating content for your website or blog. We will focus on the best blog writing tools you can check for an excellent experience.
Please note that the tools we have covered in this compilation would not make you an expert writer or teach you the writing skills par excellence. Unless you have the ability to write effectively, no one of the Blog writing software options would be helpful in bringing up the talent in you.
Now that you are into blogging, we would assume that you have the necessary talent in you and the tools that we would be discussing would help you sharpen your knowledge further.
1) Google Docs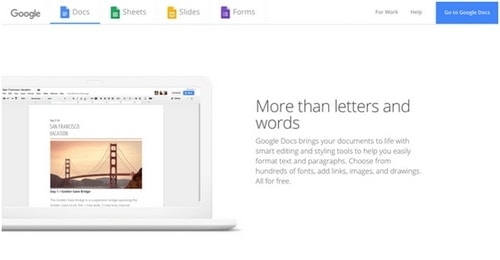 Google Docs is a part of an office suite of Google applications. Just like Microsoft office, it lets you work with your content through a word processor. The significant difference between Google Docs and Microsoft Office lies in the fact that it is free and available online.
Now that every one of us has been using Microsoft Word, it should not be difficult to get used to working with Google Docs. It offers you almost the similar experience and functionality like that on Microsoft Word. Even the formatting and user interface remains practically identical.
The Google Docs should be your best bet because of the simplicity and option for sharing your documents online is what makes it one of the excellent choice. The easy collaboration feature makes it a great alternative to work with.
One of the features that e love with Google Docs is the fact that everything you do with it is saved on the servers, and you would never lose it! Moreover, the ability to access your data or saved files from anywhere and any device should make it an excellent tool for all your blog writing requirements.
Of course, the functionality would be a little stripped down when compared to Microsoft Word or any other resident text editor tools we have or will discussing in this compilation.
2)  iA Writer
The tool is available for both Windows and Mac platforms. In fact, it would offer you a simple and fuss-free functionality and a cleaner writing ability. No need to worry about those keyboard shortcuts and other features. Keep writing without any need for getting distracted.
Focus on your words and not on the other distractions around you. If you are into the long form writing, this can be your right choice of tool. In fact, the tool offers you a set of templates and should ideally suit any style of writing.
Opt for the calm and focused writing space. Just find everything else fading away except for the line or paragraph that you are working with. It comes with multiple modes including Markdown, focus mode, typewriter mode, night mode, and full-screen mode.
3) Evernote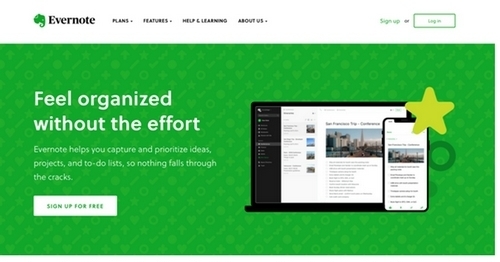 Possibly that should be the first item on the list for any of the writing or blogging enthusiast. In fact, it is one of the first online notebooks that came into being.
What help would it provide for bloggers, when it is a mere note-taking app. Well, the search functionality should be the feature that makes it a great choice. In fact, you can create a host of notebooks and search through them for all your requirements. An excellent option that makes it a great choice is it is entirely free for use. Of course, you can upgrade to the paid plan if you are looking for advanced features.
Needless to say, the app is completely cross-platform and is available across Windows, Mac, Mobile and web portal.
In fact, if you are a blogger, Evernote can be your best option for noting down the ideas that strike you. Just capture those ideas as soon as they hit you so that you can work on them at leisure.
4) Scrivener
Primarily designed as a project management tool, Scrivener can indeed double up as the best blog writing software for all your needs. Specifically designed for the novelists and journalists for their need in long-form content, it has become one of the best tools for bloggers as well.
The concept of virtual index cards should be one of the unique concepts envisaged by Scrivener. This concept would make it an excellent choice for developing an efficient workflow. Organize your content the way you would want it to take shape into and make the right kind of editing into your documents.
Most of the bloggers will find it a difficult option for most of your requirements. However, if you are into a lot of writing, this can be one of the excellent choices. In fact, the tool is best suited if you are creating lengthy documents. In any case, the tool is the best and a compelling option for your requirements.
The tool has always been a hot favorite with the writers across the globe for its advanced features and distraction free writing atmosphere that the tool provides you. The flexibility offers you in writing your books, articles and what not and then formatting or organizing it is something you would indeed find interesting and useful in the long run.
5) Grammarly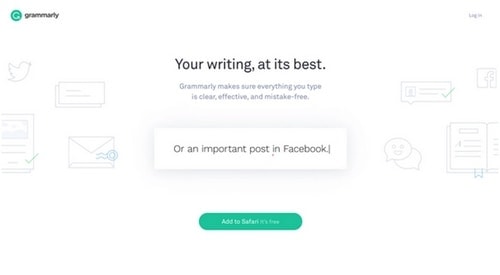 Grammarly is indeed your Go-To tool for most of your requirements. Of course, any of the spell checker apps can work in a manner where it will guide you on the common grammatical errors. Grammarly goes a step ahead and offers you excellent features.
It can go a step ahead of other apps and detects a few more errors and phrasing issues as well. It offers you the best functionality for poor word usage and wrong sentences. In fact, it even offers you plagiarism checking options as well. One of the features that makes it a great choice is the fact that it sits just beside your text editor and points out the grammar issues.
The tool is available as an online tool, a desktop app, a Chrome extension and an add-in for MS Word. The solutions are offered on-page and quite instant. Scan your documents for grammatical, contextual, and vocabulary mistakes and a host of other errors.
6) WhiteSmoke
If you are a non-native English speaker, WhiteSmoke should be your prime choice. A word processor and grammar checker combined into one, the tool not only finds the grammatical errors in your write-ups but will also come up with suggestions to improve style, tone and other aspects of writing.
We have already covered Grammarly. While Grammarly is the best option for those who are good at English, WhiteSmoke can be a good option for those who have issues with the casual usage of the language. It can be used as a useful writing tool, but its efficiency would be enhanced if you are using the tool for proofreading and grammar check functions of your write-ups.
You can either use the app as a standalone tool on Windows or opt for it through the web portal. The grammar checker is available for free though.
7)  FocusWriter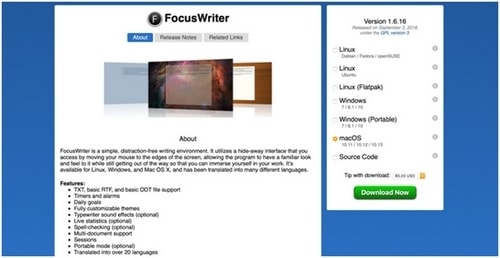 Want to write quicker and do not like getting distracted? As the name itself should be an indication, FocusWriter is essentially a tool that aids you to focus on your writing. The application is completely basic and lightweight in appearance and functionality.
The tool has a full-screen mode wherein you get a complete background and no toolbars or other additional toolbars of any nature. Just focus on your content and keep writing till you accomplish your task. In fact, you can customize the background to suit your writing style to something that suits you and helps you focus.
If you are looking for additional features, it may not be the right kind of tool for you. The tool is simple and effective and offers you the functionality that should basically help you get the things done.
8) yWriter
A free program, yWriter is an excellent option for all your requirements in a word processor. In fact, the software is specifically created keeping those in mind who are looking for a longer write up. They come up with impressive features that are indeed quite excellent enough for a free tool.
The software is a great option for those involved screenplay writing or playwrights. The tool lets you specify each of the scenes with notes, recommendations, and goals. However, the tool can also suit bloggers and those involved in content writing though you may need to configure the functionality to your exact requirements.
In most aspects, it appears and functions like Scrivener. That is exactly why most of the users consider it as one of the best Scrivener alternatives. What would make it the best option is it is free and can be used for a wide variety of writing requirements.
9) BlogDesk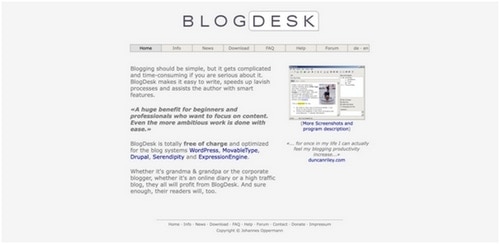 BlogDesk is one of the excellent tools and should be an ideal option for your offline writing options. What makes it an exceptional choice is it is completely free.
The word processor cum editor works as a WYSIWYG mode, and thus you would actually be having a look at how your content would look like when you are done working with it. And yes, there is no need for editing the HTML codes or any other similar technical extravaganza as the images can be inserted directly into the content you are editing.
BlogDesk works with a host of platforms including WordPress, Movable Type, Drupal, ExpressionEngine, and Serendipity.
10) BlogJet
This is yet another excellent text editor that works seamlessly with Windows and offers support for a wide range of content platforms. Just like BlogDesk, this tool to makes use of the WYSIWYG interface, and thus you would need to have access to HTML coding.
In fact, if you are new to blogging and yet to master the HTML coding and other related technical aspects of blogging, or come from a non-technical background – BlogJet should be an excellent choice for you. The tool comes with a host of support functionality and integration with a few essential software. You have access to a spell checker, a full Unicode support, and auto draft functionality. You can check out a considerably huge list of blog-specific features and functions packed within the tool.
BlogJet supports a good deal of content platforms. Some notable mentions would include WordPress, TypePad, Movable Type, Blogger, MSN Live Spaces, Blogware, BlogHarbor, Squarespace, and Drupal.
The Concluding Thoughts
If you want to be a blogger or a website owner, you need to be ready to write a lot. Of course, the tools above can help you write efficiently, but unless you have the flare for writing within you, none of these tools may be helpful. These blog writing software options have been designed to help you in achieving a better writing standard and improve your writing skills. Unless you have it in you, none of the tools featured here will offer you any effective benefit.
Having said that, we assume we have covered almost all the good options for Windows in this compilation. We have made it a point to include the text editors that help you compile the blog posts that you are looking ahead to, but in addition – we have also focussed on a few blog writing software options that can aid you in improving the quality of your write-ups. Grammar tools and plagiarism checkers are a few examples in that direction.
Have you used any of these tools? Share your thoughts and opinions with these tools. If you are aware of any other better alternatives, share them as well with us.