The SWOT of provogue lists out the strengths, weaknesses, opportunities and threats for the provogue brand.
Strengths
Value creating partnership with customers and suppliers:
Provogue aims at creating mutually value adding partnerships.  Provogue also aims at reducing the system costs, improve service levels, and offers new products and services through innovative techniques.
Provogue has a sound brand management philosophy.  A clear brand strategy helps in defining the overall product strategy.
Provogue has an efficient supply chain management which ensures the smooth flow of goods from the manufacturers to the ultimate consumer.  A well oiled supply chain helps the manufacturer to deliver the goods in time.
Provogue has a mark for itself position wise, distribution wise and promotes the brand through innovative advertising.  Provogue had hit the market in 1999 with an advertising campaign featuring model John Abraham who went onto become a super model on the fashion circuit.  After that Provogue signed film star Fardeen Khan as a brand ambassador.
Provogue has set up 40 showrooms mainly in the countries metro cities.
Provogue has targeted to a well defined customer service.  It has clothing fro office to party wear for men and women.  It has colours like orange, navy blue, lemon yellow and aqua green.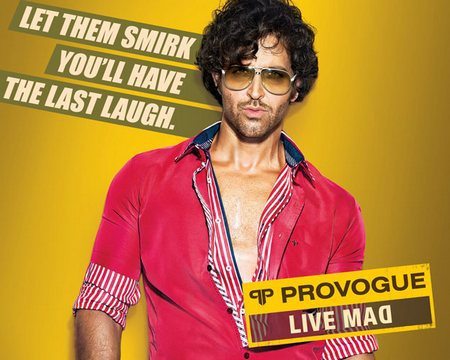 Weaknesses
No Provision for kids wear:
Although Provogue has captured market for men and women, it has not focus on the kids segment yet.
Lack of showrooms in mini-metros:
Provogue has no retail outlets in mini metro cities like Jodhpur.
Opportunities
Provogue which currently has 40 showrooms and 110 shop-in-shops across the country and plans to expand its network aggressively in the near future.  It also plans to open more exclusive showrooms in various cities to widen its market.  The company also plans to increase its products range.
E-Branding is gaining importance today in the global scenario as the markets are gearing up for the next generation internet.  It has an opportunity to promote its product through e-branding.
Provogue can use techniques of franchising to enter new markets and gain new customers.
Provogue, the high profile apparel brand that created a niche for itself through celebrity advertising campaigns is looking forward for a strategic partner after its launch.  Through this, it can strengthen the prospects of the company thereby, capturing new markets and expanding operations.
Threats
Competition in the main markets is increasing, and putting pressures on volumes.  The competitors include Raymond's, Color Plus, Allen Solly and others.  Apart from fighting competition with the big brands, Provogue has to deal with opposition in the form of large format retailers such as Shopper's stop, Globus, Wills Lifestyle etc.  Provogue is posing stiff competition with Park Avenue, and Arrow for shelf space.
Another threat is the industry specific risk that any company in the fashion business will have, that of predicting trends properly and accurately and moving in line with the market.
Liked this post? Check out the complete series on SWOT