Thums Up is one of the popular brands of cola in India. Thums Up was launched in the year 1977 when Coca-Cola withdrew its operations from the region. Parle which was owned by two Brother Ramesh Chauhan and Prakash Chauhan saw an opportunity here and launched the first Indian Cola Thums Up together with a lemon based drink Limca and orange flavored one Gold Spot.
In 1993 Coca-Cola came back to India and Thums Up was unable to withstand the competition from the two soft drink majors Coca-Cola & Pepsi and the company was acquired by Coca-Cola in the same year. Today Thums Up is sold by Coca-Cola Limited and until the year 2012 was the market leader with 42 % market share.
Strengths in the SWOT analysis of Thums Up :
Strengths are defined as what each business best in its gamut of operations which can give it an upper hand over its competitors. The following are the strengths of Thums Up are:
1) Monopoly for the first few years in the Indian market: Thums Up came into the market when Coca-Cola pulled out of India in 1977. Till Pepsi came to India in 1991 following the liberalisation of the economy, Thums Up faced limited competition from local players like Coca-Cola and Dukes. This helped it create an image for itself.
2) Strong Indian Association: Thums Up is always perceived as Indian Cola. This image has always stirred the minds of the Indian customer.
3) Iconic branding: Parle had three drinks to fill the vacuum left by Coca-Cola namely a lemon based drink Limca and orange flavored one Gold Spot along with Thums Up. The three drinks which were primarily targeted towards the youth became hot trends and are treated as symbols of that generation of Indian youth.
4) Strong Promotions: Thums Up was always backed by a strong promotional campaign which comprised of popular jingles, sponsorship of sports events and TV and radio advertisements. This resulted in building a strong brand association.
5) Manly taste experience: Quite unlike the contemporaries which were targeted towards all age groups Thums Up always was positioned as a "mans: drink.The taste which was less sugary and fizzier contributed to solidifying the image further.
6) The inability of competitors to connect to Indian sentiments: Though competitors like Pepsi and Coca-Cola tried to connect to Indian audience through exorbitant ad spends and popular celebrities, they could not break the aura that Thums Up had created.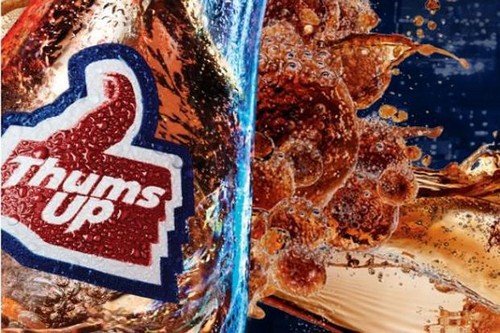 Weaknesses in the SWOT analysis of Thums Up :
Weaknesses are used to refer to areas where the business or the brand needs improvement. Some of the key weaknesses of Thums Up:
1) Substitute Product: Thums Up came up as a substitute for Coca-Cola and still continues to be so. It is always perceived as a cheaper desi version of Coca-Cola which has been its biggest weakness.
2) Acquired taste of cola: Flavoured rinks like Limca, Fanta or Sprite are all natural tastes since they are flavored with natural references like lemon or orange. However, Cola is an acquired taste and considered as artificial.
3) Internal Brands: Coca-Cola has many internal brands like Fanta, Sprite, Coca-Cola and even Minute Maid which eat into the market share of Thums Up.
4) Lower ad spends: Coca-Cola has always been favorably disposed towards their own brand Coca-Cola which is Thums Up's direct competitor and thus has routed more advertising budgets towards the former than the latter.
5) Inability to resist strong multinationals: Thums Up was the market leader in the Indian soft drinks market till Pepsi came up. Once Coca-Cola also entered the market the Indian company Parle could not withstand the string pressure of multinational competitors which was the first weakness that invariably led to the acquisition of the drink by Coca-cola.
Opportunities for the SWOT analysis of Thums Up :
Opportunities refer to those avenues in the environment that surrounds the business on which it can capitalize to increase its returns. Some of the opportunities include:
1) Growing preference for aerated drinks amongst children: Today's young generation prefer to drink carbonated soft drinks to juices and this creates a whole new segment for soft drink companies to tap into.
2) Less time to spend in cooking meals: In comparison to earlier years today's families do not have time to cook meals or make fresh juices at home with the result that people eat out more often and purchase drinks from the store. This creates higher scope for sales.
3) Growing market potential: The soft drinks market of India is currently estimated at 600 billion USD and is estimated to grow at a rate of 8,2 % annually. This creates no death of opportunities for soft drink brands to milk into.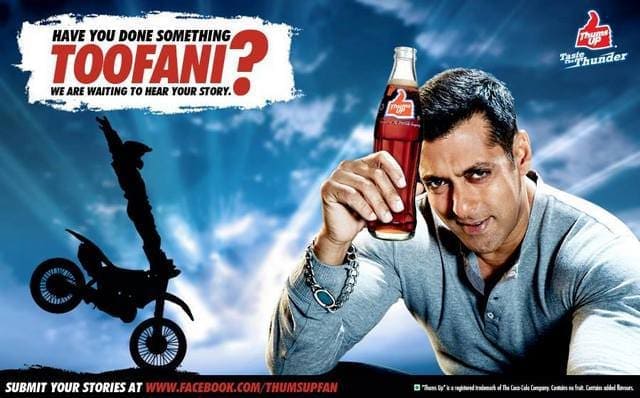 Threats in the SWOT analysis of Thums Up : 
Threats are those factors in the environment which can be detrimental to the growth of the business. Some of the threats include:
1) The threat of substitutes: As people have been made wary of the ill effects of soft drinks consumption healthier substitutes like juices may take over the market.
2) Negative perceptions of soft drinks being health hazards: Soft drinks are seen as health hazards and considered to be highborn sugars. This has affected the sales drastically.
Liked this post? Check out the complete series on SWOT