Surf Excel is Unilever's premium offering in India, Pakistan, Sri Lanka and Bangladesh. The same brand is known by other names in other countries, like Omo in Brazil, Persil in UK etc. Surf Excel has created a strong brand name for itself in the countries it is present in. Its advertisement campaigns are very popular and have created strong brand recall for the brand.
Strengths in the SWOT Analysis of Surf Excel :
Strong Brand Name: Surf Excel is a strong brand name in the South Asian countries it is present in. The brand was launched way back in 1947 and since then has been able to gain credibility with the customers. It has created strong advertisement campaigns which have also contributed immensely to creating a strong brand name.
Popular Tagline: Surf Excel has created very attractive and famous advertisement campaigns in the recent years. Its tagline "Daag acche hai" is very popular amongst its target group.
Strong Distribution: Surf Excel is driven by the distribution of Unilever and thus it has the wide reach and good support of distributors. Surf Excel is targeted towards the urban population and thus is not penetrated in the rural market, but it has a strong presence in the urban cities.
Unilever Support: Surf Excel is a premium brand under Unilever's umbrella and thus it is strongly supported by the company. Unilever has a strong portfolio in the detergent segment and has a hold of the South Asian market in the category.
Multiple Variants: Surf Excel has expanded its portfolio by bringing in many different variants in both the hand wash and machine wash segments to target specific problems that people face in washing clothes. It has variants like Surf Excel Quickwash, Surf Excel Easy Was and Surf Excel Bar etc.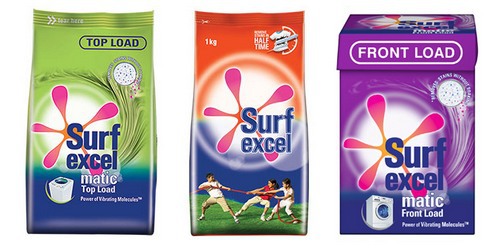 Weaknesses in the SWOT Analysis of Surf Excel :
Low Rural Penetration: Surf Excel is a product in the premium category of Unilever and thus its penetration in the rural market is low. It loses out on a large market due to its premium pricing strategy.
Expensive: Surf Excel is targeted towards the urban upper middle-class market and thus is charged at a premium price point. It loses out a huge market due to its pricing strategies.
Contains Less Biodegradable compounds: Surf Excel contains sodium and potassium salts in high amounts which make it less biodegradable than other competitors like Nirma.
Opportunities in the SWOT Analysis of Surf Excel :
Increasing disposable income: The disposable incomes of people in countries like India are increasing which will increase the expenditure on premium detergents like Surf Excel.
Growth in a Detergent market: The detergent market is growing at a CAGR of over 13% in the last 5 years in India and it is expected to grow at a similar rate in the near future. Similar patterns of growth have been observed in the other markets as well. This ensures growth in demand for Surf Excel in the near future.
Increase penetration in rural markets: Surf Excel can look forward to increasing penetration in the rural market as it can expect good sales from some parts of the rural markets.
Threats in the SWOT Analysis of Surf Excel :
Intense competition: Surf Excel faces stiff competition with brands like Ariel, Tide and Nirma etc. Such intense competition puts pricing pressures and reduces market share.
Market cannibalization: Unilever has 3 major brands in the detergent segment, namely, Surf Excel, Rin and Wheel in Indian and South Asian markets. Although these brands have different target groups 3 popular products in the same category does induce overlapping in the market.
Liked this post? Check out the complete series on SWOT