Close Up is a gel based toothpaste from the house of Unilever. It is a loved brand because of the freshness that it promotes and because of its unique feel in the mouth when brushing your teeth. Close up was launched in 1967 and increased its distribution across the world. Close up is not sold by Unilever in USA and Canada anymore but it is instead handled by "Church & Dwight". However, in other countries like India and Sri lanka, Close up is as popular as ever.
Here is the SWOT analysis of Close Up
Strengths in the SWOT analysis of Close Up
First mover advantage – The number 1 advantage for close up was the first mover advantage because it was the first brand to introduce gel based toothpaste across the world. Gel based toothpaste received slower adoption but there was a great feel to them during brushing teeth. As a result, the product adoption increased over time. Naturally, Close up was the first brand to be adopted.
Unique freshness – Because gel is softer then other toothpastes, it gave a different taste in the mouth and also dissolved easily and quickly thereby giving its users a unique freshness. Probably the reason why it was so popular.
Marketing campaigns – Unilever being the smart marketer that it is, always targeted the freshness and clean breath as their message. They frequently used mouth freshness as a means to promote Close up toothpaste. Their campaigns also targeted the youth by showing people getting together and liking each other because of the use of Close up toothpaste.
High market share – Because it had the first mover advantage, for a long long time Close up was the clear leader in gel based toothpaste. In India, Sri Lanka, it is still the highest sold gell based toothpaste and there is no one close to it.
Deep Pockets – Coming from the brands of Unilever, Close up has deep pockets and hence has been able to brand itself and adapt itself to the changing marketing environment.
Wide distribution – Close up has the backing of the wide distribution potential of Unilever, something that has helped the brand reach so many cities and countries. Being in the FMCG sector, distribution is the main advantage the brand can have.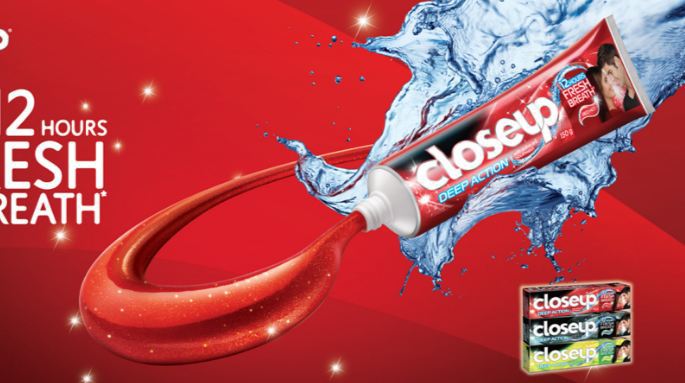 Weaknesses in the SWOT analysis of Close Up
Missing the rural turnover – Because Close up is a gel based toothpaste, it is more widely accepted in urban areas and towns but now in small cities or Sec B or Sec C classes. In these classes Patanjali and Colgate have massive penetration. The rural turnover is missing and majorly Urban regions are contributing to the turnover of Close up.
Dentist testimonials – Sensodyne and other such toothpastes which target teeth sensitivity have smartly marketed themselves by using Dentist's testimonials. However, Close up has used no such marketing communications and till date Close up only promotes its freshness.
Product portfolio is limited – Because each toothpaste is concentrating on a different niche, there is a need to expand the product portfolio for Close up. Close up is a hyperfocused brand but its market positioning can be challenged by other competitors and is being challenged by various gel based toothpastes in the market. Although this precise targeting is helping the Close up brand, being dependent on only one product type in a large market is also dangerous.
Reduction in ATL activities – Close up has reduced its ATL activities a lot and there are hardly any TVC's or print ads seen for the brand anymore. Regular ATL activities will help the brand in better sales.
Opportunities in the SWOT analysis of Close Up
Ayurved – Patanjali with its Dant Kaanthi and Close up with its ayurved line of products are all targeting the shift in mindset. Consumers want ayurved products and that is why launching an ayurved variant can help the brand in the long term.
Rural penetration – There are many campaigns launched by many brands which realize that rural penetration is required for higher volumes. In FMCG market, the more the turnover the more is the profit. And this high turnover is required for the brands to survive otherwise they will lose out in the FMCG war. As a result, Close up needs to concentrate on rural penetration as well.
Improve product portfolio – The above opportunities show that Close up should also launch more product variants and at the same time advertise them to have maximum market penetration.
Threats in the SWOT analysis of Close Up
Competition – Colgate, Patanjali, Pepsodent are all major threats to Close up because they are slowly but surely taking away the market share of Close up. In fact, in India, Patanjali has even challenged the market share of Colgate. So it is better for Close up to be prepared.
Loss of confidence by retailers – A retailer can only keep a limited amount of stock and he will keep stock of whatever material is selling faster. If retailers lose confidence in close up then it can be a threat to the brand. This is why better marketing communications and a wider product portfolio is required for the brand.
This was the SWOT analysis of Close Up. If you have any further points to contribute, please comment in the comments section below.
Liked this post? Check out the complete series on SWOT